Homepage
> Rencontre avec Tiphanie Magloire Traore
Rencontre avec Tiphanie Magloire Traore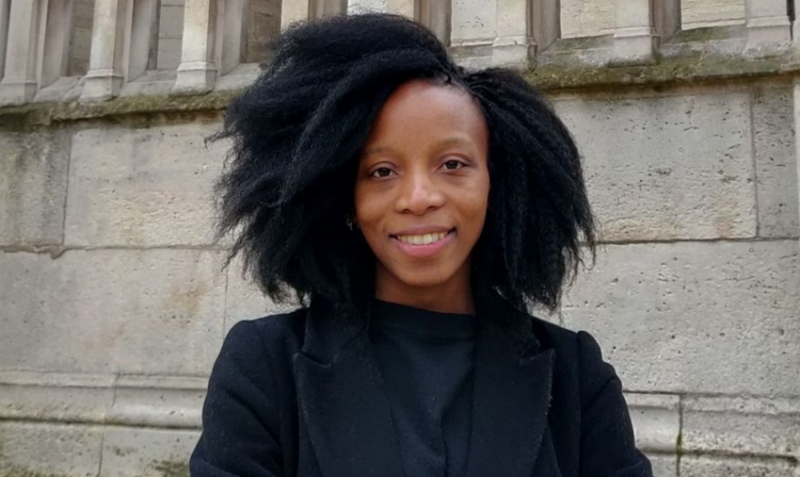 Diplômée 2019 du master Droit économique, spécialité GGS
POUVEZ-VOUS NOUS RETRACER VOTRE PARCOURS UNIVERSITAIRE ET NOUS INDIQUER VOS MOTIVATIONS POUR INTÉGRER L'ÉCOLE DE DROIT DE SCIENCES PO ?
J'ai intégré l'École de droit de Sciences Po au niveau master. Après un baccalauréat scientifique spécialité mathématiques, j'ai étudié deux années en classes préparatoires littéraires (Hypokhâgne/Khâgne). Bien que mes résultats au concours de l'École Normale Supérieure m'aient permis d'être sous-admissible, m'encourageant ainsi à retenter le concours, j'ai choisi de m'engager pleinement dans une année de césure. Cette année a été consacrée à mon service civique que j'ai effectué au sein de l'association Unis Cité dans le cadre du programme "Rêve et Réalise". Ce programme permettant de créer, de manière autonome, sa propre mission d'intérêt général, m'a conduite à fonder mon association Génération Ubuntu France dont la mission est de contribuer à un mieux vivre ensemble en France par la mixité socio-culturelle et le débat citoyen d'inspiration socratique.
A ce stade de mon parcours, ma vocation professionnelle se dessinait. A travers ma formation académique mais aussi mon engagement au sein de mon association, j'ai réalisé que j'avais besoin d'avoir au cœur de mon activité professionnelle future la possibilité d'agir positivement pour et même sur la société et ses fondements, et le droit m'est apparu comme le médium par excellence pour réaliser ce projet de vie. Toutefois, à ce stade de mon parcours, débuter en France des études de droit n'était pas une évidence puisque généralement, cinq années en droit sont requises afin d'ambitionner de se professionnaliser dans ce domaine.
Après cette année de césure, j'ai complété mon parcours par une troisième année d'étude à la Sorbonne en Histoire et Géographie, puis soutenue par l'Institut de l'Engagement dans mon projet, je me suis alors décidée à candidater auprès de Sciences Po pour intégrer son master en Droit économique.
QUE VOUS ONT APPORTÉ VOS ANNÉES D'ÉTUDES À SCIENCES PO ?
J'ai intégré le master Droit économique et choisi la spécialité Global Governance Studies en deuxième année. L'enseignement à Sciences Po a été riche tant intellectuellement qu'humainement. Tout d'abord, du point de vue de ma formation juridique, parce que le juriste, et particulièrement l'avocat, n'est pas un simple praticien mais un auxiliaire du service public de la justice, il est important de pouvoir se nourrir de connaissances fondamentales dans d'autres domaines que le droit pur. De nombreux cours dispensés à Sciences Po répondent à cette nécessité. J'ai par exemple le souvenir du cours passionnant du professeur Jean d'Aspremont intitulé "Theory and Epistemology of the Sources of International Law" qui m'a permis d'appréhender les fondements théoriques et philosophiques de notre droit positif.
Par ailleurs, mon expérience en tant que membre du comité de rédaction de La Revue des Juristes de Sciences Po, m'a permis de prendre part à un véritable cercle de réflexion sur le droit. Outre la communauté d'étudiants et d'enseignants passionnés que j'ai pu rencontrer dans ce cadre, cet exercice de réflexion théorique a également grandement contribué à ma formation.
Enfin, Sciences Po offre de nombreuses opportunités à ses étudiants maximisant ainsi leurs chances de réussite dans leur projet. Personnellement, j'ai eu la chance de bénéficier de la bourse d'excellence du cabinet Clifford Chance offerte chaque année à un étudiant de l'École de droit de Sciences Po.
QUELS SONT VOS PROJETS À VENIR ?
Venant tout juste de réussir l'examen d'entrée au Centre régional de formation professionnelle des avocats (CRFPA), j'intègre ce janvier 2021, l'École de Formation professionnelle des Barreaux de la cour d'appel de Paris. Intéressée par le domaine de l'économie sociale et solidaire et ayant déjà pu effectuer un stage au sein du cabinet Clifford Chance dans le département Tax - Epargne salariale / Actionnariat salarié, je pense rester dans le domaine de l'entreprise et de ses responsabilités sociale, sociétale et environnementale, en découvrant cette fois-ci sa dimension répressive, le droit pénal des affaires. Toutefois, passionnée et investie dans le domaine du droit des étrangers, et notamment du droit d'asile, je souhaite poursuivre cet engagement que ce soit à travers des expériences en cabinets d'avocats ou en association.
UN CONSEIL POUR CELLES ET CEUX QUI SOUHAITERAIENT REJOINDRE L'ÉCOLE DE DROIT DE SCIENCES PO ?
Le projet d'intégrer Sciences Po ne doit pas être une fin en soi mais un moyen. Ainsi, la volonté d'intégrer cette école doit être réellement motivée par un besoin justifié au regard du projet professionnel. Cela doit rassurer tous les potentiels candidats qui ne doivent en aucun cas essayer de correspondre à un profil type ou à un "étudiant idéal" mais simplement exposer sincèrement, le besoin de cette formation, et plus largement de tout l'environnement Sciences Po, pour réaliser son projet professionnel.
Ensuite, une fois entré au sein de l'École, il ne faut pas perdre de temps (les années d'étude passent vite !) et profiter des nombreuses opportunités que nous offre Sciences Po : offre de stages, candidatures pour des bourses d'excellence, échanges universitaires, appel à adhésion de ses nombreuses associations, invitations aux petits-déjeuners-rencontres avec des cabinets…
Tiphanie Magloire Traore, diplômée 2019 du master Droit économique, spécialité Global Governance Studies
Last modified 2021-07-30
02.09.2021
Over the course of these three days, you will have the chance to meet with numerous Sciences Po students and graduates. All will be actively seeking internships (whether as a mandatory part of their master's course or for a gap year), apprenticeships, fir
15.07.2021
The results of the 2021 Graduate Employability Survey on the class of 2019 show that Sciences Po students remain very attractive to employers, with 9 out of 10 graduates in professional activity. Despite a job market facing difficulties, 82% of our 2019 graduates found their first job in less than 6 months, and nearly ¾ of them have a stable profession. There are still just as many (37%) working abroad, in 84 countries. Discover all the results of our survey!
Read more news