Homepage
> Tommaso, diplômé 2019 du master Droit économique spécialité Droit de l'innovation
Tommaso, diplômé 2019 du master Droit économique spécialité Droit de l'innovation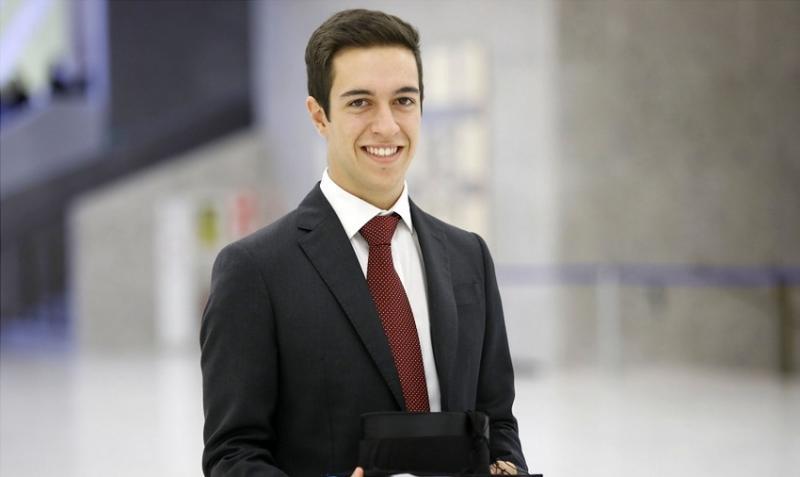 Rencontre avec Tommaso Stella, diplômé 2019 - "L'École de droit nous aide à devenir nous-mêmes"
Pouvez-vous nous décrire votre parcours universitaire ?
J'ai débuté mon parcours universitaire à l'université Bocconi de Milan avec une licence en économie et management.
Très tôt, dès le premier mois d'université, j'ai rencontré Letizia. J'en parle car depuis nous ne nous sommes jamais quittés et nous avons parcouru côte à côte le chemin qui nous a conduits à l'École de droit de Sciences Po.
Pour quelles raisons avez-vous choisi la spécialité Droit de l'innovation (DI) proposée au sein de l'École de droit ?
En troisième année de licence nous avons décidé de partir en Erasmus. Après une étude méticuleuse des destinations possibles, nous avons convenu que la destination dans laquelle nous avions le plus de chances d'atterrir ensemble était le campus de Reims de Sciences Po.
Nous connaissions à peine l'existence de cette ville (ne m'en veuillez pas les Rémois) mais nous pouvions être ensemble et c'était aussi une occasion d'apprendre le français. Le hasard ou le destin a donc voulu que l'on parte pour quatre mois en Champagne-Ardenne. En même temps, fascinés par le monde de l'immatériel, nous recherchions désespérément un master en propriété intellectuelle. Vous n'imaginez pas à quel point c'est difficile pour un non-étudiant en droit de trouver en Europe un master en droit directement accessible à celles et ceux n'ayant aucun background juridique !
C'était mi-octobre 2016 et, au bout de nos recherches, notre choix était tombé sur un master en management et propriété intellectuelle à Helsinki. Nous avions déjà commencé la procédure d'inscription quand, un soir, encore le hasard ou le destin a croisé notre chemin. C'est en effet sur le chemin pour une boite de nuit, en bavardant de tout et de rien avec Alexandre, étudiant de Sciences Po, que nous avons découvert l'existence du master Droit économique, spécialité Droit de l'innovation, à Sciences Po Paris.
Je n'oublierai jamais notre étonnement : nous avions trouvé un master en droit, avec spécialisation en propriété intellectuelle, sans prérequis en droit et à l'issue duquel il y avait une chance de devenir avocat. Le choix était facile ! (Merci infiniment Alexandre).
Quel est votre projet professionnel ?
Nous rêvons d'ouvrir un cabinet spécialisé en droit de la propriété intellectuelle en Italie.
A compter de mon stage d'été entre la première et la deuxième année de master j'ai eu la chance de travailler dans le cabinet de conseil en propriété intellectuelle Lhermet & Lefranc-Bozmarov. Je suis très reconnaissant à ce cabinet qui, pendant deux ans et demi, m'a formé au métier de conseil. Par la suite, dans la continuité du parcours de l'École du Barreau (EFB), j'ai intégré le cabinet d'avocats Schmidt Brunet Litzler pour mon stage final. Je suis désormais à la moitié de mon stage final et, quatre ans après mon arrivée à Paris, je suis au plus près de mon rêve !
Quelle image attachez-vous à votre passage à Sciences Po ?
Marcel, le chat du 13U ! Il était impossible de ne pas esquisser un sourire à son passage, de ne pas éclater de rire à son entrée dans la classe pendant les cours. Son ronronnement, son regard malin et sympathique, sa seule présence suffisait pour tout relativiser. Le stress d'un examen, l'importance d'un concours s'envolaient pour un instant.
Un conseil pour celles et ceux qui souhaiteraient rejoindre l'École de droit ?
On rentre à l'École de droit plein d'incertitudes et de peurs, mais aussi de rêves. On en ressort deux ou trois ans après avec une boîte à outils qui nous permet de croire encore plus en ces rêves. L'École de droit nous aide à devenir nous-mêmes, à réaliser nos projets, que ce soit dans le monde du droit ou ailleurs.
Tenez bon face aux premières difficultés, faites confiance à l'École et profitez à fond de cette expérience ! Un jour ça va vous manquer, vous allez rêver d'y retourner pour croiser des amis ou des professeurs dans les couloirs, pour vous balader dans le jardin ou tout simplement pour vous imprégner à nouveau de l'ambiance de cette École où l'on transmet un véritable amour pour le droit.
Tommaso Stella, diplômé 2019 du master Droit économique spécialité Droit de l'innovation
Last modified 2021-07-30
27.01.2023
If you are looking for interns or future employees, our guide 'Recruit at Sciences Po' will provide the relevant information about our students, the careers we train them for and how to leverage this great pool of talent to meet your recruitment needs.
20.12.2022
On Friday, September 29, the Careers Fair was held for the first time on Sciences Po's 1 Saint Thomas Campus. More than 1,000 Sciences Po students and graduates attended the event where they met with over 70 different employers to discuss internships, apprenticeships and job opportunities.
Read more news