Homepage
> Marie-Alice, Graduate of the Sciences Po Law School, Master in Economic Law, Programme Droit de l'innovation, 2017
Marie-Alice, Graduate of the Sciences Po Law School, Master in Economic Law, Programme Droit de l'innovation, 2017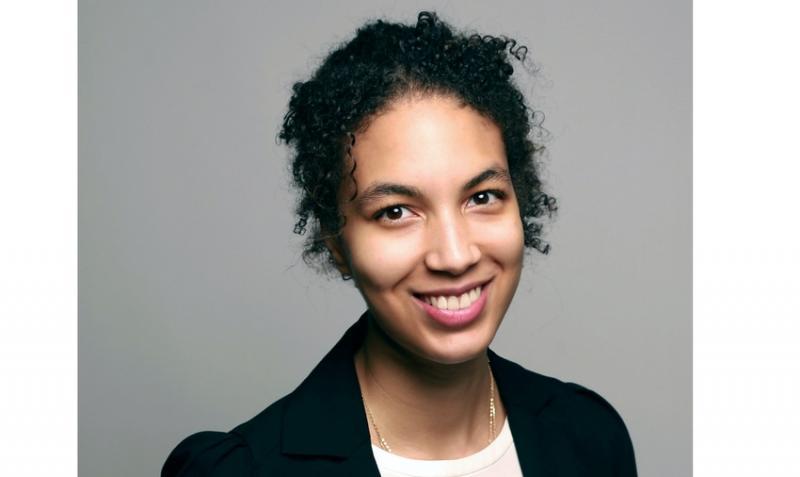 Meeting with Marie-Alice Legrand, Graduate of the Sciences Po Law School (2017) - "I have been trained to not be intimidated but to work my way through the problem"
What can you tell us about your academic background?
I was born and raised in Hamburg, Germany. I also had the opportunity to live in the United States where I studied, finishing the last two years of high school. For my undergraduate studies, I integrated the Euro-American campus of Sciences Po in Reims, where I majored in history and political science. In Reims, I had the privilege to be taught by professors Pap Ndiaye and Sylvie Laurent whose sharp analysis of the interplay between race, class, and law inspired me to pursue the Master's in Economic Law program at the Sciences Po Law School. During my time at the Law School, I once again encountered brilliant professors whose seminars on legal reasoning were passionate and pushed me to question my own preconceived notions on what constitutes a just and equitable legal system. Indeed, professors Horatia Muir-Watt, Pierre Legrand and Geoffrey Samuel played a major role in shaping my experience at Sciences Po and I will always be grateful for the tools they have provided me to approach complex legal problems.
After my studies at Sciences Po, I worked as an intern at various international law firms in Paris, passed the CRFPA and also completed a 12-month Specialized Master at HEC Paris in management and law while completing my training at the École de Formation du Barreau (EFB).
Today, I am a Trainee Lawyer in the corporate department at the Paris office of an American law firm. Moreover, I am humbled to share that I have been granted admission at Columbia Law School where I will pursue my LL.M. this fall. While I'm focused on having the best experience at Columbia, ultimately I plan on joining a law firm that allows me to work on complex cross-border transactions as well as on pro bono cases.
What image comes to mind when you think of Sciences Po?
Enjoying the beautiful garden at 27 rue Saint-Guillaume and getting to meet remarkable personalities. I also have fun memories of staying up all night studying and drinking coffee with my best friend during exam week.
How do/did your studies at Sciences Po impact you today professionally?
Sciences Po has had a profound impact on the person I am today. In particular, Sciences Po has allowed me to be infinitely curious and to push my own limits. The two years spent at the Sciences Po Law School were certainly challenging. However, in hindsight, these moments have taught me to always have a true "can do" attitude and to think outside of the box. When faced with a demanding task, even in unfamiliar legal fields, I have been trained to not be intimidated but to work my way through the problem. This optimism is invaluable to any lawyer in any legal specialization.
Moreover, I owe a lot to Anne-Solenne de Roux, the former Executive Director at the Law School, who encouraged me to pursue my objective of passing the French bar examination, even though I was far from being fluent in French at the time. Today I am committed to pass this support on and to encourage others to not be afraid to aim high regardless of how long or seemingly difficult the road ahead may be.
The various group projects were not only unique opportunities to learn from my fellow class mates but also excellent preparation for the work in a law firm, where team work and collaboration are essential.
My specialization is in corporate law, and I'm particularly interested in foreign investment issues related to mergers & acquisitions deals: a field at the intersection of law, economics, and politics. Indeed, Sciences Po has taught me how to assess complexities and to resist temptations to reduce and oversimplify.
The diversity of the student body and faculty are what makes the Sciences Po experience stand out to me. Here it is normal to be taught both by women and men professors, which is unfortunately not a reality at the majority of academic institutions. Moreover, I thoroughly enjoyed the lively seminar debates among students with different backgrounds and identities, which is at the core of the Sciences Po experience.
My personal experiences in- and outside of the classroom have instilled in me a deep sense of responsibility that it is upon us students and alumni to fight for diversity and equity beyond the bounds of the university premises. We must ensure that we use the privilege that comes with our higher education to uplift, both at an individual and a community level, those who are disenfranchised or who have been awarded less opportunities than we have. A Sciences Po degree opens, without a doubt, many doors but also entrusts us with the responsibility to hold those doors open for others.
What advice would you give to others?
Prioritize your mental health! Always, but especially during stressful periods, it's important to be kind to oneself and to not sacrifice the things that are important to one's wellbeing in the name of a busy schedule. Further, we must always remember the kindness and generosity that has been awarded to us and extend it to others. Also, don't be discouraged by the inevitable setbacks as they are blessings in disguise. Finally, hard work and a plan will get you very far.
Marie-Alice Legrand, Graduate of the Sciences Po Law School, Master in Economic Law, Programme Droit de l'innovation, 2017
Last modified 2021-07-30
27.01.2023
If you are looking for interns or future employees, our guide 'Recruit at Sciences Po' will provide the relevant information about our students, the careers we train them for and how to leverage this great pool of talent to meet your recruitment needs.
20.12.2022
On Friday, September 29, the Careers Fair was held for the first time on Sciences Po's 1 Saint Thomas Campus. More than 1,000 Sciences Po students and graduates attended the event where they met with over 70 different employers to discuss internships, apprenticeships and job opportunities.
Read more news