Homepage
> L'École de droit permet de rentrer de manière accélérée dans un nouvel univers
L'École de droit permet de rentrer de manière accélérée dans un nouvel univers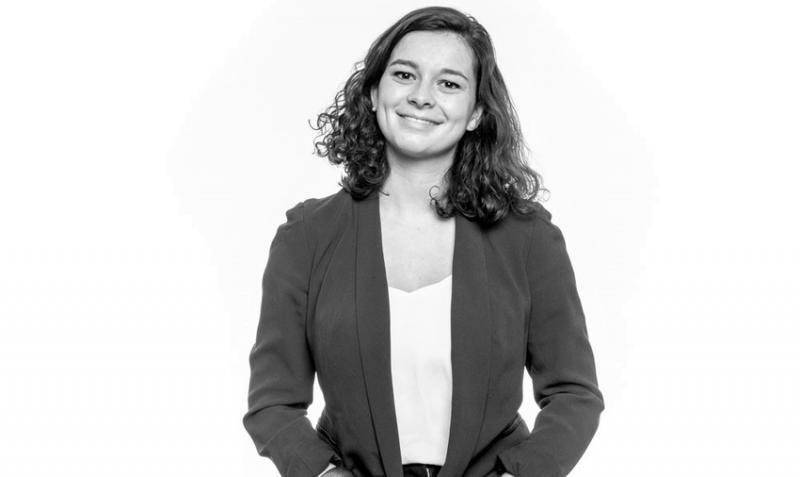 Rencontre avec Agathe de Marcillac, diplômée 2018
POUVEZ-VOUS NOUS DÉCRIRE VOTRE PARCOURS UNIVERSITAIRE ?
Après un bac option internationale britannique, je suis rentrée à Sciences Po en faisant le choix du campus de Reims par intérêt pour une formation bilingue et biculturelle avec le monde anglo-saxon. J'y ai eu l'opportunité de suivre un double-diplôme avec l'université de Colombie Britannique (Vancouver) pour un double bachelor en sciences politiques ce qui m'a donné la chance – assez enviée je pense – de partir deux ans en 3ème année de Bachelor (3A)…
À mon retour en France, j'ai fait le choix des études de droit, et j'ai suivi la spécialité Global Business Law and Governance (GBLG) en deuxième année de master qui est cohabilité avec la Columbia Law School et l'Université Paris I. Avec une promotion paritaire franco-américaine, nous avons eu la chance d'étudier à New York au premier semestre puis à Paris (Sorbonne et Sciences Po) au second semestre… Nous étions moins dépaysés au second semestre mais c'était l'inverse pour nos amis américains (ils ont même expérimenté les blocages de Tolbiac) !
Après mon diplôme de Sciences Po, j'ai obtenu mon CRFPA en 2018 et j'ai intégré l'École du Barreau de Paris (EFB). Pour approfondir mes connaissances juridiques, notamment vis-à-vis d'étudiants ayant le droit comme spécialité depuis le bac, j'ai rejoint en parallèle de l'EFB le master 2 de contentieux de l'université Paris II-Assas. C'est un programme de spécialisation pratique avec des cours de procédure pénale et civile dispensés par des praticiens (avocats, huissiers...). Il se combine également parfaitement avec l'École du Barreau puisque le deuxième semestre est entièrement en stage.
J'ai ensuite prêté serment à l'automne 2020.
QUEL EST L'ENSEIGNEMENT QUI VOUS A LE PLUS MARQUÉE AU SEIN DE LA SPÉCIALITÉ GBLG ?
Après des années à Sciences Po, j'ai beaucoup aimé la construction tripartite du cursus en GBLG. J'ai été très marquée par un cours croisé de la law school et de business school de Columbia, "Financial Crises, Regulatory Reforms", dispensé par les Professeurs Gordon et Bolton, qui se combinait parfaitement avec l'enseignement de la Professeure Katja Langenbucher à Sciences Po. Son objet était de replonger sur les mécanismes juridiques et financiers à l'origine de la crise économique de 2008 et les fondements de la régulation financière internationale : peut-être le cours le plus difficile mais le plus passionnant que j'ai jamais suivi.
Je garde également un excellent souvenir du cours "Droit et politique" du Professeur Mikhaïl Xifaras et des cours de la clinique avec la Professeur Marie Mercat-Bruns en première année de master. J'ai beaucoup regretté de ne pas avoir pu poursuivre en deuxième année.
À QUOI RESSEMBLE VOTRE TRAVAIL AU QUOTIDIEN ?
Je suis collaboratrice au sein de l'équipe de contentieux, arbitrage et pénal des affaires du cabinet August Debouzy où j'exerce principalement en droit pénal et en contentieux commercial.
J'ai donc une pratique très majoritairement contentieuse avec un peu de conseil sur des sujets de conformité, notamment en matière de corruption internationale. Ainsi, au gré des dossiers, je fais rarement la même chose deux jours de suite. Dans une même journée, je peux donc traiter des enjeux d'abus de biens sociaux, de fraude fiscale ou de rupture brutale de relations commerciales. En pratique, je rédige beaucoup et effectue de nombreuses recherches juridiques, la procédure étant de plus en plus écrite, notamment pour les dossiers complexes. J'ai également commencé à plaider.
QUELLES ONT ÉTÉ LES CONTRIBUTIONS DE VOTRE FORMATION À LA FONCTION QUE VOUS OCCUPEZ AUJOURD'HUI ?
Je suis entrée à Sciences Po en 2011 et sortie en 2018. En sept ans, je crois que j'ai pris le temps d'explorer toutes les options que l'école pouvait offrir : double(s) diplôme(s), sports, vie de campus, césure, voyages, stages, programmes de recherche, La Revue des Juristes… En prenant mon temps et avec beaucoup de gourmandise, j'ai vraiment exploré tous les domaines qui m'intéressaient avant de trouver une discipline qui les combinait tous. C'est avec la même joie que j'aborde les dossiers du cabinet, avec l'excitation de découvrir un nouveau domaine et de m'y plonger complètement. C'est également à l'École de droit que j'ai appris les fondements des disciplines que j'exerce aujourd'hui mais aussi (et surtout) la gymnastique intellectuelle requise pour passer d'une discipline à l'autre.
UN CONSEIL POUR CELLES ET CEUX QUI SOUHAITERAIENT REJOINDRE L'ÉCOLE DE DROIT ?
L'École de droit permet de rentrer de manière accélérée dans un nouvel univers. Contrairement à l'université, nous sommes amenés au Barreau en deux ans au lieu de quatre ou cinq. Il est donc normal de trouver la formation intense. Sciences Po ouvre beaucoup de portes et le droit n'est que l'une d'elles : prenez le temps de réfléchir à ce qui vous motive, à vos centres d'intérêts et laissez-vous l'espace pour être guidés par vos découvertes et vos rencontres.
Agathe de Marcillac, diplômée 2018 du master Droit économique spécialité Global Business Law and Governance (GBLG)
Last modified 2021-08-31
15.07.2021
The results of the 2021 Graduate Employability Survey on the class of 2019 show that Sciences Po students remain very attractive to employers, with 9 out of 10 graduates in professional activity. Despite a job market facing difficulties, 82% of our 2019 graduates found their first job in less than 6 months, and nearly ¾ of them have a stable profession. There are still just as many (37%) working abroad, in 84 countries. Discover all the results of our survey!
30.08.2021
You are a student looking for information about internships or career fairs? you are an employer willing to recruit our students in jobs or an internship? Find here the list of your Sciences Po Careers
Read more news