Entretenez votre réseau !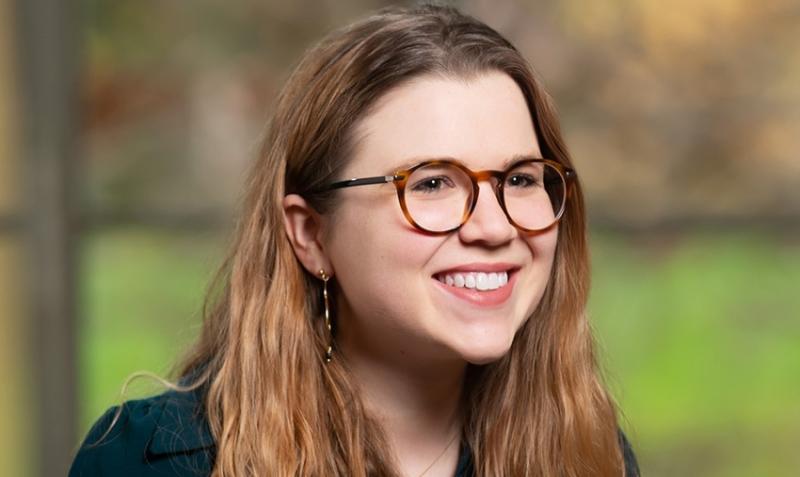 Rencontre avec Charlotte Guérin, diplômée 2017 de l'École de droit
POUVEZ-VOUS NOUS DÉCRIRE VOTRE PARCOURS ACADÉMIQUE ET PROFESSIONNEL ?
De nature curieuse, j'ai toujours adoré découvrir de nouvelles matières… et détesté faire des choix m'obligeant à renoncer à certaines d'entre elles ! C'est ainsi qu'au lycée j'ai opté pour un baccalauréat scientifique, mais dans un programme dit "option internationale" qui me permettait de suivre des cours d'histoire américaine et de littérature anglophone. Par la suite, j'ai eu la chance d'être acceptée sur le campus rémois de Sciences Po, au sein du programme euro-américain. J'y ai suivi des cours passionnants, sur des sujets aussi variés que le droit corporate américain, la ville au XXIe siècle, le rôle du Congrès dans la politique étrangère américaine, ou encore les interactions entre politiques sociales et genre. En troisième année, j'ai rejoint le campus de Berkeley de l'Université de Californie, expérience qu'il m'est impossible de résumer en quelques mots tant elle fut enrichissante tant sur le plan intellectuel que personnel.
A mon retour des États-Unis, et après quelques hésitations (encore des choix !), j'ai finalement intégré l'École de Droit de Sciences Po. Au terme d'une première année dense mais épanouissante, j'avais la confirmation que le droit m'intéressait beaucoup mais n'étais pas encore prête à décider de ma future spécialité. J'ai donc réalisé une année de césure au cours de laquelle j'ai effectué des stages en cabinets d'avocats, au Ministère de la justice et à l'Autorité de la concurrence, avant de rejoindre la spécialité Contentieux économique et arbitrage (CEA) à mon retour à l'école.
J'ai ensuite été admise à l'École de formation du Barreau de Paris (EFB) et ai finalement obtenu le tant attendu certificat d'aptitude à la profession d'avocat (CAPA).
QUELLES SONT LES PRINCIPALES CARACTÉRISTIQUES DE VOTRE POSTE AUJOURD'HUI ?
J'ai prêté serment en tant qu'avocate en novembre 2019 et ai intégré le bureau parisien du cabinet Latham et Watkins en qualité de collaboratrice.
J'ai la chance de faire partie d'une équipe qui traite de dossiers très variés. Nous accompagnons nos clients dans le cadre de contentieux devant les juridictions civiles et commerciales mais aussi dans le cadre de procédures menées par des autorités de régulation (AMF, CNIL, H3C, etc.). Nous avons également de nombreux dossiers de conseil en compliance, notamment en protection des données à caractère personnel.
Nombre de nos clients étant étrangers, nous travaillons beaucoup en anglais et en étroite collaboration avec nos différents bureaux à travers le monde.
QUEL EST L'ENSEIGNEMENT QUI VOUS A LE PLUS MARQUÉE AU SEIN DE LA SPÉCIALITÉ CEA ?
Il est tout simplement impossible de repenser à cette année au sein de la spécialité CEA sans revivre l'exaltation inhérente au cours "Stratégie du procès" du Pr Dany Cohen ! On peut difficilement imaginer comment mieux préparer des étudiants à la réalité de la pratique contentieuse : la surprise à la découverte du dossier, les longues heures de recherches sur les bases de données aux fins de mieux cerner les enjeux juridiques, les réunions d'équipe pour déterminer la stratégie à adopter, la frustration lorsque les écritures adverses n'arrivent pas à l'heure prévue, et même le léger stress avant de prendre la parole pour "plaider" le dossier.
Je n'oublie pas non plus mes cours de droit processuel (avec Me Jacques Pellerin) et de droit des sûretés dans les procédures collectives transfrontalières (avec le Pr Reinhard Dammann), qui restent aujourd'hui encore mes références lorsque je me pose des questions en lien avec ces matières.
UN CONSEIL POUR CELLES ET CEUX QUI SOUHAITERAIENT REJOINDRE L'ÉCOLE DE DROIT ?
Les étudiants peuvent être tentés de choisir des cours ou des stages uniquement parce qu'ils pensent qu'il s'agit de la "voie royale" pour exercer telle profession ou rejoindre tel cabinet. Mon conseil : ménagez-vous un équilibre entre les enseignements fondamentaux, qui vous permettront d'atteindre vos objectifs professionnels, et des électifs originaux, qui stimuleront votre curiosité et votre ouverture d'esprit.
Et entretenez votre réseau ! N'hésitez pas à interroger vos professeur.e.s sur leur parcours académique et professionnel, leur structure d'exercice et leur vision de leur métier : ces retours d'expériences vous seront d'une grande aide lorsque vous postulerez à des stages, collaborations ou emplois.
Charlotte Guérin, diplômée 2017 du master Droit économique spécialité Contentieux économique et arbitrage (CEA)
Last modified 2021-08-31
02.09.2021
Over the course of these three days, you will have the chance to meet with numerous Sciences Po students and graduates. All will be actively seeking internships (whether as a mandatory part of their master's course or for a gap year), apprenticeships, fir
15.07.2021
The results of the 2021 Graduate Employability Survey on the class of 2019 show that Sciences Po students remain very attractive to employers, with 9 out of 10 graduates in professional activity. Despite a job market facing difficulties, 82% of our 2019 graduates found their first job in less than 6 months, and nearly ¾ of them have a stable profession. There are still just as many (37%) working abroad, in 84 countries. Discover all the results of our survey!
Read more news