Homepage
> L'important, c'est le goût du droit et l'ouverture
L'important, c'est le goût du droit et l'ouverture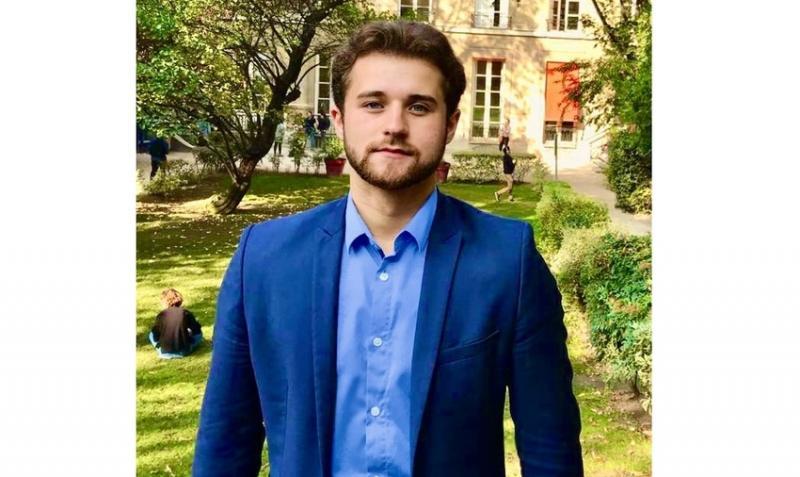 Rencontre avec Paul Perney, diplômé 2019
POUVEZ-VOUS NOUS DÉCRIRE VOTRE PARCOURS ACADÉMIQUE ?
J'ai rejoint Sciences Po en 2013 après le baccalauréat dans le cadre du double-cursus entre Sciences Po et l'Université Paris 1 Panthéon-Sorbonne en mathématiques appliquées et sciences sociales.
Après une troisième année à l'Università L. Bocconi à Milan, j'ai décidé d'intégrer le master Droit économique proposé par l'École de droit dans l'idée de devenir avocat en droit financier. J'ai donc pris une année de césure pendant laquelle j'ai réalisé plusieurs stages en cabinet dans différents types de structure, petite et grande, française et anglo-saxonne. Pendant ma dernière année à Sciences Po, j'ai effectué un stage en parallèle du master au sein de la direction juridique de Natixis dans le département de dérivés structurés.
Après ma diplomation en 2019, j'ai obtenu l'examen du CRFPA et j'ai intégré le Master 2 Droit bancaire et financier de l'Université Panthéon-Assas pour me spécialiser dans ce domaine du droit des affaires. Je suis actuellement en stage final et je devrais prêter serment dans quelques mois après avoir obtenu le CAPA.
POUR QUELLES RAISONS AVEZ-VOUS CHOISI LA SPÉCIALITÉ EMR PROPOSÉE AU SEIN DE L'ÉCOLE DE DROIT ?
Dès le premier cycle de mon cursus universitaire, j'ai développé un goût prononcé pour la matière financière. La spécialité Entreprises, Marchés, Régulations (EMR) s'est donc imposée à moi assez naturellement car elle permet de conserver une ouverture dans les matières étudiées. Cette spécialité propose une grande diversité de cours et chaque étudiant a la possibilité de construire son semestre en fonction de ses préférences et de son projet.
A mon sens, cette spécialité conviendra à tous les étudiants intéressés notamment par le M&A, le droit bancaire et financier et/ou le droit de la concurrence. Toutefois, il conviendra également à tout étudiant qui hésite et qui souhaite prendre le temps de découvrir de nouveaux sujets et de mûrir son projet.
QUEL EST VOTRE PROJET PROFESSIONNEL ?
Une fois mon stage final achevé, je vais démarrer une collaboration dans le domaine du droit des services financiers au sein du département Corporate/Regulatory du cabinet Bredin Prat, qui présente une forte composante transactionnelle. Le regulatory est en pleine expansion et implique la réalisation d'analyses juridiques approfondies. Cette pratique nécessite également de bien comprendre les enjeux opérationnels des établissements bancaires et financiers. De plus en plus de cabinets sont d'ailleurs en train de créer et/ou développer leur practice regulatory / services financiers à Paris.
QUELS SOUVENIRS GARDEZ-VOUS DE VOTRE ÉCOLE ?
Je garde de très bons souvenirs de mes années à Sciences Po. Même si l'ambiance du master droit économique est très studieuse, je me souviens surtout des pintes du Basile et cette nostalgie m'émeut en cette période de pandémie !
UN CONSEIL POUR CELLES ET CEUX QUI SOUHAITERAIENT REJOINDRE L'ÉCOLE DE DROIT ?
J'ai eu un parcours assez linéaire et focalisé autour du droit bancaire et financier. Pourtant, je me rends compte que ce n'est pas le cas de la majorité des étudiants qui rejoignent l'École de droit. Ce n'est pas grave de ne pas avoir d'idées précises sur sa future vie professionnelle ! L'important, c'est le goût du droit et l'ouverture. Je pense donc que multiplier les expériences à travers vos cours et vos stages permet de ne pas avoir une vision trop étroite du métier d'avocat. J'ai seulement découvert l'existence des clés RPVA et des toques à l'EFB !
Paul Perney, diplômé 2019 du master Droit économique spécialité Entreprises, Marchés, Régulations (EMR)
Last modified 2021-08-31
02.09.2021
Over the course of these three days, you will have the chance to meet with numerous Sciences Po students and graduates. All will be actively seeking internships (whether as a mandatory part of their master's course or for a gap year), apprenticeships, fir
15.07.2021
The results of the 2021 Graduate Employability Survey on the class of 2019 show that Sciences Po students remain very attractive to employers, with 9 out of 10 graduates in professional activity. Despite a job market facing difficulties, 82% of our 2019 graduates found their first job in less than 6 months, and nearly ¾ of them have a stable profession. There are still just as many (37%) working abroad, in 84 countries. Discover all the results of our survey!
Read more news