Homepage
> Jérémie, diplômé 2016 du master Droit économique spécialité Contentieux économique et arbitrage (CEA)
Jérémie, diplômé 2016 du master Droit économique spécialité Contentieux économique et arbitrage (CEA)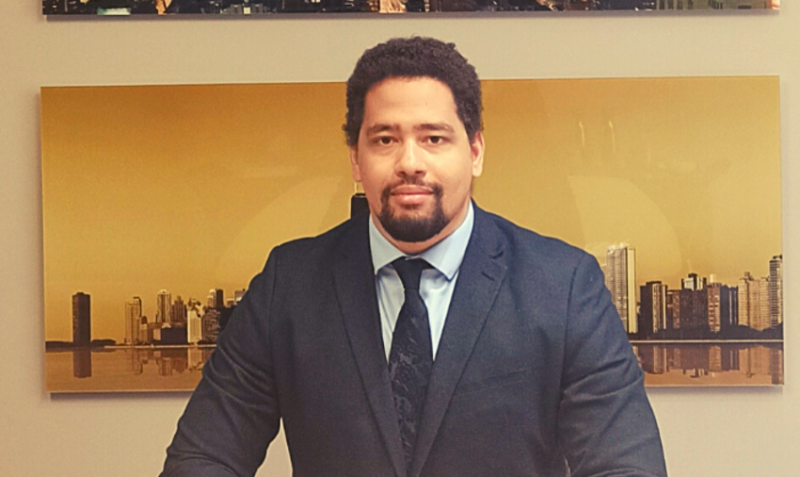 Jérémie Michel, diplômé 2016 de l'École de droit et il travaille comme avocat en droit du travail
Pouvez-vous nous retracer votre parcours universitaire et professionnel ?
J'ai rejoint l'École de droit en master après une maîtrise en Droit des affaires effectuée à l'Université d'Angers. Durant mes quatre années à l'Université, mon temps s'est partagé entre un fort investissement syndical et associatif et l'apprentissage des fondamentaux du droit.
Une fois à Sciences Po, j'ai découvert une pédagogie du droit rénovée, axée sur la méthode socratique, en petits groupes, sur la pluridisciplinarité et le travail en équipe.
Comme beaucoup de mes camarades, j'ai pris une année de césure à l'issue de ma première année de master, que j'ai consacrée à des stages en cabinet de conseil et en cabinets d'avocats. C'est à cette occasion que j'ai découvert et me suis passionné pour la pratique du droit du travail, que j'exerce encore aujourd'hui.
En deuxième année de master, j'ai rejoint la spécialité Contentieux économique et arbitrage (CEA) dirigée par le Pr Dany Cohen, qui a été une année riche en enseignements, basée sur la méthode du compagnonnage et des travaux à forte dimension pratique.
J'ai ensuite été reçu à l'examen d'accès au Centre Régional de Formation Professionnelle d'Avocats (CRFPA) en 2016 et ai intégré l'École de Formation Professionnelle du Barreau de Paris (EFB), pour prêter serment en janvier 2019.
Je suis actuellement avocat en droit du travail au sein du bureau parisien d'un grand cabinet d'avocats américain.
Quel est l'enseignant ou l'enseigenement qui vous a le plus marqué ?
Sans aucun doute, ni aucune originalité, le Pr Dany Cohen et son enseignement de "Stratégie du Procès".
La spécialité CEA a été pensée pour être cohérente de bout en bout. Cette cohérence repose sur deux piliers : un enseignement central et pluridisciplinaire, Stratégie du Procès, et un enseignant central et pluridisciplinaire, le Pr Dany Cohen. Durant ce cours, la classe est divisée en trois groupes, les deux parties et le juge, qui doivent rédiger des écritures et un jugement sur la base de dossiers traités par le Pr Dany Cohen. Les cas en question peuvent porter sur toutes les matières du droit.
Les travaux sont ensuite revus par le Pr Dany Cohen en séance, qui en analyse la portée argumentative, tant sur le fond du droit que sur la forme, jusqu'à la phraséologie. L'objectif de l'exercice est de nous permettre d'appréhender l'âme du métier d'avocat en contentieux : apprendre, argumenter, combattre, convaincre. Cet enseignement m'a particulièrement bien préparé à l'examen du CRFPA et à l'aspect contentieux de la profession, qui est très présent en droit du travail.
Quels souvenirs gardez-vous de votre École, de votre promotion, de vos enseignants ?
J'en garde le souvenir d'une réelle émulation intellectuelle, d'une pédagogie exigeante et moderne et de belles rencontres, issues de parcours très divers, loin de l'entre soi auquel d'aucuns souhaiteraient parfois réduire l'Institution. Je conserve en outre un très bon souvenir de mon investissement dans l'Association des Juristes de Sciences Po (AJSP), au sein de la Revue des Juristes de Sciences Po (RJSP).
La richesse de Sciences Po est aussi assise sur son dense tissu associatif, qui m'a permis de me réaliser autrement autour d'un projet éditorial, avec une équipe de camarades dont j'ai beaucoup appris et que je croise encore aujourd'hui.
Un conseil pour celles et ceux qui souhaiteraient rejoindre la professions d'avocat ?
L'École de droit prépare à des métiers différents et offre une réelle diversité de débouchés. Elle est aussi reconnue comme une voie royale pour pénétrer le monde des cabinets d'avocats parisiens, tous types de structures et de pratiques confondues, en stage comme en collaboration.
Mon conseil est donc d'en profiter. Multipliez les expériences, sans vous restreindre à une pratique en particulier, ni à un type de cabinet, en mettant à profit l'année de césure qui vous est offerte. Cela vous permettra de prendre le pouls de la profession et de vérifier si la robe vous habite, car plus qu'une belle profession, c'est un état !
Jérémie Michel, diplômé 2016 du master Droit économique spécialité Contentieux économique et arbitrage (CEA)
Last modified 2021-08-31
27.01.2023
If you are looking for interns or future employees, our guide 'Recruit at Sciences Po' will provide the relevant information about our students, the careers we train them for and how to leverage this great pool of talent to meet your recruitment needs.
20.12.2022
On Friday, September 29, the Careers Fair was held for the first time on Sciences Po's 1 Saint Thomas Campus. More than 1,000 Sciences Po students and graduates attended the event where they met with over 70 different employers to discuss internships, apprenticeships and job opportunities.
Read more news