Homepage
> "Je vous invite à repenser vos certitudes et aprioris"
"Je vous invite à repenser vos certitudes et aprioris"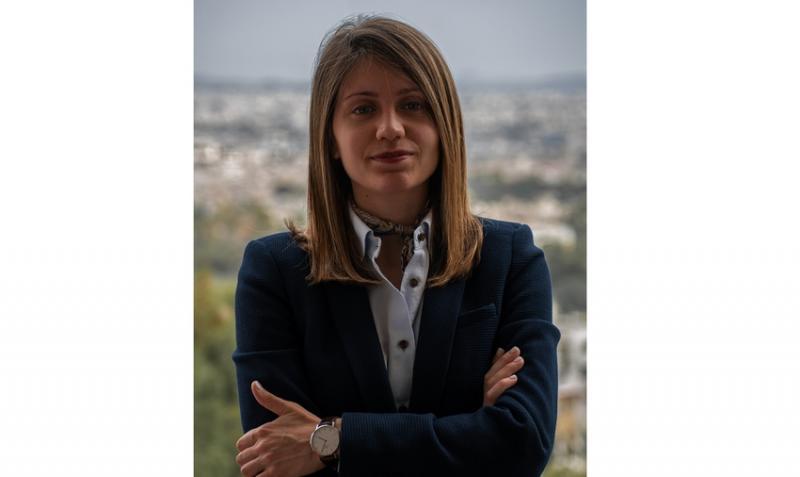 Rencontre avec Eleni Gkountela, diplômée 2018
POUVEZ-VOUS NOUS RETRACER VOTRE PARCOURS UNIVERSITAIRE ?
Diplômée de l'École de droit de l'Université d'Athènes, puis titulaire du master en Droit civil délivré par ladite Université, j'ai intégré l'École de droit de Sciences Po, d'où en 2018, je suis sortie diplômée du master Droit économique.
QUEL POSTE OCCUPEZ-VOUS AUJOURD'HUI ?
Inscrite au Barreau d'Athènes depuis 2016, j'exerce le métier d'avocat. En cette qualité, j'ai eu l'occasion de rejoindre l'équipe Banking and Finance au sein d'un grand cabinet d'avocats spécialisé en droit bancaire et financier, après avoir travaillé au sein de la Direction des Affaires Juridiques du Fonds Hellénique de Stabilité Financière et avoir effectué mon stage en tant que juriste stagiaire à la banque centrale grecque (Banque de Grèce).
Depuis 2019, je suis doctorante à l'École de droit de l'Université d'Athènes. À ce titre, j'ai profité d'un séjour à l'Université Humboldt de Berlin en qualité de doctorante invitée afin de poursuivre mes recherches doctorales sur le droit des groupes de sociétés. Courant septembre 2021, je serai de retour à Paris pour un nouveau séjour de recherche.
QUEL EST LE COURS QUI VOUS A LE PLUS MARQUÉE AU SEIN DE LA SPÉCIALITÉ GLOBAL GOVERNANCE STUDIES ?
Les cours assurés par les professeurs Diego P. Fernández Arroyo et Horatia Muir Watt m'ont beaucoup inspiré et ils constituent toujours une source d'inspiration dans le cadre de mes recherches doctorales. Leurs précieux conseils ont été déterminants dans la réalisation de cette formation riche et je leur en suis infiniment reconnaissante.
En même temps, il y a un vaste nombre d'enseignements dispensés soit en langue française soit en langue anglaise, qui sont assurés par des enseignants à des profils très variés. Par ces éléments, entre autres, se concrétise l'ouverture à l'international au sein de la spécialité Global Governance Studies (GGS). Toutes les activités et tous les cours proposés aboutissent à un brassage des cultures à travers le droit. Ce brassage culturel et juridique renvoie, en réalité, à la manière d'appliquer le droit dans la vie économique contemporaine globale.
Malgré l'emploi du temps chargé, il faut avouer que tous les enseignements sont construits de telle manière que son ensemble constitue une mosaïque inédite d'expériences académiques et professionnelles.
Sur le plan pédagogique, une équipe toujours disponible et bienveillante encadre ce projet ambitieux de l'École de droit, comme j'ai pu constater suite de mes échanges avec Anne-Solenne de Roux et Lidiwine Kerbourc'h, toujours à l'écoute et courtoises.
Il s'avère ainsi difficile de distinguer la matière la plus préférée ou attirante, puisque c'est exactement ce pluralisme éducatif qui rend ce programme révolutionnaire et aussi apprécié de la communauté académique et professionnelle. Grâce à ce master, j'ai eu l'occasion d'engager une réflexion profonde sur les chemins tant académiques que professionnels à suivre.
QUELS SOUVENIRS GARDEZ-VOUS DE VOTRE ÉCOLE, DE VOTRE PROMOTION, DE VOS ENSEIGNANTS ?
À l'issue de mes études à Sciences Po, j'ai ressenti un grand honneur et une joie immense pour cette expérience à la fois académique et personnelle. Au fil du temps, un sentiment de nostalgie s'est rajouté pour tous les moments partagés sur les bancs des amphithéâtres du 27, rue Saint-Guillaume, pendant les cours, mais aussi pendant les conférences avec des invités venus du monde entier.
Je garde aussi un souvenir particulier de tous les moments conviviaux avec mes amis et collègues pendant la pause-déjeuner ou nos petits cafés et apéros dans le quartier de Saint-Germain-des-Prés.
UN CONSEIL POUR CELLES ET CEUX QUI SOUHAITERAIENT REJOINDRE L'ÉCOLE DE DROIT DE SCIENCES PO ?
Ces deux années intensives à l'École de Droit représentent pour moi une expérience pluridimensionnelle inspirante. Ce voyage intellectuel m'a permis de reconsidérer, voire reconstituer ma perception sur les qualités académiques, professionnelles et personnelles à valoriser et à mettre en perspective. Dans cette optique, je vous invite de vous vous permettre de repenser vos certitudes et aprioris, y compris, la manière de comprendre et appliquer le droit. Tous les moments sur le campus parisien constituent une occasion à saisir pleinement. Découvrez-la avec beaucoup d'enthousiasme pour pouvoir en profiter au maximum !
Au plaisir de rencontrer mes anciens professeurs, collègues et amis prochainement au 27, rue Saint-Guillaume, Eleni
Eleni Gkountela, diplômée 2018 du master Droit économique spécialité Global Governance Studies (GGS).
Last modified 2021-08-31
02.09.2021
Over the course of these three days, you will have the chance to meet with numerous Sciences Po students and graduates. All will be actively seeking internships (whether as a mandatory part of their master's course or for a gap year), apprenticeships, fir
15.07.2021
The results of the 2021 Graduate Employability Survey on the class of 2019 show that Sciences Po students remain very attractive to employers, with 9 out of 10 graduates in professional activity. Despite a job market facing difficulties, 82% of our 2019 graduates found their first job in less than 6 months, and nearly ¾ of them have a stable profession. There are still just as many (37%) working abroad, in 84 countries. Discover all the results of our survey!
Read more news