Homepage
> "Nous sommes considérés tout de suite comme des journalistes"
"Nous sommes considérés tout de suite comme des journalistes"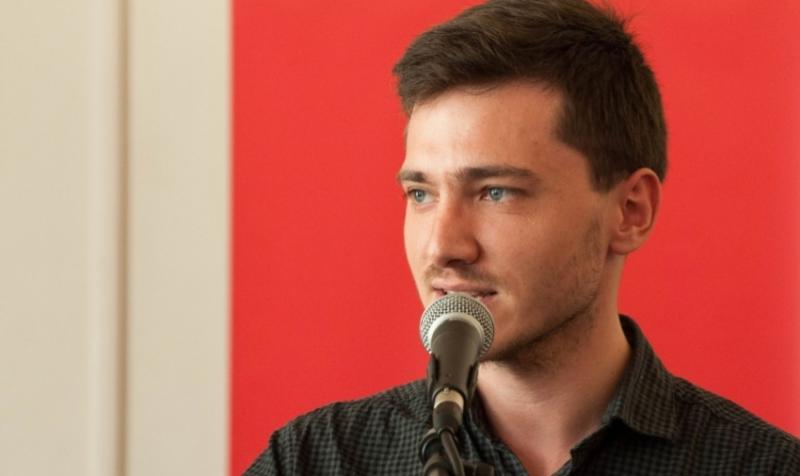 Hadrien Bect, diplômé du Master en journalisme
Pouvez-vous décrire votre parcours académique et professionnel? May you describe your academic and professional background?
Mon parcours est assez classique. Après trois années à l'Institut d'Etudes Politiques de Grenoble durant lesquelles j'ai découvert la radio, j'ai intégré le Master en journalisme de Sciences Po. A l'issue de ma formation, j'ai eu la chance d'intégrer la rédaction d'Europe 1 en obtenant la bourse Lauga-Delmas. Je travaille désormais comme reporter au service politique après avoir passé une année au service reportages.
Quel poste occupez-vous aujourd'hui? A quoi ressemble votre travail au quotidien? What is your job title today? How is your daily routine?
Au service politique, nous assurons en binôme le suivi du couple exécutif, Elysée et Matignon, ainsi que de la majorité présidentielle. C'est un travail très intense et exigeant, qui demande de décrire, de raconter et d'essayer de mettre en perspective les enjeux politiques du moment, à travers des papiers et des reportages. Au quotidien, une bonne partie de mon temps est consacré à trouver pour proposer des sujets et des angles, et de chercher des informations, tout en couvrant l'actualité politique. Pour cela, je passe donc beaucoup de temps au téléphone avec différents interlocuteurs du monde politique, que je rencontre également.
Nous sommes aussi très souvent sur le terrain, à l'Assemblée nationale, à l'Elysée, et nous voyageons également beaucoup à travers la France et le monde pour assurer le suivi les déplacements officiels du président et du Premier ministre. Sur le fond, nous traitons donc de stratégie politique, de politiques publiques, d'Europe et parfois de diplomatie. C'est extrêmement riche !
Quelles ont été les contributions de votre formation à la fonction que vous occupez aujourd'hui? What were the main takeaways from your degree?
La force de l'école a été de nous mettre tout de suite en condition professionnelle, en nous rappelant presque quotidiennement : "vous êtes étudiants certes, mais vous êtes déjà journalistes". De fait, l'exigence de nos enseignants était presque la même que celle qu'ils peuvent avoir avec leurs équipes dans leurs rédactions respectives. La rigueur nous a été demandée dès le début.
Par ailleurs, je crois que le fait d'avoir pu être formé à la vidéo et au Web, en plus de ma spécialisation radio, m'a permis de mieux comprendre des métiers avec lesquels je suis en lien quotidien au sein de ma rédaction. C'est utile de savoir ce que fait l'autre pour comprendre son mode de fonctionnement, ses contraintes, ses obligations.
Quels souvenirs gardez-vous de votre école, de votre promotion, de vos enseignants? What memories did you keep from your school, your cohort, your teachers?
J'ai été frappé par nos différents parcours au sein de ma promotion. Par nos origines, nos opinions, nos envies, j'ai, je crois, rencontré beaucoup de personnes que je n'aurais jamais rencontré autrement que parce que nous étions unis par une passion commune.
Cela dit, au-delà des souvenirs, le temps n'est pas figé : des enseignants qui m'ont donné cours durant mon Master sont devenus des confrères voire des collègues, tout comme d'anciens étudiants que je croise régulièrement sur le terrain.
Quels conseils donneriez-vous à un étudiant qui souhaiterait devenir journaliste aujourd'hui? What advice could you give to a student who would like to become a journalist?
Faire des stages ! Sans hésiter. Avant de s'embarquer dans ce métier, qui est extrêmement exigeant, il faut être certain de faire le bon choix. Dans un premier temps, il ne faut ne pas hésiter à aller observer la vie d'un média local par exemple. Toute expérience est bonne à prendre, d'autant que l'actualité du quotidien, de proximité, est la base de notre métier. Les radios associatives locales, par exemple, sont souvent ravies d'avoir un stagiaire qui pourra les aider. Et cela fonctionne aussi avec un site d'articles en ligne, un journal étudiant, lycéen, peu importe !
L'important est d'abord de voir si on aime écrire (et non pas si on "sait" écrire, car cela s'apprend), expliquer et raconter, et puis si l'on se plaît à cette place de médiateur entre l'information brute et le public.
Last modified 2021-09-01
27.01.2023
If you are looking for interns or future employees, our guide 'Recruit at Sciences Po' will provide the relevant information about our students, the careers we train them for and how to leverage this great pool of talent to meet your recruitment needs.
22.03.2023
Launched by two graduates (class of 2020) from Law School : Agnès de Fortanier (Master in Economic Law) and Thomas Harbor (dual degree Sciences Po HEC), What's up EU is a newsletter putting together a concise, well-documented, and informative weekly wrap-up of the news that matters at a continental scale — from a European perspective. Sciences Po Careers interviewed Augustin Bourleaud, in charge of its edition, who is currently a double master's degree student between Sciences Po and the London School of Economics.
Read more news