Homepage
> Alexandre Fongaro, promotion 2017
Alexandre Fongaro, promotion 2017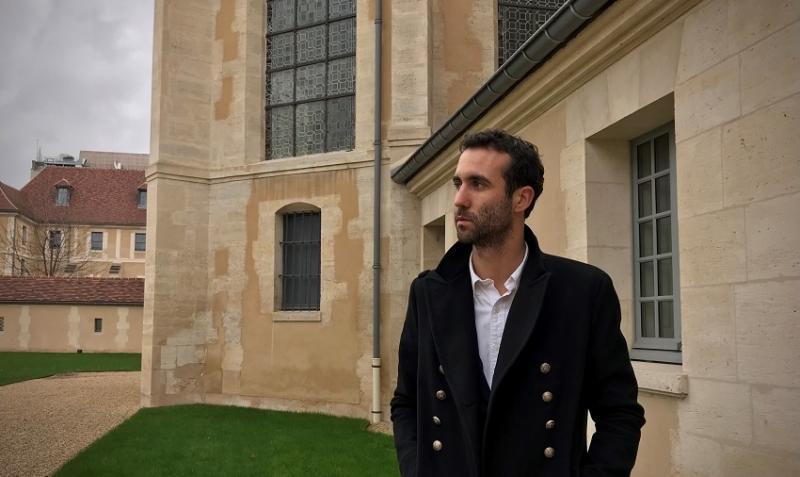 Du Master politiques publiques, spécialité Administration publique, parcours en apprentissage, au poste de chargé d'affaires institutionnelles du Groupe Kering
POUVEZ-VOUS DÉCRIRE VOTRE PARCOURS UNIVERSITAIRE ET PROFESSIONNEL ?
Après l'obtention de mon baccalauréat à Agen, dans le Lot-et-Garonne, j'ai participé à un programme d'échange culturel et linguistique d'un an au Brésil. J'y ai appris le portugais, découvert un pays immense, et surtout j'y ai rencontré des gens inoubliables !
A mon retour, j'ai intégré l'IEP de Bordeaux via lequel j'ai effectué une année de mobilité au Royaume-Uni, avant de rejoindre Sciences Po en Master politiques publiques.
Dans le cadre de ce master, j'ai eu l'occasion de réaliser un stage puis une alternance au sein de la direction des Affaires institutionnelles de Kering, groupe mondial de luxe. Une période intense car j'assurais alors de front un engagement politique en Nouvelle-Aquitaine.
Je suis désormais chargé d'Affaires institutionnelles chez Kering. Je participe notamment, pour le compte de Kering, aux travaux du B20/G20, qui se tiendra en octobre prochain en Italie. En parallèle, je dispense un cours au CELSA et je m'investis pour l'égalité des chances dans l'éducation avec l'Institut Télémaque.
QUELLES ONT ÉTÉ LES PRINCIPALES ÉTAPES DE LA CONSTRUCTION DE VOTRE PROJET PROFESSIONNEL ?
Lorsque j'ai intégré Sciences Po, je venais de réaliser deux stages : l'un au consulat général de France à Los Angeles, l'autre auprès d'Alain Juppé à la mairie de Bordeaux. Je voulais devenir diplomate, comme beaucoup de mes camarades, et je préparais dans ce but les concours de l'ENA et du Quai d'Orsay.
Mon premier stage chez Kering a changé la donne, et m'a éloigné de cet objectif. J'ai en effet compris que l'on pouvait pleinement contribuer à l'influence française et européenne en travaillant dans le secteur privé, a fortiori au service de Maisons aussi emblématiques que celles qui composent le groupe Kering.
COMMENT S'EST DÉROULÉ LE PROCESSUS DE RECRUTEMENT CHEZ KERING POUR VOTRE APPRENTISSAGE ? ET AVEZ-VOUS EU D'AUTRES DÉMARCHES PARTICULIÈRES POUR VOTRE CDI AVEC LE SERVICE DES RESSOURCES HUMAINES ?
Au moment de signer mon contrat d'apprentissage en alternance, j'avais déjà effectué un stage au sein du Groupe. L'occasion s'est donc présentée comme une évidence pour moi et ce nouveau statut a favorisé mon intégration parmi les collaborateurs de l'entreprise.
Mon processus de recrutement en CDI a ensuite été très fluide. Je venais de passer presque deux ans dans le Groupe, j'avais la confiance de ma hiérarchie et j'ai donc pu bénéficier d'une création de poste au sein de la Direction dans un contexte de montée en puissance de nos missions.
QUELLES SONT LES PRINCIPALES CARACTÉRISTIQUES DE VOTRE POSTE AUJOURD'HUI ?
La direction des Affaires institutionnelles à laquelle j'appartiens assure l'interface entre, d'un côté, le Groupe et ses Maisons et, d'un autre côté, les acteurs publics au sens large, en France comme à l'étranger.
Concrètement, il s'agit de participer aux travaux des organisations dont le Groupe est membre, d'assurer un suivi opérationnel des décisions publiques qui peuvent influer sur nos activités, de contribuer à la bonne information de la direction générale et, plus largement, de favoriser notre empreinte institutionnelle dans la durée.
QUELLES ONT ÉTÉ LES CONTRIBUTIONS DE VOTRE FORMATION À L'ÉCOLE D'AFFAIRES PUBLIQUES ENVERS LA FONCTION QUE VOUS OCCUPEZ AUJOURD'HUI ?
D'abord, je dois dire que la méthode Sciences Po a fait ses preuves. Elle forme à l'analyse, à la synthèse et permet in fine d'engager des recherches sur des thèmes pour lesquels on ne dispose pas nécessairement d'une expertise initiale.
Au-delà de la méthode, les enseignements m'ont apporté des connaissances de fond que je mobilise au quotidien. Je pense notamment aux questions européennes, aux questions internationales, ou encore aux finances publiques.
Enfin, je dirais que la formation a contribué, grâce aux nombreux exposés et interventions qui jalonnent nos cours, à faciliter mes prises de parole en public.
EN SAVOIR PLUS
Last modified 2021-10-12
15.07.2021
The results of the 2021 Graduate Employability Survey on the class of 2019 show that Sciences Po students remain very attractive to employers, with 9 out of 10 graduates in professional activity. Despite a job market facing difficulties, 82% of our 2019 graduates found their first job in less than 6 months, and nearly ¾ of them have a stable profession. There are still just as many (37%) working abroad, in 84 countries. Discover all the results of our survey!
30.08.2021
You are a student looking for information about internships or career fairs? you are an employer willing to recruit our students in jobs or an internship? Find here the list of your Sciences Po Careers
Read more news