Homepage
> Rencontre avec Hugues Marxuach, diplômé 2018
Rencontre avec Hugues Marxuach, diplômé 2018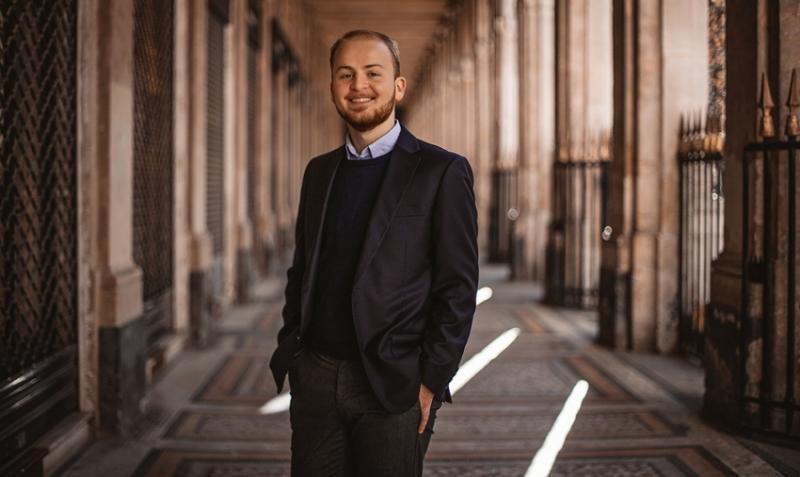 Aucune journée, aucun dossier ne ressemble à un autre
POUVEZ-VOUS NOUS DÉCRIRE VOTRE PARCOURS ACADÉMIQUE ?
Je suis entré à Sciences Po, c'est-à-dire au Collège Universitaire, en 2013. Comme beaucoup d'étudiants, je n'avais qu'une idée, celle de conserver le plus longtemps possible le plus grand nombre de portes ouvertes, et j'étais attiré par l'ambition intellectuelle de l'école. Après les trois années de formation initiale, dont une année passée au Japon, j'ai fait le choix de me tourner vers le droit après une expérience passionnante du droit international public. Ironie de l'histoire, ce cours que j'avais choisi pour ses aspects géopolitiques m'a orienté vers le droit et a décidé de ma candidature au master Droit économique en 2016.
Je suis arrivé à l'École de droit sans préconceptions ni connaissances approfondies en droit. La première année de master a donc été un beau défi, et sur ce plan la qualité des enseignants et la formation en petits groupes particulièrement tournés vers la pratique ont été d'une efficacité redoutable.
POUR QUELLES RAISONS AVEZ-VOUS CHOISI LA SPÉCIALITÉ CONTENTIEUX ÉCONOMIQUE ET ARBITRAGE (CEA) PROPOSÉE AU SEIN DE L'ÉCOLE DE DROIT ?
La vérité est que j'ai hésité jusqu'au bout ! J'ai même brièvement candidaté à la spécialité Entreprises, Marchés, Régulation (EMR) avant de revenir sur mon choix. Ce qui a emporté ma décision a été l'aspect stratégique du contentieux, le dynamisme propre au fait d'avoir un adversaire en face de soi, et la place de la conviction, de la persuasion que permet cette matière. Je suis très heureux de ce choix ! Le contentieux est la matière qui permet de toucher au plus grand nombre de domaines, et de rencontrer les situations et les personnes les plus diverses. Aucune journée, aucun dossier ne ressemble à un autre. Pour les étudiants qui recherchent une profession intellectuellement stimulante, c'est idéal. C'est également une spécialité aux enjeux très concrets, puisque sur les épaules de l'avocat peut reposer la survie d'une entreprise.
QUEL POSTE OCCUPEZ-VOUS AUJOURD'HUI ?
Après deux ans de stages dans une grande diversité de cabinets parisiens ayant confirmé ma vocation d'avocat, j'ai passé le CRFPA en 2020, dans les circonstances un peu particulières que nous connaissons tous, et j'ai prêté le petit serment de l'élève-avocat en janvier dernier. J'effectue actuellement mon stage PPI au sein de la direction juridique de Bouygues Telecom, où j'ai le privilège rare de pouvoir travailler avec une équipe pleinement dédiée aux contentieux stratégiques de l'entreprise, domaine qui est en France encore souvent laissé entre les seules mains des avocats. J'ai ainsi pu acquérir une connaissance de l'intérieur de la façon dont une entreprise dans un secteur hautement concurrentiel comme les télécoms approche le contentieux : non pas comme une solution de dernier recours, mais comme une part intégrante de sa stratégie de croissance et de développement. J'effectuerai en janvier prochain mon stage final au sein du département contentieux & arbitrage du cabinet CMS Francis Lefebvre, avec lequel je suis entré en contact par le biais du réseau de l'École de droit.
QUELS SOUVENIRS GARDEZ-VOUS DE VOTRE ÉCOLE, DE VOTRE PROMOTION, DE VOS ENSEIGNANTS ?
Sciences Po et l'École de droit m'ont laissé d'excellents souvenirs, et je suis heureux d'y avoir noué des amitiés et contacts que je conserve encore aujourd'hui. Je garde à l'esprit la plaidoirie finale du cours de droit de la concurrence où notre équipe a obtenu, devant un panel d'experts, la relaxe de Google dans une affaire inspirée d'une décision alors récente de l'Autorité de la concurrence en matière d'abus de position dominante, Bottin Cartographes c. Google Inc.
Je reste également, avec le bénéfice de la rétrospective, frappé par la pertinence du projet pédagogique du master : les problématiques transversales de stratégie contentieuse, de droit de la concurrence, et de pénal des affaires recoupent très largement les questionnements juridiques auxquels sont confrontés les directions générales de tous les grands groupes aujourd'hui.
UN CONSEIL POUR CELLES ET CEUX QUI SOUHAITERAIENT REJOINDRE L'ÉCOLE DE DROIT ?
Mon conseil sera tout aussi bien pour ceux qui souhaiteraient rejoindre l'École que pour ceux qui s'y trouvent déjà : prenez votre temps et multipliez les expériences, même celles qui pourraient sembler baroques au premier abord. Si vous en sortez grandi, elles en auront valu la peine.
Hugues Marxuach, diplômé 2018 du master Droit économique spécialité Contentieux économique et arbitrage (CEA)
Last modified 2021-11-22
27.01.2023
If you are looking for interns or future employees, our guide 'Recruit at Sciences Po' will provide the relevant information about our students, the careers we train them for and how to leverage this great pool of talent to meet your recruitment needs.
20.12.2022
On Friday, September 29, the Careers Fair was held for the first time on Sciences Po's 1 Saint Thomas Campus. More than 1,000 Sciences Po students and graduates attended the event where they met with over 70 different employers to discuss internships, apprenticeships and job opportunities.
Read more news