Homepage
> Chine Labbé, diplômée du double diplôme en journalisme Columbia / Sciences Po
Chine Labbé, diplômée du double diplôme en journalisme Columbia / Sciences Po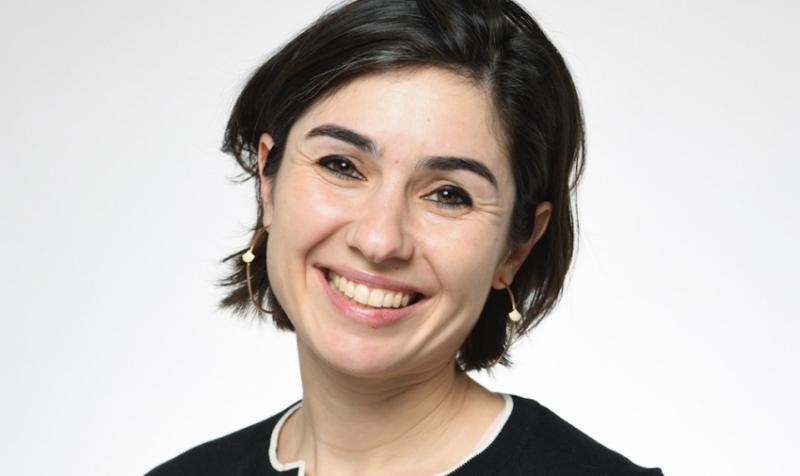 "De ce double diplôme, je garde des mentors"
Pouvez-vous décrire votre parcours académique et professionnel? May you describe your academic and professional background?
Après un premier cycle à Sciences Po, j'ai eu la chance de faire partie de la première cohorte d'étudiants du double diplôme de journalisme entre Sciences Po et l'université de Columbia. À Paris, j'ai suivi la spécialité radio et fait des piges régulières pour France Culture. Puis à New York, je me suis spécialisée en multimédia. Diplômée en juin 2010, j'ai commencé ma carrière comme productrice multimédia pour The Économiste à New York, un poste que j'ai occupé pendant huit mois. J'ai ensuite fait des piges pendant quelques mois, avant de rentrer en France ou j'ai rejoint la rédaction de Reuters. J'ai travaillé sept ans pour Reuters, comme journaliste politique d'abord, puis comme correspondante justice, sécurité et terrorisme. En 2017, je me suis installée aux États-Unis. La j'ai créé Good Code, un podcast sur les questions éthiques liées aux nouvelles technologies, en collaboration avec la Digital Life Initiative de l'université de Cornell Tech. Et début 2019, j'ai rejoint NewsGuard, une société américaine qui évalue la fiabilité des sites d'actualité et d'information, pour travailler sur son expansion en France.
Quel poste occupez-vous aujourd'hui? A quoi ressemble votre travail au quotidien? What is your job title today? How is your daily routine?
Je suis aujourd'hui rédactrice en chef, Europe, pour NewsGuard. Concrètement, je gère la copie française et décide des priorités éditoriales en France et travaille sur des projets éditoriaux en Europe. À NewsGuard, nous analysons la fiabilité des sites d'information suscitant le plus d'engagement sur les réseaux sociaux, mon travail consiste donc à surveiller tous les nouveaux sites qui émergent, qu'ils soient fiables ou non, écrire certaines analyses, éditer celles produites par nos analystes, et m'assurer qu'elles restent à jour, et ne sont pas "datées". Je passe donc beaucoup de temps à lire l'actualité des médias, et à suivre les contenus qui suscitent beaucoup d'engagement sur les réseaux sociaux. Mon travail consiste également à suivre les grandes tendances de la mésinformation en France et en Europe, pour contribuer à notre newsletter mensuelle et nourrir des rapports comme que celui que j'ai chapeauté en juillet 2020 sur la propagation des théories du complot QAnon en Europe. Dans le cadre de mon activité, je travaille aussi au développement de NewsGuard en France, pour nouer de nouveaux partenariats dans le pays.
Quelles ont été les contributions de votre formation à la fonction que vous occupez aujourd'hui? What were the main takeaways from your degree?
La formation que j'ai reçue dans le cadre du double diplôme Sciences-Po/Columbia a été cruciale dans mon parcours. Que ce soit chez Reuters à Paris ou NewsGuard à New York, où, dès le départ, je travaillais sur des contenus francophones. être bilingue, comprendre les cultures française et américaine et les différences de sensibilité journalistique entre ces deux pays a toujours été un atout. Avec le double diplôme j'ai non seulement acquis une connaissance unique des deux pays et une aisance dans les rédactions des deux côtés de l'Atlantique. J'ai aussi pu tisser un réseau de professionnels nourri, parmi mes camarades de promotion et parmi mes enseignants, ce qui est essentiel dans notre profession.
Quels souvenirs gardez-vous de votre école, de votre promotion, de vos enseignants? What memories did you keep from your school, your cohort, your teachers?
De mes deux années à Paris, et de mon année à New York, j'ai avant tout gardé de nombreux amis et désormais collègues. Ces années d'études si intenses, auprès de personnes qui sont passionnées et ont un objectif commun, sont propices à l'éclosion d'amitiés solides et durables. De ce double diplôme, je garde aussi des mentors, qui ont continué à m'écrire et me conseiller bien après que j'ai quitté les bancs de Sciences Po et Columbia, et continuent à le faire aujourd'hui. Le journalisme est un métier de rencontres, et celles-ci commencent en master ! Ce qui est assez unique aussi avec ce double diplôme, c'est de découvrir deux villes merveilleuses - Paris et New York - en y arpentant leurs quartiers à la recherche de sujets intéressants. C'est une chance incroyable.
Quels conseils donneriez-vous à un étudiant qui souhaiterait devenir journaliste aujourd'hui? What advice could you give to a student who would like to become a journalist?
N'écoutez pas les pessimistes ! Quand j'ai commencé le master, nombreux étaient ceux qui me disaient que cette voie était bouchée, que je ne trouverais jamais de travail. Aujourd'hui, on nous martèle que le journalisme est mort, que la presse écrite ne survivra pas… Le journalisme est une profession merveilleuse qui doit sans cesse se réinventer. Et nous vivons aujourd'hui une période extrêmement riche, car elle nous impose justement de faire émerger de nouveaux business models, et de nouvelles pratiques. Certes, les postes de correspondants à l'étranger se font plus rares, et le métier de journaliste en 2020 est bien différent de ce qu'il était il y a 20 ou 30 ans, mais il n'est pas mort pour autant. Le poste que j'occupe est très nouveau, et c'est palpitant. Alors croyez-y, mais soyez ouverts au changement et aux nouvelles formes de journalisme qui se créeront. Et de manière générale, soyez ouverts aux opportunités qui s'offrent à vous, qu'elles correspondent à l'idée que vous vous faites du métier de journaliste ou pas! Il y a quinze ans, je n'aurais jamais imaginé travailler pour une société qui évalue la fiabilité des sites d'information, je me voyais reporter et rien d'autre. Mais en embrassant cette opportunité, j'ai découvert un domaine qui me passionne, et aujourd'hui, je ne m'imaginerais pas ailleurs !
Last modified 2021-11-26
03.04.2023
If you are looking for interns or future employees, our guide 'Recruit at Sciences Po' will provide the relevant information about our students, the careers we train them for and how to leverage this great pool of talent to meet your recruitment needs.
22.03.2023
Launched by two graduates (class of 2020) from Law School : Agnès de Fortanier (Master in Economic Law) and Thomas Harbor (dual degree Sciences Po HEC), What's up EU is a newsletter putting together a concise, well-documented, and informative weekly wrap-up of the news that matters at a continental scale — from a European perspective. Sciences Po Careers interviewed Augustin Bourleaud, in charge of its edition, who is currently a double master's degree student between Sciences Po and the London School of Economics.
Read more news