Homepage
> From 24 to 28 January : Data & digital careers week
From 24 to 28 January : Data & digital careers week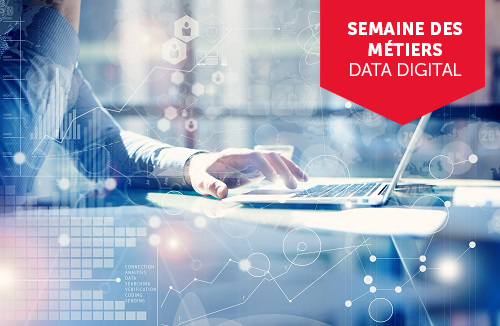 The current digital revolution is impacting all of society's actors in all of their relationships and social interactions: citizens, companies, economic and political organizations, all of our activities are now connected, measured, analyzed, stored and predictable. Faced with this profound transformation that affects all sectors of the economy, new professions have emerged: data analyst, data scientist, data protection officer, artificial intelligence or digital transformation consultant...what skills does the Sciences Po profile have to offer that are in demand in this sector? From January 24 to 28, as part of Data and Digital Careers Week, professionals will advise you and graduates will inspire you during career roundtables and presentations.
round tables
Tuesday 24 January 12h30-14h : Pourquoi la French Tech est "the place to be" en 2022 ? (in French)
Moderator: Antoine Chaffrut, Head of Talents France Digitale
Speakers:
Anne-Sophie Marquet, Responsable administrative et financière chez Metroscope (IA impact)
Léa Miquet, Talent Acquisition Manager Brut.
Charlotte Jestin, Directrice générale de la French Tech Grand Paris
En collaboration avec France Digitale
Wednesday 26 January 12h30-14h : Careers in data industry
Moderator: Audrey Schuler, Sciences Po Careers
Speakers:
Maité Allain, Directrice et co-fondatrice du cabinet de recrutement Upward data (diplômée 2012 master marketing)
Antoine Courmont, Sociologue au sein du Laboratoire d'innovation numérique de la

CNIL

et directeur scientifique de la chaire Villes et numérique de l'Ecole urbaine de Sciences Po
Julien Denes, Data scientist Banque de France, (diplômé master politique publiques 2020)
Julie Schwartz, Avocate - Privacy & Cybersecurity,

Hogan Lovells
Working in creative industries in digital age
Organised by School of Management and Innovation, ethis event is open to all sciences po students and graduates
Modération : Thierry Jadot, entrepreneur alumnus de Sciences Po, anime le cours Reinventing creative industries.
Clémentine GAYET, diplômée 2010, creative executive, French Original Series Netflix France
Jérémie Amram, Creative Strategist - Creative Lab chez TikTok
Youri Rebeko, Story Editor @ Ubisoft Editorial HQ
Friday 28 January 12h30-14h
Digital, New Technology and Public Policy Careers (in English)
This event os organised by School of Public Affairs
Moderator: Eleonora Bonet et Ryan Hachem (student Digital AEAP)
Mathilde Bras, Project Director Numéricité
Aura Cifuentes,Director of digital government of Colombia's Ministry of Information and Communications Technology
Léo Hamon, Head of Public Affairs IBM
Asinetta Serban, Public sector lead AWS
Vendredi 28 janvier 17h-18h
What's next digital - Meeting with graduates of Master in Digital, New Technology and Public Policy of the School of Public Affairs (en anglais)
This event is open to all students
Nathan Redin, Head of Digital Science to NEOBRAIN
Torben David, Digital Policy Advisor to MEP Tiemo Wölken,

European Parliament

Ethel Tan, Junior Policy Analyst, Digital Government and Data Unit, Open and Innovative Government Division, Directorate for Public Governance OECD
expand your network
Did you know it? In addition to the Sciences Po Alumni directory, you can find profiles of Sciences Po Alumni who hold positions that interest you on the Sciences Po Linkedin page in the Alumni section. Use the filters and get in touch with alumni to get advice and develop your network!
Get in touch with Sciences Po Alumni now!
replays
Les métiers du marketing digital from Sciences Po Carrières on Vimeo.
JOBS/INTERNSHIPS OPPORTUNITIES
Ongoing opportunities on your Sciences Po Careers Website
Last modified 2022-01-21
14.03.2022
If you are looking for interns or future employees, our guide 'Recruit at Sciences Po' will provide the relevant information about our students, the careers we train them for and how to leverage this great pool of talent to meet your recruitment needs.
15.07.2021
The results of the 2021 Graduate Employability Survey on the class of 2019 show that Sciences Po students remain very attractive to employers, with 9 out of 10 graduates in professional activity. Despite a job market facing difficulties, 82% of our 2019 graduates found their first job in less than 6 months, and nearly ¾ of them have a stable profession. There are still just as many (37%) working abroad, in 84 countries. Discover all the results of our survey!
Read more news