Homepage
> 7-11 MARCH: PROFESSIONAL EQUALITY WEEK
7-11 MARCH: PROFESSIONAL EQUALITY WEEK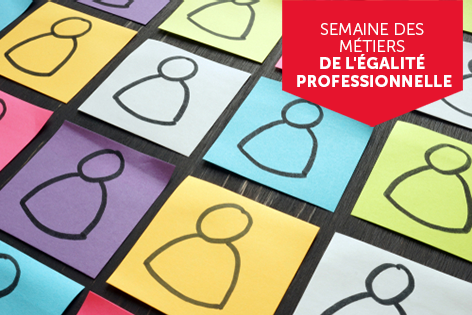 Are you interested by issues of professional equality, inclusion, diversity and gender? For International Women's Rights Day on 8 March, Sciences Po Carrières offers you this week a broader focus on professional equality. An interview with Anne Boring and her research on the impact of gender on career choices and career paths, Mahaut Chaudouet-Delmas on her missions for the High Council for Equality (HCE) and other Sciences Po graduates involved in diversity, equality or inclusion missions within companies or organisations...
Were you aware of this? The pay gap between men and women after graduating from Sciences Po is ongoing but decreasing.
Each year, Sciences Po carries out a survey among its graduates to determine their professional situation 6 and 18 months after graduation. While salary differences have persisted in recent years, the trend shows a slight decrease in these differences.
In order to understand the reasons for these discrepancies, we interviewed Anne Boring, whose work focuses on the impact of gender on career choices and career paths.
Sciences Po provides resources to reduce these gaps: through dedicated courses (PRESAGE), specialised Chairs or the organisation of career workshops: "negotiating your salary" "developing your professional potential". Questions of equal pay or access to positions of responsibility tend to be dealt with systematically by participants in round tables or during company presentations.
"A large number of studies show that in general stereotypes have an impact on professional choices and careers" interview with Anne Boring
Anne Boring is an economist, research associate at the Laboratoire Interdisciplinaire d'Evaluation des Politiques Publiques (LIEPP), assistant professor at the Department of Economics of Erasmus University Rotterdam and research fellow at the Women and Public Policy Program of Harvard Kennedy School. Since September 2018 she has been the Chair for Women's Employment and Entrepreneurship at Sciences Po.
As part of Professional Equality Week, Sciences Po Carrières interviewed Anne Boring on the content of her work and the objectives of the Chair she manages.
Are you familiar with the PRESAGE programme?
The Gender Studies Research and Teaching Programme (PRESAGE) at Sciences Po was created in 2010 by Hélène Périvier and Françoise Milewski. Jointly developed by the Observatoire français des conjonctures économiques and Sciences Po (OFCE), PRESAGE has three goals: to stimulate and promote research in gender studies, to develop and enhance the range of courses about gender at Sciences Po, and to share knowledge about gender within society.
The programme offers several certifications: From University College, a certification in Gender and Equality, at Master's level, the certification in Gender and Equality (in partnership with the School of Public Affairs) or the Advanced Certification in Gender Studies.
They have followed the PRESAGE programme:
Caroline, alumna of the Master in Sociology of the Doctoral School
"Dans la suite de mon parcours, j'aimerais contribuer à l'élaboration de politiques publiques de lutte contre les inégalités de genre en travaillant pour une ONG, une association, un think tank ou une instance consultative formulant des propositions et effectuant des actions de plaidoyer à ce sujet. J'espère notamment, grâce à ma formation, pouvoir contribuer à ce que les politiques publiques prennent en compte les résultats de la recherche scientifique, y compris en sciences sociales, pour proposer des réponses adaptées aux problématiques actuelles."
Elsa, student at the School of Public Affairs
"Plus tard je sais que je veux agir pour l'égalité professionnelle. Je pense que le travail est quelque chose d'universel, ça ne peut pas se revendiquer de l'Occident ou du white feminism. Et du travail découlent tellement d'autres problématiques : le sexisme, le harcèlement au travail, le plafond de verre, l'équilibre entre vie pro et vie perso"
QUALITY, DIVERSITY, INCLUSIVITY: WHICH JOBS?
Clotilde Aubet : Working with a chronic disease
"I had this fear that my disability and the limited accommodations it required would be put ahead of the work I was doing and the skills I brought, that I would be reduced to some quota that had to be filled (female and disabled, not too bad in terms of diversity!). It has always been the case that when I started a new internship/job I felt I had not yet proven myself. I had this fear that I would be judged not capable of working, not suitable because of those few extra parameters in the equation. But I have learnt to show that this has to be taken into account, otherwise the equation would no longer balance. Those few adjustments are what allow me to work the way I do."
Mahaut Chaudouët Delmas, Technical Advisor to the High Council for Equality, Graduate in Public Affairs (2016)
"I am in charge of studies at the High Council for Equality between Women and Men. In concrete terms, this means that I monitor and lead two commissions - the "Stereotypes and social roles" commission and the "Parity in political, administrative and economic life" commission. For these commissions as well, but also for other transversal works of the HCE, I am in charge of writing the HCE reports, which are generally submitted to the Minister in charge of women's rights or to the Prime Minister, who can also refer to the HCE on this or that subject. In general, I participate in the missions of the HCE, which must ensure consultation with civil society, lead the public debate on the main orientations of the policy of women's rights and equality, and evaluate public policies concerning equality between women and men."
Kamina Diallo, Gender mainstreaming specialist at the Organisation internationale de la Francophonie (OIF), graduate of the Master International Public management (2015)
"I work at the Organisation Internationale de la Francophonie (OIF), which is an international organization based in Paris. I work there as a program specialist in charge of gender mainstreaming. The objective of my job is to make sure that my colleagues, who implement projects in developing countries, integrate the gender equality perspective in their different actions. To do this, I train them by organizing awareness sessions so that they are able to systematically integrate this theme into all their initiatives and advocacy."
Donia Souad Amamra, co-founder of Meet My Mama, graduate of the Master of Public Affairs (2016)
Donia Souad Amamra is a graduate of the School of Public Affairs (2016). Upon graduating from Sciences Po, she co-founded Meet My Mama, a responsible caterer that helps reveal the culinary talents of mamas. Today, Donia directs the association of Meet My Mama, Empower My Mama, which trains and accompanies Mamas in their professionalization. She is a member of the Board of Directors of SINGA, an organization committed to helping refugees. Donia also teaches courses at Sciences Po on gastronomy, culinary arts and culture in the Arab world. For her entrepreneurial journey, Donia has received several awards and distinctions, including the Forbes 30 under 30 and the Bold Women Award.
resources
The importance of female networks in career building
In the business world, women face more obstacles than their male counterparts. It is precisely the lack of consideration for women in mixed networking groups that has led to the creation of women-only networks. Within these spaces of trust, women exchange their best practices and learn how to solve the problems they face in the workplace (public speaking, leadership assertiveness towards men, reconciliation of their professional and family lives, etc.). There are currently more than 500 women's networks in France, here is a non-exhaustive selection.
Networking ideas:
Last modified 2022-03-07
04.09.2023
If you are looking for interns or future employees, our guide 'Recruit at Sciences Po' will provide the relevant information about our students, the careers we train them for and how to leverage this great pool of talent to meet your recruitment needs.
06.09.2023
Launched by two graduates (class of 2020) from Law School : Agnès de Fortanier (Master in Economic Law) and Thomas Harbor (dual degree Sciences Po HEC), What's up EU is a newsletter putting together a concise, well-documented, and informative weekly wrap-up of the news that matters at a continental scale — from a European perspective. Sciences Po Careers interviewed Augustin Bourleaud, in charge of its edition, who is currently a double master's degree student between Sciences Po and the London School of Economics.
Read more news