Homepage
> CLAIRE, DIPLÔMÉE DU MASTER MASTER INNOVATION & TRANSFORMATION NUMÉRIQUE, CRÉATRICE DES PÉPITES VERTES
CLAIRE, DIPLÔMÉE DU MASTER MASTER INNOVATION & TRANSFORMATION NUMÉRIQUE, CRÉATRICE DES PÉPITES VERTES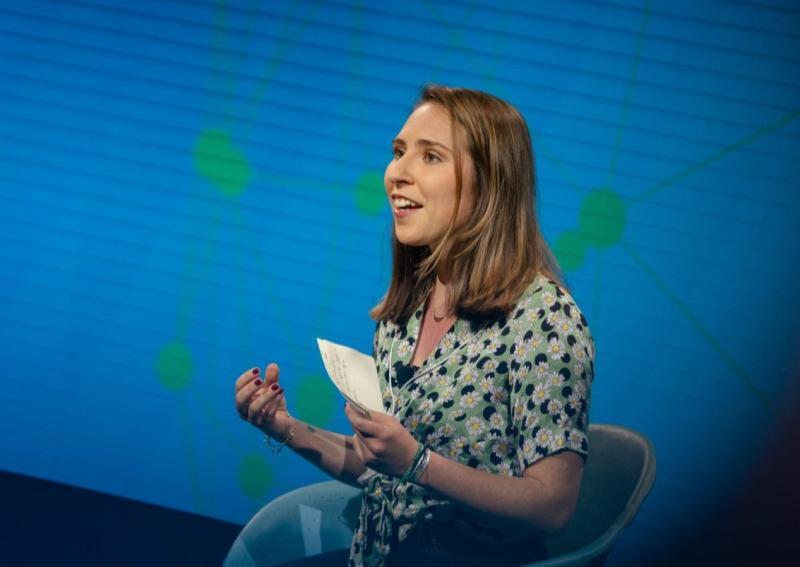 Diplômée du master Master innovation & transformation numérique, Claire s'engage activement pour éclairer les voies professionnelles des étudiants en recherche de jobs qui ont du sens dans un avenir d'urgence climatique. Avec son media Les Pépites Vertes, elle oeuvre à inspirer les étudiants sur les possibles trajectoires professionnelles en interrogeant des jeunes engagés.
Quel a été ton parcours ?
Engagée bénévolement dans des projets jeunesse depuis mes années lycée, j'ai décidé d'intégrer cet engagement dans mon cursus de formation. De Segré, ma petite ville natale du Maine-et-Loire, je suis arrivée à Paris en 2013 pour intégrer le cursus universitaire de Sciences Po et rejoindre ensuite le master communications & média de l'Ecole du management et de l'innovation.
Curieuse et désireuse de construire un projet professionnel qui corresponde à mes valeurs, j'ai enchaîné les expériences dans des structures à mission depuis 2017 : le Drenche, Voxe.org, la Ruche qui dit Oui ! (Angers), Cocycler (Angers), ChangeNOW.
e suis également passée par Télécom Paris pour mon master 2 spécialisé en innovation dont je suis diplômée depuis 2019. Je suis enfin très attachée à mon Anjou natal où je repasse tous les mois.
De Sciences Po aux Pépites Vertes
Très vite, j'ai remarqué que mon parcours questionnait les jeunes qui m'entouraient. "Comment as-tu trouvé ta voie ? Où travailler pour accélérer la transition écologique ? Comment se former ?".
En septembre 2020, j'ai donc décidé de lancer les Pépites Vertes, un média digital qui donne la parole à différents jeunes salariés de la transition écologique afin d'aider les étudiants à s'orienter à leur tour.
Plus qu'un média, je réalise que je construis une vraie communauté autour du projet. Accompagnée d'une équipe de 10 bénévoles, je décide donc de lancer le Club des Pépites en septembre 2021, tout en continuant à animer le média. Avec ces deux activités, nous nous dotons d'une mission claire : équiper les jeunes talents de la transition écologique.
Le Club des Pépites : en quoi ça consiste ?
La première promotion du Club réunit 70 adhérents de 30 départements français. Les membres, des jeunes actifs, sont salariés d'ONG, startups, grands groupes, cabinets de conseil, ou encore organismes publics. Ils se rencontrent tous les mois pour se former mutuellement à leurs expertises terrain lors de rencontres de 2h le mardi soir. Une fois sur deux, la rencontre a lieu physiquement à Paris. Rencontrer, échanger, apprendre, transmettre, accélérer l'impact. Autant de verbes qui se sont confirmés au fur et à mesure de l'année, avec une soif d'apprendre grandissante.
Tes ambitions pour la suite?
Rencontrer, échanger, apprendre, transmettre, accélérer l'impact. Autant de verbes qui se sont confirmés au fur et à mesure de l'année, avec une soif d'apprendre grandissante. Grâce à la traction générée par le média, les partenariats liés à la création de contenu ont permis le financement d'une stagiaire dédiée à l'animation du Club et à son développement.
Depuis le début, nous construisons le projet avec nos bénéficiaires et leurs retours sont très positifs. Nous travaillons déjà avec des institutions publiques (ADEME, ONISEP, Région IDF), des écoles (Télécom Paris, Centrale Paris, Sciences Po), des médias (20 Minutes, Maddyness, AEF Info) ainsi que des structures privées (Nestlé, Welcome to the Jungle, ChangeNOW).
Notre place au cœur de l'écosystème nous permet d'identifier les experts et de comprendre les besoins des talents comme des recruteurs des secteurs en transition.
Ton défi en 2022 ?
Structurer le projet pour assurer sa durabilité économique pour maximiser notre impact.
Un mot pour définir mon parcours ?
Désolée, il y en aura deux ! L'équipe et l'apprentissage sont les éléments centraux de ma matrice entrepreneuriale.
Last modified 2022-02-17
27.01.2023
If you are looking for interns or future employees, our guide 'Recruit at Sciences Po' will provide the relevant information about our students, the careers we train them for and how to leverage this great pool of talent to meet your recruitment needs.
15.02.2023
Is your company or organisation looking for interns or graduates in Africa? Meet our students on 15th and 16th March and recruit them!
Read more news