Homepage
> Anmol, apprentice at Kering, Sustainability Communication Assistant, (School of Management and Innovation)
Anmol, apprentice at Kering, Sustainability Communication Assistant, (School of Management and Innovation)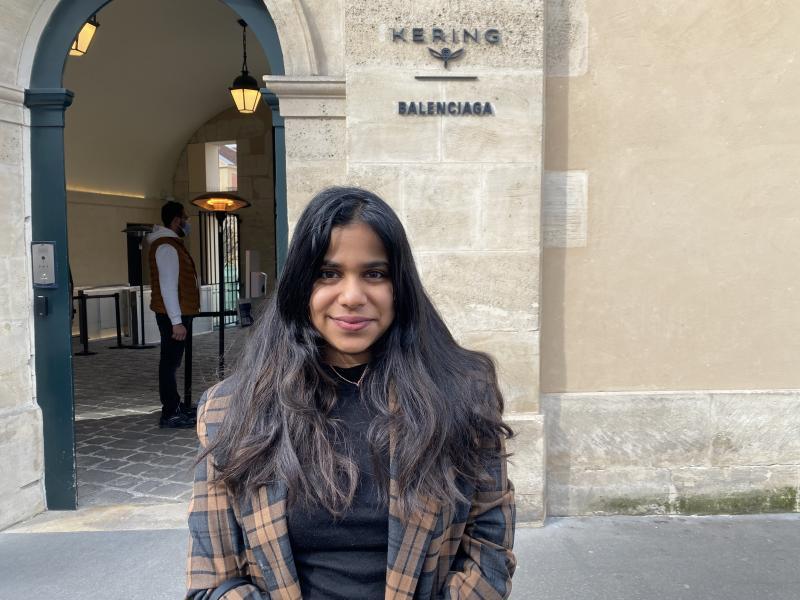 Anmol Prithani, student at the School of Management and Innovation, did an apprenticeship at Kering.
What are your missions during your apprenticeship?
I am doing an apprenticeship at Kering which is a French Luxury Group as a Sustainability Communications Assistant. As I was doing a masters in communications, I wanted to continue in the field but be impactful at the same time. Through Kering, I was able to learn about the most important challenges in the world of sustainability, fashion and luxury. I also got a chance to work in-depth in a massive luxury group which allowed me to see sustainability via the private lens. My missions were to work on internal and external communications on sustainability. I created content for our internal employee platform, helped organize events and talks, and conducted press reviews and reporting. In terms of external communications, I identified sustainability events we could support, identified summits where we could participate and create external assets. The main idea was to simplify a difficult and technical subject such as sustainability for the grand public and make people more aware about not only the group's commitments but also sustainability as a topic.
Why did you choose this apprenticeship? How did you find it?
I found my apprenticeship offer on LinkedIn in July. I wanted to do an apprenticeship as it would allow me to graduate with work experience. I took a gap year and then decided to do an apprenticeship, which would allow me to graduate with 2 years of work experience already. I also thought it was important to work and study at the same time, as my apprenticeship improved my understanding of theoretical subjects and my classes allowed me to be more creative at work. Finally, there are many benefits to being an apprentice including a waived tuition fee and a salary, which is great for students!
What has this experience done for you in terms of your future career plans?
This experience has completely changed my plans for the future. Before this apprenticeship, I had never considered a career in sustainability or luxury. However, this apprenticeship showed me the importance of sustainability in our decade and how communication can be used as a tool for good. I was also introduced to the world of fashion, which I had no previous experience in. This has opened a lot of doors for me and gives me a much wider choice of options for the future!
Any advice for students who are hesitating to choose an apprenticeship?
Go for it! It is definitely worth it. You will never get an opportunity like this to work somewhere for a year while also being a student. It is also a great way to kick-start your career early on!
Last modified 2022-03-04
27.01.2023
If you are looking for interns or future employees, our guide 'Recruit at Sciences Po' will provide the relevant information about our students, the careers we train them for and how to leverage this great pool of talent to meet your recruitment needs.
20.12.2022
On Friday, September 29, the Careers Fair was held for the first time on Sciences Po's 1 Saint Thomas Campus. More than 1,000 Sciences Po students and graduates attended the event where they met with over 70 different employers to discuss internships, apprenticeships and job opportunities.
Read more news