Homepage
> Marie - Fondatrice du cabinet ConsultantSeas et Anne-Sophie - Fondatrice de Tenaka
Marie - Fondatrice du cabinet ConsultantSeas et Anne-Sophie - Fondatrice de Tenaka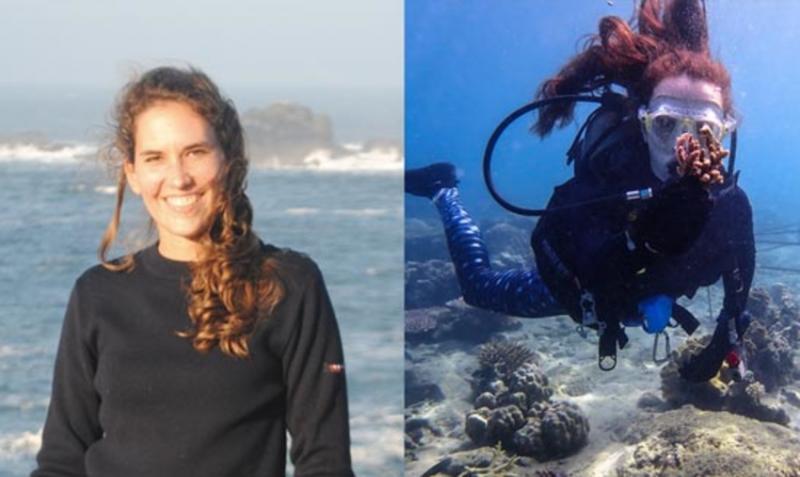 L'une se consacre à en bannir le plastique, l'autre y replante des coraux : deux diplômées racontent pourquoi et comment elles ont créé leur entreprise au service de la protection des océans. À l'occasion du premier Forum des métiers de la transition écologique, nous avons rencontré Marie Le Texier, Fondatrice du cabinet ConsultantSeas, et Anne-Sophie Roux, Fondatrice de Tenaka.
Qu'est-ce qui vous amenées à vous engager dans le domaine de la protection des Océans ?
Anne-Sophie Roux : À première vue, rien ne me destinait à créer une entreprise de l'Économie sociale et solidaire (ESS) ! Avant d'obtenir mon diplôme en 2019, j'étais étudiante à l'École doctorale dans le parcours "Politique comparée" du master en sciences politiques. Mes recherches portaient sur l'adaptation des communautés d'Asie du Sud-Est à l'évolution climatique. Lors d'une année de césure, j'ai décidé de me rendre sur le terrain. Ce faisant, j'ai découvert une quarantaine d'initiatives dans la région du Pacifique et de l'Asie du Sud-Est, et j'ai eu l'opportunité de me former à la biologie marine. C'est ainsi que j'ai appris qu'il était possible de planter des coraux ! J'ai vu l'impact que cela pouvait avoir pour les communautés côtières, notamment en Malaisie et dans les Philippines : restauration des écosystèmes, sécurité alimentaire, protection face aux typhons ou à l'érosion…
Lorsque je suis revenue en France pour finir mon master, j'ai décidé de créer Tenaka tout en rédigeant mon mémoire. C'était beaucoup de travail, mais j'ai pu rejoindre l'incubateur de Sciences Po, qui m'a énormément aidée alors que je n'avais encore aucune compétence entrepreneuriale. Aujourd'hui, Tenaka emploie six personnes sur trois continents.
Marie Le Texier : J'ai toujours voulu travailler dans le domaine de l'eau. Avant de rejoindre Sciences Po, j'ai étudié à l'ENSEEIHT (ndlr : prononcer tout simplement «N7» !), une école d'ingénieurs située à Toulouse. J'ai aussi fait des stages dans des institutions spécialisées, comme l'Institut de Recherche pour le Développement (IRD). Cette formation d'ingénieure m'a beaucoup apporté, mais j'avais le sentiment qu'il me manquait une formation en sciences humaines et sociales pour vraiment comprendre les problématiques de l'eau et de l'environnement. J'ai donc décidé de rejoindre un programme de l'École d'affaires internationales de Sciences Po (PSIA), le master in environmental policy, en 2011. J'y ai suivi tous les cours qui me permettaient de comprendre les enjeux de la gestion de l'eau à travers le monde ; j'ai aussi profité des opportunités de faire des stages, par exemple avec UN Habitat au Laos.
Après l'obtention de mon diplôme en 2013, j'ai rejoint le World Business Council for Sustainable Development, une association de 200 multinationales dont le Secrétariat, basé à Genève, effectue du conseil en développement durable. Au cours des trois ans que j'y ai passés, j'ai pu à la fois comprendre le point de vue des entreprises et mesurer leurs moyens de mise en œuvre. Après une année de césure (pour devenir skipper !), j'ai proposé au WBCSD de me concentrer sur la protection des océans. Avec l'aide de mes managers, j'ai initié le groupe de travail sur les plastiques océaniques et travaillé avec de nombreuses entreprises. C'est ce qui m'a donné l'idée de créer ConsultantSeas, qui accompagne le secteur public, le secteur privé et la société civile dans la définition et la mise en œuvre de bonnes pratiques pour réduire le plastique dans les océans.
Last modified 2022-03-11
27.01.2023
If you are looking for interns or future employees, our guide 'Recruit at Sciences Po' will provide the relevant information about our students, the careers we train them for and how to leverage this great pool of talent to meet your recruitment needs.
20.12.2022
On Friday, September 29, the Careers Fair was held for the first time on Sciences Po's 1 Saint Thomas Campus. More than 1,000 Sciences Po students and graduates attended the event where they met with over 70 different employers to discuss internships, apprenticeships and job opportunities.
Read more news