Homepage
> Benoît, poste d'analyste sûreté chez Unibal Rodamco, Master Politiques publiques - spécialité Sécurité et défense, promotion 2019
Benoît, poste d'analyste sûreté chez Unibal Rodamco, Master Politiques publiques - spécialité Sécurité et défense, promotion 2019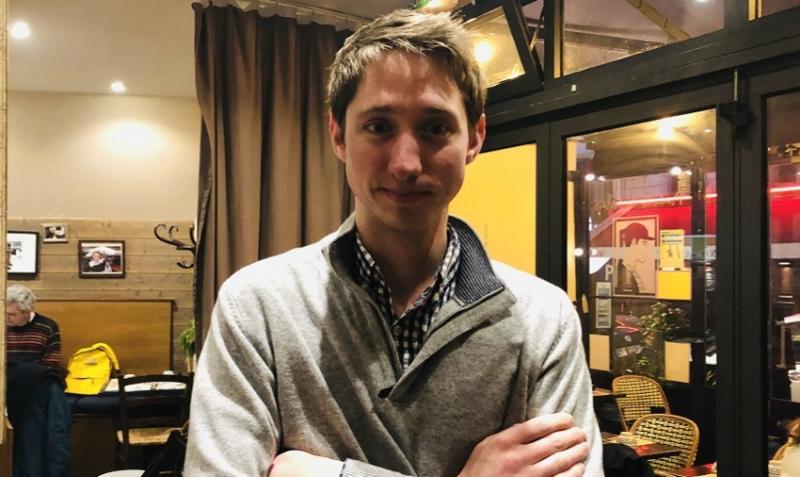 Du Master Politiques publiques, spécialité Sécurité et Défense au poste d'analyste sûreté chez Unibal Rodamco
Pouvez-vous décrire votre parcours universitaire et professionnel ?
Après un baccalauréat et une prépa scientifique en trois ans, j'ai intégré l'École Centrale Paris en 2013. Après un semestre et demi sur le campus de Châtenay-Malabry, j'ai réalisé un semestre d'échange en école de commerce à l'ESCP à Berlin. Ensuite, une année de césure m'a amené à faire un stage en finance à la Société Générale (Paris puis Hong Kong) en tant qu'assistant trader, puis un autre stage de 4 mois dans une StartUp dans le domaine du tourisme. Ma dernière année à l'École Centrale Paris a été l'occasion de me spécialiser en informatique. J'ai ensuite intégré Sciences Po en septembre 2017, faisant alors partie de la première promotion de la spécialité Sécurité et Défense du master Politiques Publiques. Ma deuxième année de master en apprentissage m'a permis de rejoindre la direction sûreté d'une entreprise du CAC40, Unibail-Rodamco-Westfield, dans laquelle je suis aujourd'hui en CDI !
Quelles ont été les principales étapes de construction de votre projet professionnel ?
A mon arrivée en école d'ingénieur, je n'avais, comme beaucoup d'étudiants, que peu d'idée de ce que je voulais faire comme métier, ni même dans quel domaine je voulais me spécialiser. J'ai alors eu la chance, pendant mon parcours centralien, de pouvoir « essayer » des domaines très variés : un semestre d'échange en école de commerce, un stage en finance, un stage en startup pour finalement me spécialiser en informatique en dernière année d'école d'ingénieur ! Progressivement au cours de mon cursus centralien, mon intérêt pour les questions de sécurité et de défense a grandi et mûri. En juin 2017, j'ai participé au cycle « grandes écoles » de l'IHEDN (Institut des Hautes Études de Défense Nationale) qui a confirmé mon appétence pour ce domaine. J'ai ensuite rejoint Sciences Po en spécialité Sécurité et Défense où j'ai beaucoup appris sur ce domaine de façon large.
Aujourd'hui, j'ai l'ambition d'une belle carrière dans ce domaine, conjuguant mes compétences techniques d'ingénieur centralien et mon parcours à Sciences Po !
Comment d'est déroulé le processus de recrutement chez Unibal-Rodamco-Westfield ?
J'avais à l'esprit en intégrant Sciences Po de réaliser ma deuxième année de master en apprentissage (alternance de 3 jours en entreprise et 2 jours à Sciences Po). Je me suis donc rendu à un Forum étudiants-entreprises en novembre 2017 dans l'idée de commencer à me renseigner sur les entreprises et organisations publiques qui recrutaient en alternance. J'étais alors plus attiré par les grandes industries de défense mais la rencontre d'un ami sur le stand d'Unibail-Rodamco (le rachat de Westfield n'ayant eu lieu qu'en juin 2018) m'a permis de mieux connaître cette entreprise et d'apprendre qu'un poste d'alternant en sûreté était en cours de création ! Les RH m'ont alors donné les coordonnées du Directeur sûreté France, avec qui j'ai passé un entretien. Puis quelques échanges supplémentaires avec les ressources humaines m'ont permis de décrocher ce poste d'alternant sûreté.
Le processus de recrutement a donc été bien singulier mais montre qu'il ne faut pas se mettre des barrières lors d'une recherche d'emploi et élargir les champs de recherche au maximum car notre place n'est pas toujours là où l'on pense !
Last modified 2022-03-17
27.01.2023
If you are looking for interns or future employees, our guide 'Recruit at Sciences Po' will provide the relevant information about our students, the careers we train them for and how to leverage this great pool of talent to meet your recruitment needs.
20.12.2022
On Friday, September 29, the Careers Fair was held for the first time on Sciences Po's 1 Saint Thomas Campus. More than 1,000 Sciences Po students and graduates attended the event where they met with over 70 different employers to discuss internships, apprenticeships and job opportunities.
Read more news