Homepage
> CLARA, PARCOURS EN APPRENTISSAGE, AU POSTE DE CONSULTANTE CHEZ GOVHE, MASTER POLITIQUES PUBLIQUES SPÉCIALITÉ SANTÉ, PROMOTION 2019
CLARA, PARCOURS EN APPRENTISSAGE, AU POSTE DE CONSULTANTE CHEZ GOVHE, MASTER POLITIQUES PUBLIQUES SPÉCIALITÉ SANTÉ, PROMOTION 2019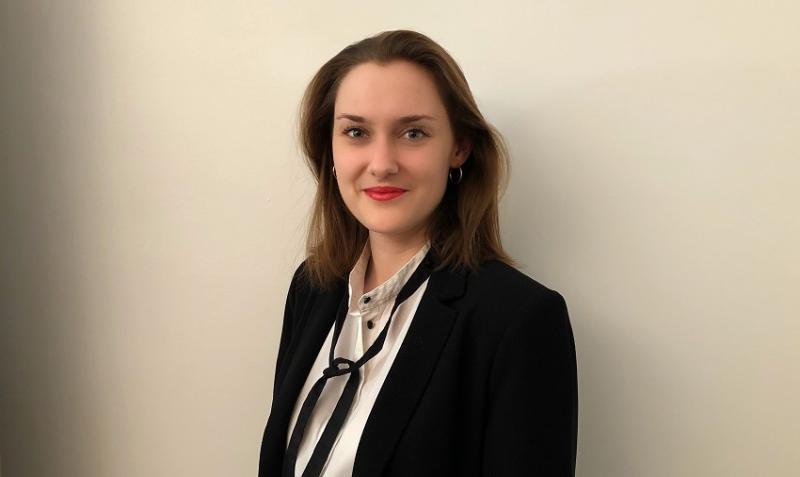 Du Master Politiques publiques spécialité Santé, parcours en apprentissage, au poste de consultante chez GovHe.
Pouvez-vous décrire votre parcours universitaire et professionnel ?
J'ai passé deux belles années sur le campus universitaire de Poitiers dans le cadre du Bachelor, à découvrir l'histoire, la culture et les méandres politiques de l'Espagne, du Portugal et de l'Amérique Latine tout en découvrant des matières jusqu'ici inconnues : économie, droit, sociologie, etc. Puis je me suis envolée en 3A vers Santiago du Chili, où j'ai eu la chance de pouvoir étudier à la Pontificia Universidad Catolica de Chile (PUC), avant de commencer mon master à Paris à l'Ecole d'Affaires Publiques, sur les politiques publiques dans le monde de la santé. J'ai décidé de faire une césure entre mon M1 et mon M2, pour découvrir sur le terrain le monde de la santé, notamment hospitalier, jusque-là uniquement appréhendé au travers des cours magistraux, électifs, conférences de l'EAP. J'ai fait un premier stage chez GovHe, un cabinet de conseil spécialisé dans le monde de la santé, et un deuxième à la Direction Parcours Patient du Groupe Hospitalier Paris Saint Joseph. Au terme de cette année de stages, j'ai décidé de réaliser mon M2 en alternance, combinant mon envie de poursuivre mes études avec celle de ne pas quitter le monde professionnel. J'ai réalisé mon alternance chez GovHe, et j'y suis restée après l'obtention de mon diplôme.
Quelles on été les principales étapes de la construction de votre projet professionnel ?
Rétrospectivement, mon projet professionnel a beaucoup évolué au fil de mon cursus à Sciences Po. Initialement, je suis entrée à Sciences Po pour faire du journalisme, mais j'ai bien vite découvert lors de ma première année deux nouvelles matières qui m'ont beaucoup intéressée : le droit et l'économie. J'ai alors réfléchi : pourquoi pas du droit économique ?
Puis le véritable tournant concernant mon projet professionnel fut ma 3A : à la PUC, comme à Sciences Po, nous avions la possibilité de choisir nos cours parmi un catalogue de matières variées : droit de la santé, diplomatie, sociologie des consommateurs, sciences politique, etc. J'ai réalisé combien était stimulant ce côté éclectique. J'ai donc cherché un master qui me permettait de conserver cette diversité des matières, tout en commençant à me spécialiser. En cela, le Master politiques publiques de l'EAP me semblait vraiment idéal, en continuant de faire de l'économie ou des politiques publiques, tout en commençant à acquérir des connaissances plus spécialisées dans le monde de la santé, monde que je connaissais un peu par le passé et qui me fascinait.
Les deux années de cours ainsi que les stages ont renforcé ma conviction que le secteur de la santé, notamment le monde des établissements de santé, me passionnait. J'ai longtemps hésité à passer le concours de l'EHESP pour devenir directrice d'hôpital. Le conseil aux établissements de santé m'a offert une belle opportunité de m'impliquer dans ce secteur, mais je ne me ferme pas cette porte pour l'avenir.
Comment s'est déroulé le processus de recrutement chez Govhe et quelles sont les principales caractéristiques de votre poste aujourd'hui ?
J'ai entendu parler de GovHe grâce au cours électif 10 healthcare challenges, dispensé par Antoine Georges-Picot, le fondateur de GovHe. Il avait pour habitude de faire intervenir des experts sur chaque sujet du cours. Pour illustrer la séance sur la performance hospitalière, Pierre Dagen, l'un des managers de GovHe, a abordé cette notion au travers de missions réalisées au sein du cabinet. J'ai été captivée par le type de travaux que réalisait le cabinet, à la fois opérationnels et stratégiques avec potentiellement un fort impact sur le quotidien du système de santé. Quand s'est présentée sur le site de Sciences Po une offre pour un stage, j'ai de suite postulé.
Last modified 2022-03-17
27.01.2023
If you are looking for interns or future employees, our guide 'Recruit at Sciences Po' will provide the relevant information about our students, the careers we train them for and how to leverage this great pool of talent to meet your recruitment needs.
20.12.2022
On Friday, September 29, the Careers Fair was held for the first time on Sciences Po's 1 Saint Thomas Campus. More than 1,000 Sciences Po students and graduates attended the event where they met with over 70 different employers to discuss internships, apprenticeships and job opportunities.
Read more news