Homepage
> Tony, parcours en apprentissage, au poste de conseiller technique et collaborateur parlementaire, Master politiques publiques - spécialité Administration publique, promotion 2019
Tony, parcours en apprentissage, au poste de conseiller technique et collaborateur parlementaire, Master politiques publiques - spécialité Administration publique, promotion 2019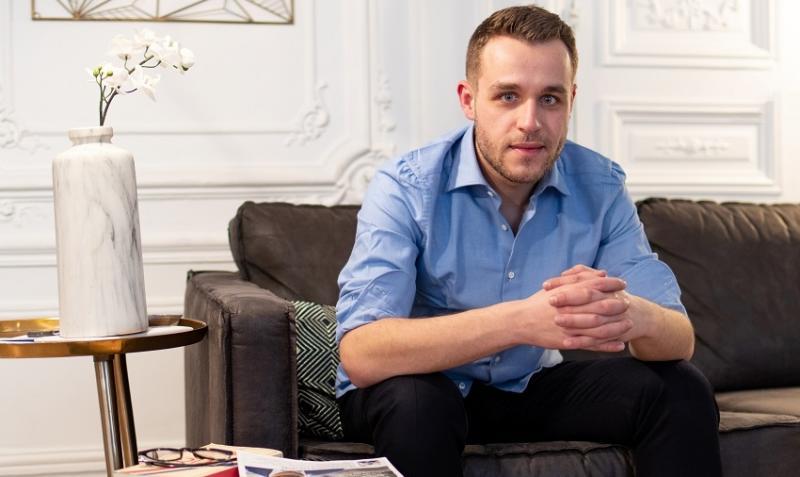 Du Master politiques publiques, spécialité Administration publique, parcours en apprentissage, au poste de conseiller technique et collaborateur parlementaire.
Pouvez -vous décrire votre parcours universitaire et professionnel ?
Je crois faire partie du panel de « profils atypiques » à qui Sciences Po donne une chance chaque année. Après avoir exercé très jeune différents métiers - buraliste, homme de ménage, ouvrier manutentionnaire, serveur - en parallèle de ma scolarité, j'ai postulé à Sciences Po un an après mon baccalauréat et l'abandon d'études de droit qui, à bien des égards, ne me correspondaient pas lorsque j'avais 18 ans. Je suis arrivé à Paris en 2014 et le coût de la vie parisienne m'a poussé à réaliser différents stages en parallèle de mes études. J'ai commencé par un stage au sein de l'Association des Alumni de Sciences Po où j'ai pu apprendre des codes qui m'étaient étrangers et développer de premières compétences en animation de réseaux et en communication. J'ai ensuite eu la chance de pouvoir exercer dans des structures où l'innovation était au cœur des réflexions. En premier lieu, le Centre des Jeunes Dirigeants d'entreprise (CJD) où nous suivions des expérimentations d'entrepreneurs inspirants et engagés. Par la suite, j'ai rejoint le Lab Pareto au sein duquel je pilotais une expérimentation qui visait à améliorer les relations entre grands groupes et TPE/PME dans une optique de créations d'emplois sur les territoires. Enfin, la start-up « Fempo », créée par deux anciennes élèves de l'école, qui a commercialisé les premières culottes menstruelles françaises.
Après le collège universitaire de Sciences Po, j'ai choisi le Master politiques publiques parce que le secteur public m'apparaissait en recomposition et qu'il permettait d'avoir une position stratégique pour faire bouger les lignes. J'ai voulu réaliser ma deuxième année de Master en apprentissage et j'ai été recruté par la Direction Interministérielle de la Transformation Publique (DITP) en tant que chef de projet Innovation Publique. Pendant cette année ô combien fondatrice pour moi, j'ai pu avoir des responsabilités sur des projets qui visaient à « sortir des silos de l'Administration » et animer la communauté « Futurs Publics », la communauté des innovateurs publics.
À la suite de cette expérience, j'ai été admis au sein de la classe préparatoire « Egalité des chances » de l'ENA (la CP'ENA) où j'ai pu approfondir mes connaissances de l'Administration et obtenir un master « Administration Publique » de l'Université Paris-1 Panthéon-Sorbonne. Pendant cette année, j'ai également mené des missions de conseil pour des opérateurs publics et j'ai été contacté pour intervenir lors de séminaires sur l'innovation publique à l'ENA et au sein de plusieurs Instituts Régionaux d'Administration (IRA).
Après avoir exploré le champ de l'Administration et étant animé par une réelle volonté de transformer la manière de concevoir les politiques publiques, j'ai voulu découvrir la politique de l'intérieur (car c'est toujours le politique qui décide en dernier ressort) et j'ai été recruté par le député et ancien secrétaire d'Etat au numérique Mounir Mahjoubi en tant que conseiller technique sur des sujets de démocratie participative.
Quelles ont été les principales étapes de la construction de votre projet professionnel ?
Mes premières expériences professionnelles dans des métiers très éloignés de ce que je fais actuellement ont été structurantes pour moi. Être au bout de la chaîne de management m'a permis de saisir les comportements et les processus qui conduisent une équipe à tendre vers un même but…ou au contraire qui développent un sentiment de défiance et favorisent les stratégies de contournement. Ma scolarité à Sciences Po m'a ouvert sur le monde et sur des disciplines que je n'aurais jamais explorées. Elle m'a aidé à comprendre que mon projet professionnel s'inscrirait dans le secteur public et qu'il serait animé par une volonté d'innovation et de « faire autrement », notamment sur des sujets sur lesquels les politiques publiques achoppent depuis des décennies. Mon année d'apprentissage a également été très importante dans mon parcours car elle m'a permis de développer une expertise et de rencontrer des personnalités inspirantes et singulières avec lesquelles je collabore encore actuellement.
Last modified 2022-03-17
27.01.2023
If you are looking for interns or future employees, our guide 'Recruit at Sciences Po' will provide the relevant information about our students, the careers we train them for and how to leverage this great pool of talent to meet your recruitment needs.
20.12.2022
On Friday, September 29, the Careers Fair was held for the first time on Sciences Po's 1 Saint Thomas Campus. More than 1,000 Sciences Po students and graduates attended the event where they met with over 70 different employers to discuss internships, apprenticeships and job opportunities.
Read more news