Homepage
> Wissem Saïle, Master politiques publiques, spécialité Administration publique, promotion 2021
Wissem Saïle, Master politiques publiques, spécialité Administration publique, promotion 2021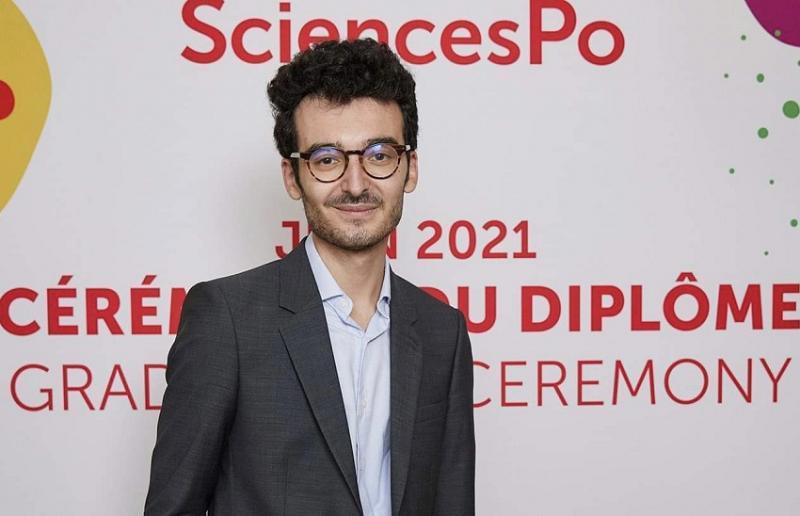 Du Master politiques publiques, spécialité Administration publique, parcours en apprentissage, au poste de chargé de la parole publique au ministère de l'Intérieur
Pouvez-vous décrire votre parcours universitaire et professionnel ?
À l'issue d'un baccalauréat scientifique, obtenu en 2016, j'ai intégré la Faculté des sciences juridiques, politiques et sociales de l'Université de Lille afin de réaliser une licence en droit. En abordant aussi bien des notions de droit public, de droit social que d'économie ou de droit des affaires, ces années de licence m'ont permis de développer une véritable culture juridique. Au quotidien, et dans les différents emplois que j'ai effectués, il m'a été très utile de bénéficier de cette connaissance précise des normes juridiques et de leur fonctionnement.
Avec l'objectif de mieux appréhender la réalité des praticiens du droit, j'ai réalisé plusieurs stages en cabinets d'avocats. Ceux-ci m'ont permis d'assister une avocate dans le traitement d'un contentieux lié au droit des étrangers, d'analyser des dossiers en droit du travail et en droit commercial ou encore d'étudier les implications pénales de certaines affaires et d'assister à une garde à vue.
En parallèle de mes études, j'ai travaillé à partir de la troisième année de licence pour un député du Nord, membre de la Commission des affaires sociales de l'Assemblée nationale. Pleinement intégré à l'équipe de ce député spécialiste du droit du travail et de la transformation de notre modèle social, j'ai vécu le quotidien des métiers de la collaboration politique et j'ai ainsi mieux perçu la mise en œuvre effective des politiques publiques.
Afin d'élargir mes compétences et en cohérence avec mon appétence pour le service public et les politiques publiques, j'ai intégré le master éponyme de l'École d'affaires publiques en 2019. Malgré la crise sanitaire inédite que nous traversons, la réactivité de l'École et l'engagement de ses enseignants m'ont permis de pleinement vivre « l'expérience » Sciences Po et de tirer le meilleur de ces deux années pour comprendre le fonctionnement des affaires publiques, pour appréhender les transformations en cours et être acteur de ces changements.
J'ai également saisi l'opportunité de réaliser la deuxième année de master en apprentissage. Disposant d'une bonne connaissance du secteur public et de l'administration publique en raison de mon cursus, j'ai choisi d'aller travailler en cabinet de conseil afin de m'ouvrir davantage sur le secteur privé. Cela me semblait nécessaire à l'heure d'un dialogue accru entre les sphères publique et privée. En parallèle de cette deuxième année de master, j'ai suivi un diplôme universitaire en Fiscalité et Comptabilité afin de mieux percevoir la grammaire du monde des affaires tout en développant des compétences analytiques et quantitatives.
Depuis septembre 2021, je travaille pour la porte-parole du ministère de l'Intérieur, la commissaire divisionnaire Camille Chaize. C'est une mission formidable, mais j'aurai probablement l'occasion d'y revenir, pour vivre le quotidien d'un grand ministère et de ses agents, tout en développant une culture de la sécurité. En parallèle de cet emploi, je continue à me former en droit public.
Quelles ont été les étapes majeurs de la construction de votre projet professionnel ?
À 22 ans, j'ai bien conscience que mon projet professionnel est toujours en construction ! Les premières étapes de celui-ci se sont construites au travers d'une série de rencontres décisives. Ainsi, ce sont des échanges avec des professionnels, des stages ou encore des discussions avec des enseignants qui ont permis de tracer les premières lignes de ma vie professionnelle.
En ce sens, des premiers « jobs d'été » jusqu'à l'emploi que j'occupe actuellement, j'ai tenté de réaliser un bilan de chaque expérience professionnelle pour mieux calibrer mes aspirations et attentes.
Last modified 2022-03-17
27.01.2023
If you are looking for interns or future employees, our guide 'Recruit at Sciences Po' will provide the relevant information about our students, the careers we train them for and how to leverage this great pool of talent to meet your recruitment needs.
20.12.2022
On Friday, September 29, the Careers Fair was held for the first time on Sciences Po's 1 Saint Thomas Campus. More than 1,000 Sciences Po students and graduates attended the event where they met with over 70 different employers to discuss internships, apprenticeships and job opportunities.
Read more news