Homepage
> Focus on careers in press, media and journalism
Focus on careers in press, media and journalism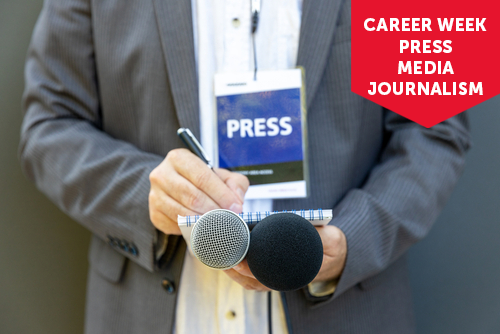 Through its study program, the Sciences Po Journalism School immerses its students in realtime newsroom conditions. Upon graduating from Sciences Po, students then have a wide range of careers in journalism to choose from: reporters, specialist journalists, correspondents (local or international), heads of department at major television channels, editorial directors, and image reporters. Join us this week as we explore these professions and hear testimonials from our graduates.
ROUND TABLES
Working in journalism (in French)
Jules STIMPFLING: participant et modérateur, Diplômé PSIA (2021), co-fondateur de l'agence créative Le Crayon
Nadège DELEPINE, Diplômée de l'école de Journalisme (2022), Journaliste ELLE magazine
Romain CLUZEL, Diplômé de l'école de journalisme (2016), Journaliste au service politique chez RMC Info Talk Sport
Sofiane AKLOUF, Diplômé de l'école de journalisme (2020), Journaliste chez Télématin
Articles
Les diplômés de l'École de journalisme de Sciences Po couvrent la guerre en Ukraine
"Depuis le 24 février 2022 et l'invasion de l'Ukraine par la Russie, l'existence de millions d'Ukrainiens a basculé dans la guerre. Pour couvrir ce conflit, certains diplômés de l'Ecole de journalisme de Sciences Po sont en premières lignes, en Ukraine, en Russie, en Pologne, en Moldavie, pour collecter des témoignages et raconter de façon fiable ce qui est aussi une "guerre de l'information"."
Portraits
Laszlo Gelabert, diplômé du Master en journalisme
"Après avoir obtenu un bac L au lycée de Corte, en Corse, j'ai suivi une double licence de lettres modernes et de philosophie à la Sorbonne. J'ai ensuite intégré le Master de journalisme de Sciences Po, qui m'a permis de suivre une alternance d'un an dans la rédaction de LCP. Après l'obtention de mon diplôme, j'ai travaillé dans de nombreuses rédactions. En pige, d'abord, à BFM TV et CNews. Puis je suis passé par le service "société" et "régions" de France 2 pour les JT de 13H et de 20H, et par le service "économie" de TF1, également pour les JT. "
Marie Gentirc, diplômée du double diplômé en journalisme Columbia/Sciences Po
"Je suis entrée à Sciences Po en 2013. Après trois ans au collège universitaire, j'ai intégré l'Ecole de journalisme de Sciences Po en master. Je suis partie à New York pour ma dernière année, dans le cadre du double diplôme avec l'école de journalisme de Columbia. Après avoir obtenu mon diplôme, en mai 2018, je suis restée à New York et j'ai travaillé pour i24NEWS (une chaîne basée à Tel Aviv, avec des bureaux aux US & en France, diffusée en trois langues : anglais, arabe & français). J'ai débuté en tant qu'associate producer pour la chaîne anglaise. En gros, j'aidais les producteurs à préparer les éditions du soir, diffusées en direct depuis nos studios à Times Square. C'était une très bonne expérience, qui m'a permis de voir ce qu'est une newsroom américaine."
Hadrien Bect, "Nous sommes considérés tout de suite comme des journalistes"
"Mon parcours est assez classique. Après trois années à l'Institut d'Etudes Politiques de Grenoble durant lesquelles j'ai découvert la radio, j'ai intégré le Master en journalisme de Sciences Po. A l'issue de ma formation, j'ai eu la chance d'intégrer la rédaction d'Europe 1 en obtenant la bourse Lauga-Delmas. Je travaille désormais comme reporter au service politique après avoir passé une année au service reportages."
Chine Labbé, diplômée du double diplôme en journalisme Columbia/Sciences Po
"Je suis aujourd'hui rédactrice en chef, Europe, pour NewsGuard. Concrètement, je gère la copie française et décide des priorités éditoriales en France et travaille sur des projets éditoriaux en Europe. À NewsGuard, nous analysons la fiabilité des sites d'information suscitant le plus d'engagement sur les réseaux sociaux, mon travail consiste donc à surveiller tous les nouveaux sites qui émergent, qu'ils soient fiables ou non, écrire certaines analyses, éditer celles produites par nos analystes, et m'assurer qu'elles restent à jour, et ne sont pas "datées". Je passe donc beaucoup de temps à lire l'actualité des médias, et à suivre les contenus qui suscitent beaucoup d'engagement sur les réseaux sociaux. Mon travail consiste également à suivre les grandes tendances de la mésinformation en France et en Europe, pour contribuer à notre newsletter mensuelle et nourrir des rapports comme que celui que j'ai chapeauté en juillet 2020 sur la propagation des théories du complot QAnon en Europe. Dans le cadre de mon activité, je travaille aussi au développement de NewsGuard en France, pour nouer de nouveaux partenariats dans le pays."
Lire plus de portraits de l'École de journalisme
RESSOURCES
École de journalisme
Misant sur l'apprentissage par la pratique et l'immersion dans le numérique, l'École de journalisme de Sciences Po forme de jeunes professionnels opérationnels en presse écrite, radio, télévision, web et mobile. Des diplômés capables de comprendre les enjeux du monde de demain et de faire évoluer leur métier sur le long terme grâce au socle intellectuel des sciences sociales.
En savoir plus sur l'École de journalisme
Où travaillent les diplômes ? Et dans quelles conditions ?
Les résultats du sondage annuel sur l'insertion professionnelle sont publiés
Les résultats de l'enquête annuelle sur l'insertion professionnelle portant sur les promotions 2005 à 2021 vient de sortir. Avec un taux de réponse de 64%, les résultats sont éloquents : les diplômés de l'Ecole de journalisme de Sciences Po se distinguent sur le marché du travail dans le contexte sanitaire que nous connaissons depuis deux ans.
Last modified 2022-03-28
14.03.2022
If you are looking for interns or future employees, our guide 'Recruit at Sciences Po' will provide the relevant information about our students, the careers we train them for and how to leverage this great pool of talent to meet your recruitment needs.
08.11.2022
In light of the deepening climate change crisis and widening inequalities the world has been experiencing, we need more individuals willing to tackle these big issues. In the footsteps of the COP27, Sciences Po Careers invite you to meet committed graduates and organisations. Whether it be the private sector, in public administration, in an international organization, in a startup or in an NGO, our Sciences Po graduates put their skills and expertise to use by serving organizations intent on solving some of the world's most pressing challenges.
Read more news