Homepage
> Philibert, Assistant au Cabinet du Ministre d'Etat chargé de l'Economie et des Finances du Bénin, diplômé 2018 Finance et Stratégie
Philibert, Assistant au Cabinet du Ministre d'Etat chargé de l'Economie et des Finances du Bénin, diplômé 2018 Finance et Stratégie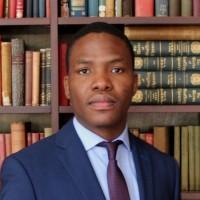 Après avoir étudié l'économie et la gestion à l'Ecole Nationale d'Economie Appliquée et de Management (ENEAM) et à la Faculté des Sciences Economique et de Gestion (FASEG) de l'Université d'Abomey Calavi, Philibert Adankon a intégré en 2018 le Master en Finance et Stratégie de Sciences Po, grâce au programme de la foundation Mastercard. Il travaille aujourd'hui au sein du Cabinet du ministre d'Etat chargé de l'Economie et des Finances du Bénin. Portrait.
Quelles fonctions occupez-vous aujourd'hui?
Depuis septembre 2021, j'ai intégré le Cabinet du Ministre d'État chargé de l'Economie et des Finances du Bénin, en tant que son Assistant. Je continue encore d'appréhender le poste, tellement les problématiques traitées sont diverses. En effet, j'ai un périmètre de mission assez large, qui couvre tous les sujets du Ministère. Sans être exhaustifs, depuis mon arrivée au cabinet en septembre, j'ai été plus impliqué sur des sujets en rapport avec le financement des projets, l'amélioration du climat des affaires et l'attractivité des investissements directs étrangers, l'énergie, la fiscalité ou encore le vote de la loi de Finances du Bénin gestion 2022.
Quel a été votre parcours professionnel avant d'occuper ce poste?
J'ai effectué un stage de 6 mois en Private Equity chez Améthis qui m'a permis de comprendre les contours de ce métier et d'appréhender les enjeux liés au financement du Secteur Privé surtout africain.
Mon expérience dans le conseil aux gouvernements chez Rothschild & Co à Paris a été sans doute la plus marquante. J'ai à cette occasion eu la chance de travailler sur des sujets de financement des infrastructures, de notation financière, de développement des marchés financiers locaux et d'émissions obligataires sur les marchés financiers internationaux, etc., notamment l'émission en juillet 2021 des obligations ODD de la République du Bénin, la première émission ODD par un État africain.
Ces expériences m'ont permis de confirmer mon choix de mettre mon savoir-faire et ma carrière au service du Continent africain, et ont conforté l'option que j'ai faite de saisir l'opportunité qui m'a été offerte de rentrer travailler dans mon pays, le Bénin à l'issue de mes études à Sciences Po.
Quels conseils donneriez-vous aux étudiants de Sciences Po qui souhaiteraient travailler en Afrique?
Mettre à profit son réseau : ce n'est pas évident quand on est France ou hors Afrique de chercher et trouver facilement un travail (stage ou emploi) en Afrique, quel que soit le pays. Les seules opportunités que l'on voit souvent passer sont celles portées par les multinationales, les organismes internationaux, les ONG internationales, etc. Mais ces opportunités sont très limitées en nombre et à quelques pays considérés comme des hubs régionaux (Afrique du Sud, Maroc, Kenya, Côte d'Ivoire, etc.). Pour dénicher les autres opportunités parfois plus intéressantes, il est important à mon avis de mettre à profit ses réseaux notamment académique et professionnel (LinkedIn, Alumni, contacts, etc.)
Être ouvert : Nous avons la chance de vivre à une époque où le continent (dans ses diversités) se construit, et a un grand besoin de la compétence, interne comme externe. Malheureusement les choses ne sont pas souvent très structurées et les opportunités sont moins perceptibles. Il faut donc être suffisamment ouvert et prêt à faire des concessions pour pouvoir saisir les meilleures opportunités qui se présentent.
Écrire sa propre histoire: Comme l'a dit Steve Jobs, « […] Ne soyez pas prisonnier des dogmes qui obligent à vivre en obéissant à la pensée d'autrui. Ne laissez pas le brouhaha extérieur étouffer votre voix intérieure. Ayez le courage de suivre votre cœur et votre intuition. L'un et l'autre savent ce que vous voulez réellement devenir. Le reste est secondaire. »
En savoir plus
Last modified 2022-03-22
03.04.2023
If you are looking for interns or future employees, our guide 'Recruit at Sciences Po' will provide the relevant information about our students, the careers we train them for and how to leverage this great pool of talent to meet your recruitment needs.
22.03.2023
Launched by two graduates (class of 2020) from Law School : Agnès de Fortanier (Master in Economic Law) and Thomas Harbor (dual degree Sciences Po HEC), What's up EU is a newsletter putting together a concise, well-documented, and informative weekly wrap-up of the news that matters at a continental scale — from a European perspective. Sciences Po Careers interviewed Augustin Bourleaud, in charge of its edition, who is currently a double master's degree student between Sciences Po and the London School of Economics.
Read more news