Homepage
> Miriam, consultante Dalberg à Dakar, diplômée 2021 en développement international
Miriam, consultante Dalberg à Dakar, diplômée 2021 en développement international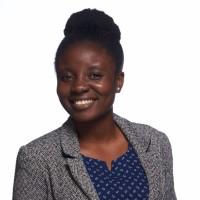 Miriam Odonkor est diplômée de l'Université d'Ashesi au Ghana où elle a obtenu une licence en gestion d'entreprise. Boursière de la fondation mastercard, elle a effectué un master en développement international. Elle est aujourd'hui consultante chez Dalberg à Abidjan.
Quel poste occupez-vous aujourd'hui ?
Je travaille actuellement comme consultante chez Dalberg à Abidjan. J'apprends chaque jour à mieux me connaître et j'en apprends plus sur les pays africains et sur leur besoin d'attirer des personnes désirant travailler sur le développement du continent. Je voulais travailler chez Dalberg depuis ma deuxième année de bachelor et c'est grâce au Forum Afrique en ligne organisé par Sciences Po Carrières que j'ai pu trouver cette opportunité, j'en suis très reconnaissante.
Pouvez-vous décrire une journée type chez Dalberg ?
Une journée type chez Dalberg implique beaucoup de travail de recherche, d'analyse de données, de collaboration avec les parties prenantes et de réunions avec votre équipe projet. Comme chez la plupart des cabinets de conseil, la journée chez Dalberg est plus longue que la normale, entre 10 et 12 heures par jour, en fonction de là où en est le projet.
Un conseil pour les étudiants ?
Je conseillerais aux étudiants/jeunes diplômés à la recherche d'un emploi de commencer par identifier leurs centres d'intérêt ainsi que leurs compétences, de rechercher les organisations qui font ce qui les intéresse et ont besoin de leurs compétences, et de rechercher activement des offres d'emploi dans ces institutions. Cela permet d'être plus efficace dans l'envoi de candidatures. Profitez également des salons de l'emploi, y compris ceux qui sont spécialement conçus pour les offres d'emploi en Afrique. Je dirais aussi que travailler en Afrique peut être un défi, mais que c'est vraiment gratifiant. Il y a tellement de domaines où vous pouvez appliquer vos compétences et vos connaissances acquises à Sciences Po et il y a un grand besoin de changement et d'impact sur le continent, alors n'abandonnez pas, et considérez votre recherche d'emploi comme un combat pour une bonne cause.
learn more:
Last modified 2022-03-22
04.09.2023
If you are looking for interns or future employees, our guide 'Recruit at Sciences Po' will provide the relevant information about our students, the careers we train them for and how to leverage this great pool of talent to meet your recruitment needs.
06.09.2023
Launched by two graduates (class of 2020) from Law School : Agnès de Fortanier (Master in Economic Law) and Thomas Harbor (dual degree Sciences Po HEC), What's up EU is a newsletter putting together a concise, well-documented, and informative weekly wrap-up of the news that matters at a continental scale — from a European perspective. Sciences Po Careers interviewed Augustin Bourleaud, in charge of its edition, who is currently a double master's degree student between Sciences Po and the London School of Economics.
Read more news