Homepage
> Meet and recruit at Sciences Po
Meet and recruit at Sciences Po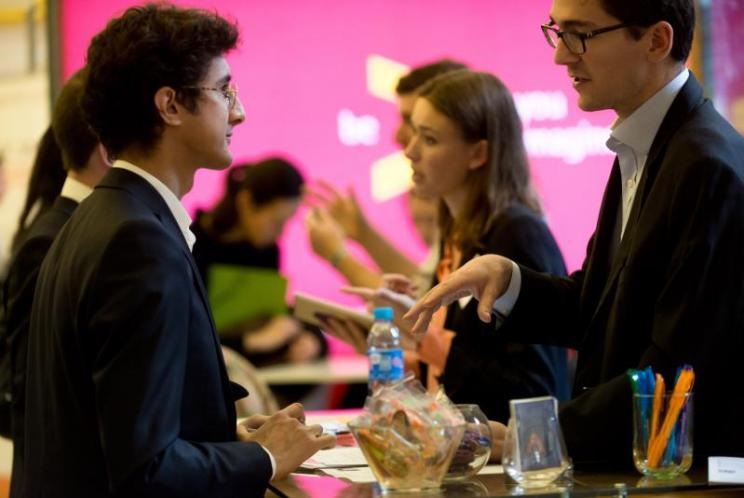 Sciences Po Careers Service supports you all year long in your employer branding communication strategy and recruitment of students and young graduates from Sciences Po.
Participate
in our information and job Fairs

Sciences Po Business Fair
Annual fair for information and recruitment on insternships, jobs and volunteering
Friday, Septembre 28th 2018 10am-5pm
At Cité de la Mode et du Design
-> + 70 companies
Legal Professions Fair
Friday, Wednesday 6th 2019 2pm-6pm
At Maison de la Chimie
-> + 30 law firms
Consulting Professions Fair
Thursday, February 21st 2019
At Sciences Po
-> + 15 consulting firms

International career days
Mid-February to end of April
Online fair
-> +40 recruteurs
Internships in Europe Fair Sciences Po / LSE
In Brussels
Friday, 23 March 2018 9:00am-1:00pm
-> + 30 companies, lobby, consulting firms...

> See our calendar and register

Present
your company at Sciences Po

Present your company, its group, professions, and internship/jobs opportunities for students and young master graduates from Sciences Po:

2h time-slot
We target students of your choice

Organizing
a recruitement session

You want to recruit students or young graduates from Sciences Po for internships or first jobs?

we post your vacancy offers through targeted communication
you receive applications from students and graduates

we can arrange your job interviews in our offices

Advertise
your recruitment announcements

On the website of Sciences Po Careers Service
On our latest news
In our newsletter

Through our networks

Organizing
a networking cocktail

Discuss with students and young Sciences Po graduates in a convivial atmosphere

Sciences Po offers a space for networking
We propose tailored catering options
We inform and invite our students

contact

Events manager

→

40

information and recruitment events

→

220

employers


→

120

guest speakers

→

8

information and job fairs

→

7

thematic conferences

→

8

geographic conferences

→

25

company presentations

Be a guest speaker in roundatbles or conferences

Facilitate case studies
DEVELOP
YOUR EMPLOYER BRAND

Become a Sciences Po Campus partner and benefit from preferred advantages on your recruitment activities
Contacts
Employer relations | International
2015-03-31
20.11.2018
Alice Koskas graduated from the Master of Finance and Strategy (School of Management and Innovation) in 2009 and is now Merchandising director for fashion accessories at Hermès. During her third year abroad studying at Fudan University in China, she encountered the world of art and design. From there, driven by both Sciences Po's values and her taste for art, crafts and commerce, it was only natural that she should join Hermès, where the corporate culture is focused on people, creativity and freedom of initiative.
29.01.2019
In 2018, out of 25 internships offered worldwide for their Summer programme, 15 Sciences Po students had the great opportunity to travel the world and work for the WFP. In January 2019, a new WFP Summer internship programme is launched: will you be part of it?
Read more news