Career Fairs and Events
Sciences Po brings students and employers together through a number of events. Each year, more than 300 career events are organized in connection with Sciences Po academic staff within our 7 graduate schools: Career fairs, roundtables, company presentations are offered as part of our thematic weeks. Discover the events calendar and participate as a student and/or employer!
2022/23 Career fairs and events
Find out more about our events
Sciences Po Carreer Fair
Annual information and recruitment Fair gathering almost 100 companies and more than 1,000 Sciences Po students and graduates from our 7 graduate Schools looking for internship and first jobs opportunities.
Friday, September 30th: at Sciences Po 1, place Saint-Thomas
October 5th & 6th: Online on Seekube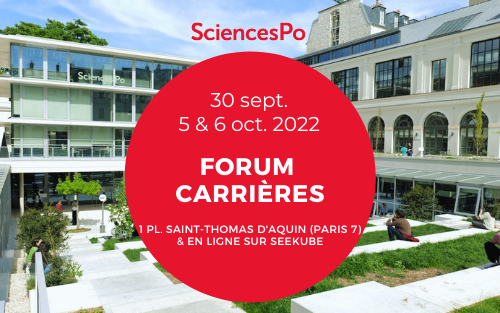 Careers in communication, HR and media
From October 10th to 14th
Careers in Finance
From October 17th to 21st
Careers in Public Affairs
From November 14th to 18th
January 19th and 20th :Law Fair
Careers in Consulting
From February 13th to 17th

Consulting Fair
Careers in European Affairs
From February 20th to 24 February
Professional equality Week
From March 6th to 10th 2023
Careers in Security & Defence
Careers in tech & digital
Careers in culture, sports and health
FIND OUT MORE
You are recruiters?
Take part in our events and Fairs, present your company. Complete this form to receive information and invitations
Contact : forum.carrieres@sciencespo.fr
Last modified 2022-06-14
14.03.2022
If you are looking for interns or future employees, our guide 'Recruit at Sciences Po' will provide the relevant information about our students, the careers we train them for and how to leverage this great pool of talent to meet your recruitment needs.
08.11.2022
In light of the deepening climate change crisis and widening inequalities the world has been experiencing, we need more individuals willing to tackle these big issues. In the footsteps of the COP27, Sciences Po Careers invite you to meet committed graduates and organisations. Whether it be the private sector, in public administration, in an international organization, in a startup or in an NGO, our Sciences Po graduates put their skills and expertise to use by serving organizations intent on solving some of the world's most pressing challenges.
Read more news