Homepage
> "J'ai monté ma société d'édition musicale en parallèle de mon stage de 3A au Sénat"
"J'ai monté ma société d'édition musicale en parallèle de mon stage de 3A au Sénat"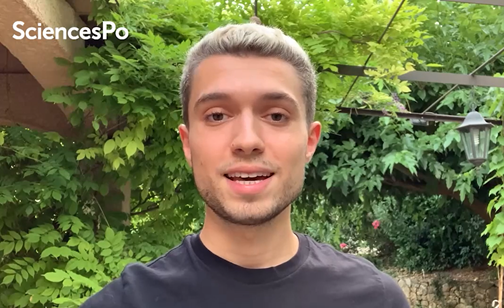 Pour sa troisième année à Sciences Po, Nicolas LAURENT en Master Communication, Medias et Industries creatives a effectué une année hybride. Aujourd'hui étudiant à l'Ecole du management et de l'innovation, il revient sur son expérience de stage réalisé au Sénat et dans le contexte COVID, sur l'occasion pour lui de lancer sa propre société d'édition musicale.
Quelles ont été vos missions durant votre stage de 3A (année hybride?)
Au Palais du Luxembourg, j'ai eu l'occasion de rédiger plusieurs notes de synthèse visant principalement à présenter l'actualité internationale aux sénateurs de la Commission des affaires étrangères de la Défense et des forces armées.
J'ai également rédigé des interventions, notamment dans le cadre des auditions et des séances publiques au sein de l'hémicycle. L'objectif de ce stage était simple : redécouvrir les enjeux internationaux et les institutions françaises par la pratique.
Comment avez-vous vécu le contexte sanitaire pendant votre stage?
Les conditions sanitaires m'ont imposé d'effectuer une partie de ce stage en télétravail. Il faut dire également que les auditions des commissions étaient beaucoup moins nombreuses du fait de la pandémie.
Mais c'est à cette occasion que j'ai découvert que j'étais capable de prise d'initiative car je ne suis pas resté sans rien faire!
Qu'est ce que l'expérience de ce contexte sanitaire vous a apportée?
Ce stage a été pour moi l'occasion de découvrir que j'étais capable de créer des activités professionnelles par mes propres moyens tout en les cumulant avec d'autres activités qui me passionnent tout autant. J'ai décidé de monter en parallèle de mon stage une société d'édition musicale avec laquelle j'ai produit et publié un premier album intitulé La galerie des anonymes.
En savoir plus
Last modified 2022-03-24
04.09.2023
If you are looking for interns or future employees, our guide 'Recruit at Sciences Po' will provide the relevant information about our students, the careers we train them for and how to leverage this great pool of talent to meet your recruitment needs.
06.09.2023
Launched by two graduates (class of 2020) from Law School : Agnès de Fortanier (Master in Economic Law) and Thomas Harbor (dual degree Sciences Po HEC), What's up EU is a newsletter putting together a concise, well-documented, and informative weekly wrap-up of the news that matters at a continental scale — from a European perspective. Sciences Po Careers interviewed Augustin Bourleaud, in charge of its edition, who is currently a double master's degree student between Sciences Po and the London School of Economics.
Read more news