Homepage
> Chloé, cheffe de projet - Sevea, diplômée 2020 du master Governing the Large Metropolis, Urban Studies/Affairs
Chloé, cheffe de projet - Sevea, diplômée 2020 du master Governing the Large Metropolis, Urban Studies/Affairs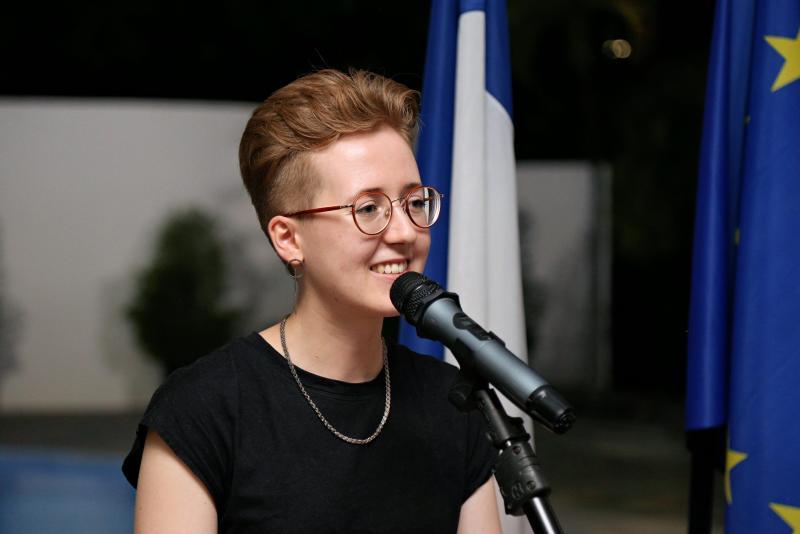 Diplômée 2020 de l'Ecole urbaine (master Governing the Large Metropolis), Chloé Deparis vit et travaille au Cambodge depuis 10 ans. Actuellement cheffe de projet au sein de Sevea, mi cabinet, mi think tank, spécialisé dans le développement durable.
Quelles fonctions et missions occupez-vous aujourd'hui ?
Je suis actuellement cheffe de projet à Sevea, une entreprise hybride entre cabinet de conseil et think-tank, au Cambodge depuis 10 ans, et spécialisée dans le développement durable appliqué à 4 secteurs d'activité : l'énergie, l'accès à l'eau, l'agriculture et développement rural, et enfin la finance et le support aux PMEs. Mon rôle à Sevea est fondamentalement transversal et je suis amenée à travailler sur des sujets et des missions variés allant de l'implémentation de projets aux études de marché en passant par le développement commercial dans les 4 secteurs d'activité de l'entreprise. Il s'agit pour moi de mettre en œuvre mes compétences intersectorielles là où elles sont utiles, souvent en soutien d'employé.e.s ayant une expertise technique.
Pourquoi avoir fait le choix d'une carrière au Cambodge ?
Je n'ai pas à proprement parlé choisi de faire une carrière au Cambodge, mais suis arrivée ici par hasard, par le biais de mon stage de fin d'étude. C'est initialement Sevea qui m'a donc attirée au Cambodge, plus que le Cambodge lui-même. Le cadre de travail et de vie me plaisant énormément, j'ai ensuite fait le choix de rester. Le Cambodge est en effet un pays très stimulant d'un point de vue professionnel, surtout dans le secteur du développement. C'est un environnement où tout évolue très vite, où le cadre légal et le secteur privé sont suffisamment développés pour pouvoir mettre des choses en place, mais où des secteurs entiers restent en friche et à développer.
Qu'est ce qui vous plait le plus dans votre vie au quotidien ?
Ce que je trouve le plus enrichissant au quotidien est l'opportunité que donne la vie à Phnom Penh de rencontrer des personnes aux cultures très diverses, que ce soient des Khmer.e.s ou des expatrié.e.s. C'est bien sûr quelque chose qui n'est pas spécifique au Cambodge, mais la communauté expatriée de Phnom Penh a l'avantage d'être suffisamment petite pour qu'elle soit facile à naviguer, et suffisamment grande pour avoir la chance de rencontrer des personnes aux horizons divers. C'est aussi une communauté expatriée dans laquelle je trouve que les Khmer.e.s sont relativement bien intégré.e.s, et il est très aisé de se faire des ami.e.s Khmer.e.s.
Quel conseil donneriez-vous aux étudiants qui souhaitent travailler au Cambodge ?
Les opportunités étant multiples au Cambodge, il est facile de commencer à travailler ici. Mon conseil tiendrait plus à l'état d'esprit dans lequel arriver : comme dans tout processus d'expatriation, je pense qu'il est important de venir au Cambodge l'esprit ouvert, en étant prêt.e à sortir de sa zone de confort, et sans avoir l'ambition de changer le monde, parce qu'il tient avant tout aux Khmer.e.s eux-mêmes de changer leur pays.
Avez-vous des offres à pourvoir actuellement?
Sevea propose recherche régulièrement des stagiaires, le plus facile reste donc de suivre la page LinkedIn de l'entreprise où les offres sont postées régulièrement. Les candidatures spontanées sont aussi bienvenues !
Vidéo
Sevea et les entrepreneurs sociaux de son réseau
En savoir plus
Last modified 2022-03-27
27.01.2023
If you are looking for interns or future employees, our guide 'Recruit at Sciences Po' will provide the relevant information about our students, the careers we train them for and how to leverage this great pool of talent to meet your recruitment needs.
20.12.2022
On Friday, September 29, the Careers Fair was held for the first time on Sciences Po's 1 Saint Thomas Campus. More than 1,000 Sciences Po students and graduates attended the event where they met with over 70 different employers to discuss internships, apprenticeships and job opportunities.
Read more news