Homepage
> Zoé, diplômée 2018 du master in Corporate Strategy (master en un an) Lead & Innovation Consulting chez Hello Tomorrow à Singapour
Zoé, diplômée 2018 du master in Corporate Strategy (master en un an) Lead & Innovation Consulting chez Hello Tomorrow à Singapour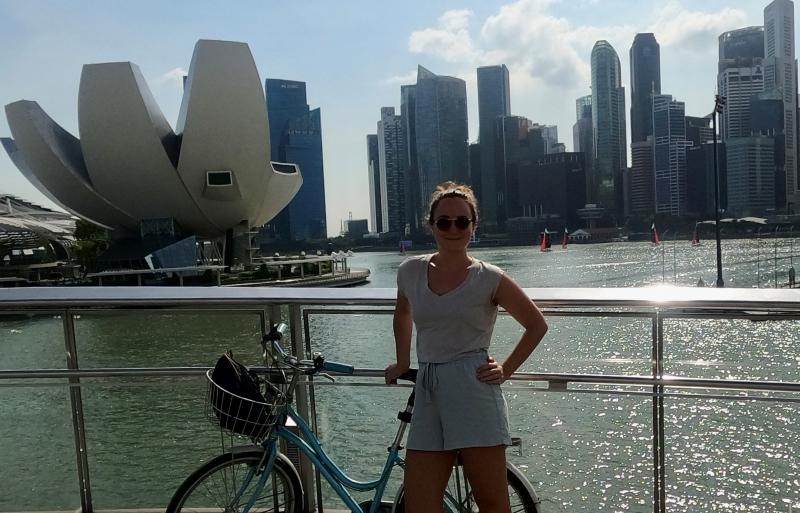 Diplômée du master en un an "master in Corporate Strategy" de l'École du management et de l'innovation, Zoé travaille aujourd'hui en tant que consultante innovation pour le Hello Tomorrow Asie Pacific (APAC) à Singapour, spécialisé dans la mise en relations des acteurs de la recherche et de l'innovation de la deep tech à Singapour.
En quoi consistent les activités d'Hello Tomorrow à Singapour ?
Hello Tomorrow est une organisation internationale dédiée au développement des projets deep tech qui répondent aux grands enjeux mondiaux (depuis 2011 à Paris). Ceci se traduit par des initiatives diverses et variés au sein de l'écosystème deep tech, en autres, ils accompagnent des acteurs publiques et privés au sein fu programme de co-innovation international impulsé par BPI France.
Dénicheur de projets à fort impact durable, Hello Tomorrow impulse et facilite les collaborations entre chercheurs, scientifiques, entrepreneurs, industriels et investisseurs et décideurs politiques pour donner vie à des innovations de rupture. Nos activités dans ce cadre sont nombreuses et incluent : l'organisation annuelle d'un concours international de startups (Global Challenge ainsi que le APAC Challenge), l'organisation d'un événement de renommée internationale à Paris (Global Summit) et un autre au niveau régional à Singapour (APAC Finals): nous élaborons un programme de conseil et de formation dédié aux entreprises et une série d'événements thématiques organisés par ses hubs présents dans le monde entier.
Aujourd'hui, Hello Tomorrow s'impose comme LA plateforme de référence pour développer, faire rayonner et connecter ces projets deep tech aux réseaux internationaux de l'Innovation : publication de la recherche et de la connaissance sur l'écosystème de la deep tech et accompagnement de startups très en amont de leur projet pour leur commercialisation.
Quelles sont vos missions au sein de Hello Tomorrow APAC?
Au sein de l'équipe Hello Tomorrow Asie nous sommes 6 personnes et nous fonctionnons donc en mode startup. Concrètement j'aide à définir, à développer et à construire les offres de conseil pour les grands comptes et entreprises qui cherchent à collaborer avec le milieu de la recherche ou avec des startups.
Ma principale mission consiste à développer les services de conseils en innovation dédiés à des grands comptes, à des entreprises (des groupes cosmétiques ou de l'industrie chimique), qui cherchent à collaborer avec le milieu de la recherche ou avec des startups d'avenir dans le secteur de la deep tech. Je propose également une aide de perspectives de tendances sur 5 à 10 ans pour aider les entreprises à appréhender les disruptions à venir.
Cela implique tout un processus de compréhension des entreprises. Je dois développer les prestations de services et aussi les mettre en oeuvre. Et puisque nous sommes une petite structure, je touche vraiment à tout dans mon poste qui est un mélange de Sales, de Business development et de Product Development.
Dans mes activités, l'emphase est aussi mise sur la communauté. Je participe à la création de nombreux événements, il y en a environ un par mois. On va par exemple travailler avec des instituts de recherche, des entreprises, inviter des start ups de notre réseau et fédérer tout le monde autour de thématiques qui les interessent : ce peut être sur l'étude des innovations de rupture et leur impact, sur la découverte de l'écosystème deep tech, ou encore sur le développement de collaborations entre les entreprises et des scientifiques entrepreneurs.
En somme, je joue aussi un rôle de facilitateur de collaborations au sein de l'écosystème Deep Tech à Singapour, en fédérant la communauté, je fais ce que l'on appelle du "community building"
Y a t il des opportunités de recrutement chez Hello Tomorrow APAC?
Oui, tout à fait, nous recrutons actuellement deux Program manager, l'un à Bangkok et l'autre à Singapour
En savoir plus
Last modified 2022-03-28
27.01.2023
If you are looking for interns or future employees, our guide 'Recruit at Sciences Po' will provide the relevant information about our students, the careers we train them for and how to leverage this great pool of talent to meet your recruitment needs.
20.12.2022
On Friday, September 29, the Careers Fair was held for the first time on Sciences Po's 1 Saint Thomas Campus. More than 1,000 Sciences Po students and graduates attended the event where they met with over 70 different employers to discuss internships, apprenticeships and job opportunities.
Read more news