Homepage
> Jules, co-fondateur du media Le Crayon, diplômé du master in international security (School of International Affairs)
Jules, co-fondateur du media Le Crayon, diplômé du master in international security (School of International Affairs)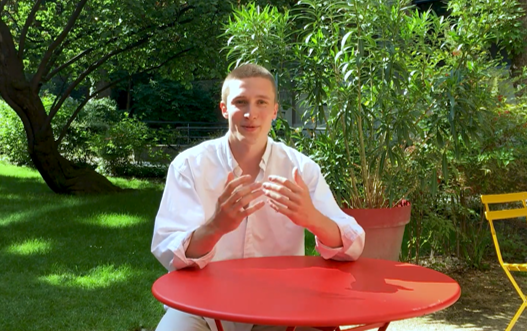 En rentrant à Sciences Po, Jules ne pensait pas fonder un media de débats d'idées en ligne sur youtube. Diplômé du master in international security à l'Ecole des affaires internationales (PSIA), il revient sur ce choix de créer son propre media à la sortie de Sciences Po et vous délivre ses conseils.
Pourquoi avoir choisi de vous lancer dans l'entrepreneuriat?
C'est à Sciences Po que j'ai découvert l'entrepreneuriat, grâce au cours de Jacques-Henri Eyraud dispensé via le Centre pour l'entrepreneuriat. C'est à l'occasion de ce cours que j'ai rencontré des entrepreneurs et ce sont eux qui m'ont donné envie de faire des stages pendant mon année de césure afin de découvrir tout cet écosystème, notamment dans des startups et puis au sein d'accélérateurs qui accompagnent des entrepreneurs. En parallèle, j'étais passionné de politique et investi bénévolement dans un média, qui est devenu Le Crayon par la suite.
Alors que je terminais ma scolarité à Sciences Po, je me suis dit que c'était une aventure que de se lancer à temps plein, même si cela comportait certains risques. Mais comme nous voulions nous lancer à plusieurs, avec d'autres étudiants, eux-mêmes intéressés d'apporter un nouveau souffle au monde médiatique et aux réseaux sociaux, on a eu envie de tester cette voie.
Qu'est ce qui selon vous est le plus dur quand on se lance dans un projet entrepreneurial?
Le milieu médiatique c'est un secteur, un marché sur lequel on n'a pas forcément des revenus à très court terme. Il faut donc d'abord se créer une audience pour pouvoir ensuite générer des revenus, notamment grâce à la publicité. Notre solution à ce défi temporel, a été de créer une activité d'agence qui accompagne des clients sur leur stratégie de viralité sur les réseaux sociaux, sur de la création de contenu et de la relations presse et influenceurs.

Autre défi : en tant qu'équipe constituée de jeunes, il faut apprendre à déléguer à des personnes qui sont parfois encore plus jeunes.
Quels conseils donneriez-vous aux étudiants qui souhaitent se lancer?
Je pense que le plus essentiel c'est de rencontrer des gens. Contactez via LinkedIn, via Sciences Po Alumni, en allant à des événements, des journalistes si vous voulez vous lancer dans le journalisme, des personnes dans l'audiovisuel si vous voulez rejoindre ce secteur ou des entrepreneurs si vous voulez monter votre startup.
C'est ce que j'ai fait en contactant Elise Nebout qui a fondé Les Mots, une école d'écriture à Paris qui m'a accueilli auprès d'elle pendant deux jours pour me montrer son quotidien d'entrepreneur.
C'est comme ça que j'ai fait la connaissance de mes co-fondateurs, parce que je suis allé à une rencontre, parce que j'ai saisi une opportunité. C'est également ce qui m'a permis ainsi d'obtenir toute une série d'invités : démarcher un premier homme politique, Cédric Villani, m'a ensuite permis d'être mis en contact avec Brigitte Gothière la fondatrice de l'association L214, qui m'a mis en contact avec une élue du parti animaliste, etc.
Ce sont vraiment ces réseaux qu'on crée petit à petit qui font qu'on arrive à terme à choisir une voie et à tracer ses contours.
En savoir plus
Last modified 2022-03-15
27.01.2023
If you are looking for interns or future employees, our guide 'Recruit at Sciences Po' will provide the relevant information about our students, the careers we train them for and how to leverage this great pool of talent to meet your recruitment needs.
20.12.2022
On Friday, September 29, the Careers Fair was held for the first time on Sciences Po's 1 Saint Thomas Campus. More than 1,000 Sciences Po students and graduates attended the event where they met with over 70 different employers to discuss internships, apprenticeships and job opportunities.
Read more news