Homepage
> Nour AL SHEIKH HASSAN,Project Officer at the United Nations High Commissioner for Refugees (UNHCR) | Graduated from the Master in Policital Science, Programme in Comparative Politics
Nour AL SHEIKH HASSAN,Project Officer at the United Nations High Commissioner for Refugees (UNHCR) | Graduated from the Master in Policital Science, Programme in Comparative Politics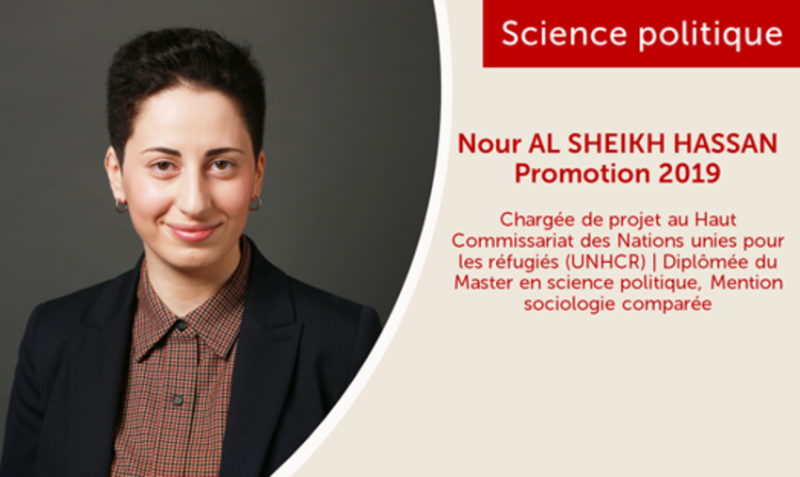 AN YOU TELL US ABOUT YOUR ACADEMIC BACKGROUND?
After obtaining my scientific baccalaureate, I did a year of literary preparatory classes before taking the Sciences Po competitive entrance exam and enrolling at Sciences Po Rennes. During my bachelor's degree, I specialised in social sciences and did several professional and linguistic internships in the Middle East. Afterwards, I joined a dual Master's programme in political science research on the Middle East / Maghreb region, run by Sciences Po and INALCO (*). I graduated in 2019.
HOW DID YOUR INTEREST IN POLITICAL SCIENCE BEGIN?
I am of Syrian origin, and I grew up with an interest in the geopolitics of the Middle East.
I wanted to study the region I come from, which in the West is mostly portrayed in a negative, caricatured and partial way. This is where my attraction to political science, and social sciences in general, comes from, as they are essential fields of study for anyone who wants to understand the complexity of the world. Political science provides edifying frameworks for analysing the functioning of our societies, so we can understand each other. Beyond intellectual reflection, political science also enables action because it is by understanding the ins and outs of a crisis or conflict that we can advocate for sustainable and effective solutions.
WHAT WERE THE MAIN STAGES IN THE CONSTRUCTION OF YOUR CAREER PLANS?
During my years of study, the Syrian crisis led me to become involved in the refugee issue, particularly from the point of view of women. While I was profoundly enriched by the teachings of the School of Research (formerly the Doctoral School), as well as the work I did on my research thesis, I realised that I did not want to continue in the field of research. I specialised in the sociology of migration and gender studies, and my professional roles have always related to these fields. Today, I am happy to have joined the United Nations High Commissioner for Refugees in France as a project officer on refugee participation. This has allowed me to reconnect with my preferred subject.
Last modified 2022-04-05
27.01.2023
If you are looking for interns or future employees, our guide 'Recruit at Sciences Po' will provide the relevant information about our students, the careers we train them for and how to leverage this great pool of talent to meet your recruitment needs.
20.12.2022
On Friday, September 29, the Careers Fair was held for the first time on Sciences Po's 1 Saint Thomas Campus. More than 1,000 Sciences Po students and graduates attended the event where they met with over 70 different employers to discuss internships, apprenticeships and job opportunities.
Read more news