Homepage
> Alessandro CONWAY, Program Manager for "Jobs for the Future" | Graduated from the Master in Economics
Alessandro CONWAY, Program Manager for "Jobs for the Future" | Graduated from the Master in Economics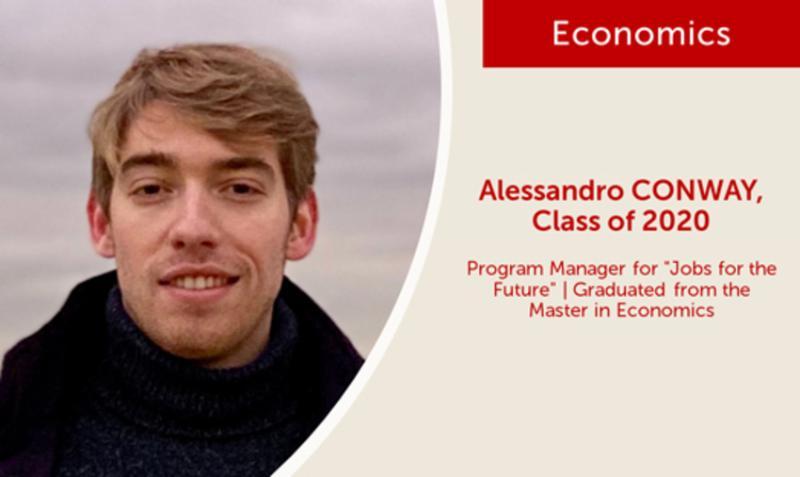 Alessandro CONWAY, Graduated from the Master in Economics (Class of 2020)
CAN YOU TAKE US THROUGH YOUR ACADEMIC BACKGROUND?
I received a Bachelor of Philosophy from the University of Pittsburgh, USA, double-majoring in Economics and International and Area Studies. During my last semester I studied abroad at Sciences Po's Paris campus. I then received a Fulbright Grant to complete a Master's in Economics from the School of Research.
WHAT INSPIRED YOUR INTEREST IN ECONOMICS?
My interest in economics started in high school. I became aware of some of the toughest issues the world was (and still is) facing, namely climate change and mounting inequality. As time went on, I developed a strong motivation to help solve them through well-researched and effective solutions. Economics offered an opportunity to do exactly this with its rigorous tools for analysis and applicability to policy.
WHAT SKILLS DID YOUR YEARS AS A STUDENT AT THE SCHOOL OF RESEARCH (FORMERLY THE DOCTORAL SCHOOL) GIVE YOU?
Certainly, the School of Research allowed me to develop strong analytical skills for understanding complex issues and performing successful research. The high level at which we were taught also made me very comfortable with understanding and doing work at the frontier of economics. Furthermore, the School's interdisciplinary dimension brought perspective to my economic studies, a contextualisation that is fundamental for having a real-world outlook.
WHICH LECTURER OR COURSE MADE THE GREATEST IMPRESSION ON YOU?
Professor Mirko Wiederholt of Macroeconomics II left the best impression on me. In addition to sharing parts of his experience and wide knowledge, he taught complicated topics simply and thoroughly. The skills and confidence I developed through his course provided the basis for my Master's thesis, which was also later published.
Last modified 2022-04-05
27.01.2023
If you are looking for interns or future employees, our guide 'Recruit at Sciences Po' will provide the relevant information about our students, the careers we train them for and how to leverage this great pool of talent to meet your recruitment needs.
20.12.2022
On Friday, September 29, the Careers Fair was held for the first time on Sciences Po's 1 Saint Thomas Campus. More than 1,000 Sciences Po students and graduates attended the event where they met with over 70 different employers to discuss internships, apprenticeships and job opportunities.
Read more news