Homepage
> Carlos BENITEZ-ROLON, Research Executive chez YouGov, diplômé du master en Sociologie
Carlos BENITEZ-ROLON, Research Executive chez YouGov, diplômé du master en Sociologie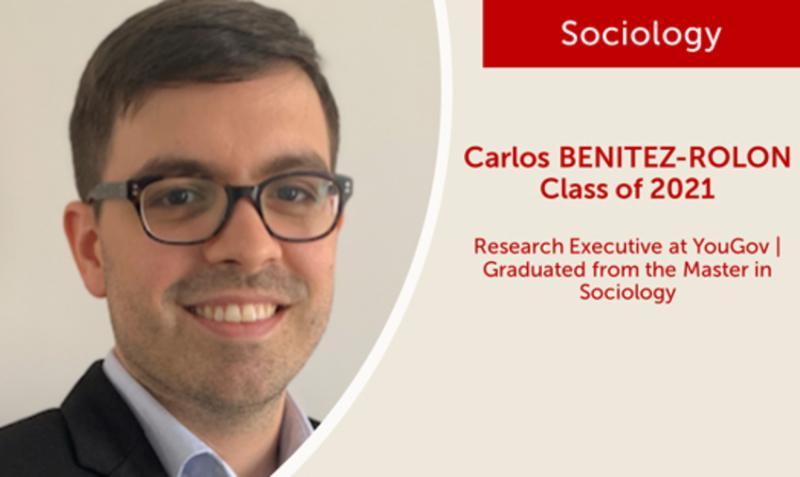 Carlos BENITEZ-ROLON, Graduated from the Master in Sociology (Class of 2021)
CAN YOU TELL US ABOUT YOUR ACADEMIC BACKGROUND?
After a obtaining the literary baccalaureate at the French Lycée in Asunción (Paraguay), I enrolled in a Sociology degree at the Catholic University of Asunción. As well as providing me with the foundations of theory and practice, my years there made me want to continue my sociology training, which I was able to do by joining the Sciences Po School of Research, from which I graduated in 2021.
HOW DID YOUR INTEREST IN SOCIOLOGY BEGIN?
During my final years in high school, I found the social situation in Paraguay challenging. I needed to understand the social processes – why certain changes were taking place and others were failing – which naturally led me to sociology, a field that was still underdeveloped in the country at that time.
WHAT DID YOUR YEARS OF STUDY AT THE SCIENCES PO SCHOOL OF RESEARCH (FORMERLY THE DOCTORAL SCHOOL) BRING YOU?
My two years at the School of Research provided me with sound, high-quality theoretical and practical training. The various courses, both in quantitative and qualitative methodology, deepened my understanding of various topics. Writing my dissertation was a formative experience, and the knowledge and research skills I acquired have proven very useful in my current work.
Last modified 2022-04-05
27.01.2023
If you are looking for interns or future employees, our guide 'Recruit at Sciences Po' will provide the relevant information about our students, the careers we train them for and how to leverage this great pool of talent to meet your recruitment needs.
20.12.2022
On Friday, September 29, the Careers Fair was held for the first time on Sciences Po's 1 Saint Thomas Campus. More than 1,000 Sciences Po students and graduates attended the event where they met with over 70 different employers to discuss internships, apprenticeships and job opportunities.
Read more news