Homepage
> Rencontre avec Charley Bailliard, diplômé 2018 et collaborateur au sein du cabinet Bredin Prat
Rencontre avec Charley Bailliard, diplômé 2018 et collaborateur au sein du cabinet Bredin Prat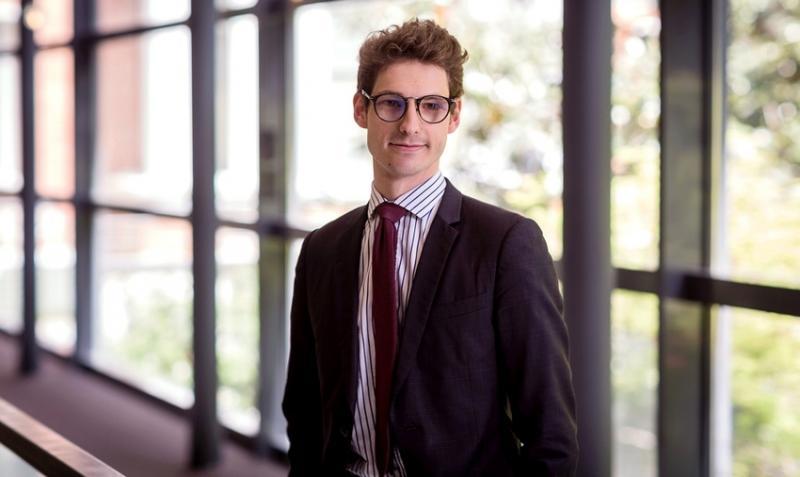 Pouvez-vous décrire votre parcours universitaire et professionnel ?
J'ai rejoint Sciences Po au niveau undergraduate, en 2012, dans le cadre du double-diplôme entre Sciences Po et ce qui est désormais Sorbonne Université – où j'ai obtenu une licence d'histoire. J'ai passé ma troisième année à National University of Singapore, avant de rejoindre le master Droit économique de l'École de droit de Sciences Po. Après une année de césure passée dans les départements concurrence de Jones Day (Bruxelles), Cleary Gottlieb (Paris) et Allen & Overy (Paris), j'ai intégré la spécialité Droit public économique. Je suis ensuite parti en LLM à University of Chicago Law School, avant de passer le CRFPA. J'ai effectué mon PPI, mon alternance et mon stage final dans l'équipe Concurrence du cabinet Bredin Prat, dans lequel je suis désormais avocat collaborateur.
Comment est né votre intérêt pour les études de droit ?
Je suis entré à Sciences Po en étant principalement intéressé par l'économie, et je pensais donc me spécialiser dans ce domaine. En première année, je me suis néanmoins passionné pour les questions que soulevait le cours d'Institutions politiques du Professeur Guillaume Tusseau. Je me suis peu à peu rendu compte que les problématiques économiques qui m'intéressaient pouvaient être abordées par le droit. J'avais sur la matière juridique l'a priori selon lequel le droit ne peut-être qu'une matière purement formelle, purement technique, exclusivement positive ou en tout cas incapable d'éclairer les questions qui m'intéressaient. Ce cours, et d'autres, m'ont montré que cet a priori n'était peut-être pas tout à fait exact – le droit a bien un aspect technique et formel mais une fois cet aspect maîtrisé, il devient possible de mobiliser les concepts juridiques pour proposer des réponses créatives à des questions autres que purement techniques. Je me suis rendu compte que l'on pouvait voir le juriste non pas seulement comme un technicien chargé d'appliquer des règles à des cas d'espèce, mais également comme une sorte d'ingénieur institutionnel – quelqu'un capable d'utiliser les principes qui sous-tendent les règles juridiques pour adapter les solutions existantes, et en créer de nouvelles.
Quelles ont été les contributions de votre formation à l'école de roit envers la fonction que vous occupez aujourd'hui ?
La contribution principale de l'École de droit à mon développement professionnel a été de faire de moi un juriste, tout en me laissant libre de choisir le juriste que je souhaitais devenir. La formation à l'École de droit permet d'obtenir les bases nécessaires à tout juriste, et notamment la capacité à mener un raisonnement juridique et la connaissance des matières fondamentales. Au-delà de l'acquisition de cette base, les étudiants conservent néanmoins une grande liberté dans le choix des cours qu'ils souhaitent suivre. L'offre est importante et couvre de nombreux domaines, souvent de manière interdisciplinaire, qui ne sont parfois pas réellement abordés ailleurs. Pour ma part, je me suis passionné pour l'antitrust, et j'ai eu la possibilité de suivre de très nombreux cours, couvrant tous les aspects de la matière. L'École de droit met également ses étudiants en contact avec des intervenants de tout premier plan, et notamment des praticiens, qui incorporent leur expérience du droit en action à leur enseignement, et sont en mesure de conseiller les étudiants lorsque ces derniers recherchent un stage ou entrent dans la vie active. L'École de droit est finalement très reconnue à l'étranger, ce qui a constitué pour moi un atout non négligeable lorsque j'ai postulé à divers programmes de LLM.
Last modified 2022-05-04
27.01.2023
If you are looking for interns or future employees, our guide 'Recruit at Sciences Po' will provide the relevant information about our students, the careers we train them for and how to leverage this great pool of talent to meet your recruitment needs.
20.12.2022
On Friday, September 29, the Careers Fair was held for the first time on Sciences Po's 1 Saint Thomas Campus. More than 1,000 Sciences Po students and graduates attended the event where they met with over 70 different employers to discuss internships, apprenticeships and job opportunities.
Read more news