Homepage
> Recruiters: Join our Career Fair and recruit our students and graduates!
Recruiters: Join our Career Fair and recruit our students and graduates!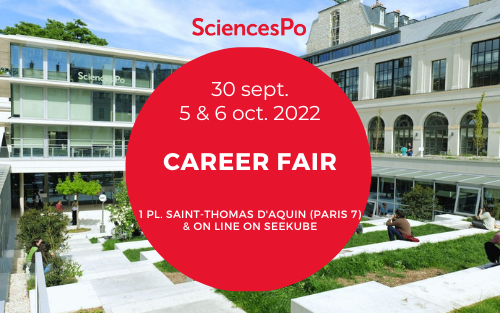 Looking to fill your internship, apprenticeship and job positions? Attend our annual Career Fair to meet our talented pool of students at our new Parisian campus (1 place, Saint-Thomas d'Aquin) and on online jobdating platform Seekube!
On Friday September 30th, for its 150th anniversary, Sciences Po will be opening the doors of its new campus located at 1 place Saint-Thomas d'Aquin (in the heart of the Saint-Germain des Près neighborhood). We are pleased to offer participants a customizable booth located in one of the many different areas of the venue (cloister, aisles, classrooms and conference rooms, private lounges, cafeteria...). Thanks to this new location, participants benefit from more visibility with our students and stakeholders such as our teachers, professors/researchers, career services, Alumni, corporate relations & partners...
We have decided to extend the experience online on Wednesday October 5th and Thursday October 6th where you will get the chance to meet a larger and more diverse group of Sciences Po students and alumni from all over France (including students based on our other campuses) and from around the world.
INVITED ORGANIZATIONS
Any company or organization from the private or non-profit:
Large companies, SMEs, startups, associations, NGOs, public administrations, communities, international organizations.
All sectors of activity:
Audit, Consulting, Banking, Finance, Insurance, Media, Communications, Creative Industries, Entertainment, Manufacturing, Luxury, Distribution, Construction, Real Estate...
Any company/organization wishing to recruit its future employees in a wide range of job functions:
Finance, strategy, communications, HR, marketing, legal, strategic analysis, auditing, consulting, data, digital, public and institutional affairs, politics, regional planning, urbanism, diplomacy, journalism, economic development, health, energy, environment, ecological transition, human rights...
OUR STUDENTS' PROFILES AND CAREERS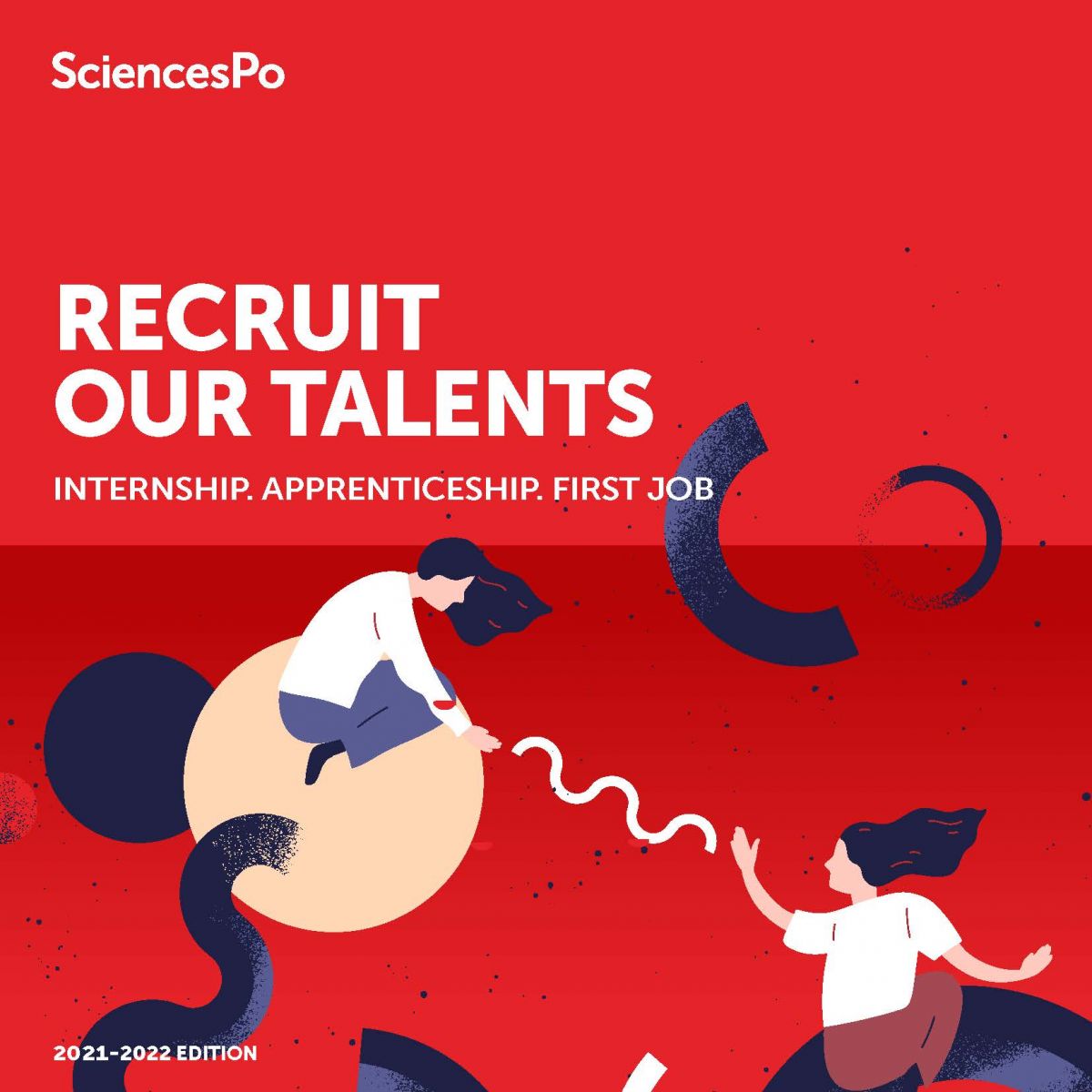 From their first year of Bachelor's degree to their last year of Master's or doctorate, Sciences Po's 14,000 students acquire the fundamental knowledge and professional skills needed to kickstart their career and allow them to exercise a wide variety of duties and responsibilities across a range of sectors and industries. During their two years spent studying in one of our seven graduate schools, our 6,000 Master's students are trained in the ways of the sector they wish to integrate upon graduation by some of the most respected practitioners in their field.
Employers recruit our students for their ability to analyze complex situations and issues, their solid general knowledge, their ability to adapt, their intellectual curiosity and agility...
Consult our guide "Recruit our students and graduates"
Choose your format depending on which students you wish to target
Participating in the Forum on our Sciences Po campus on Friday September 30th allows you to meet with students in person. These will mainly be students in their first and second year of a master's program who are looking for their compulsory master's internships, apprenticeships or gap year internships. Young graduates of all our Master's programs are also invited to attend and identify new opportunities.
Participating in the online forum on Seekube on Wednesday October 5th and Thursday October 6th allows you to meet a larger number of students who aren't necessarily based on our Paris campus, whether they are currently completing their Bachelor's degree on one of our 7 regional campuses, or are currently completing their internship, apprenticeship or exchange in France or abroad.
Prepare your participation step by step
QUESTIONS?
Need advice on which package to choose and how to prepare for the Career Fair ? Sciences Po Careers will answer all your questions during our dedicated information sessions for employers :
Content of the sessions :
On the online Career Fair on Seekube: How to create your virtual stand, add collaborators, submit your offers, make appointments, create your Live on Seekube....
On the in-person Career Fair on campus: presentation of the Forum on campus 1 Saint-Thomas, organization of the stands and terms...
Register for one of our information sessions:
Find out more about terms of participation
Caroline TOUSSAIN, Career Events Manager forum.carrieres@sciencespo.fr
Tel : 01 45 49 72 94
Find out more about partnership
Find out more about the Seekube platform
Last modified 2022-07-29
04.09.2023
If you are looking for interns or future employees, our guide 'Recruit at Sciences Po' will provide the relevant information about our students, the careers we train them for and how to leverage this great pool of talent to meet your recruitment needs.
06.09.2023
Launched by two graduates (class of 2020) from Law School : Agnès de Fortanier (Master in Economic Law) and Thomas Harbor (dual degree Sciences Po HEC), What's up EU is a newsletter putting together a concise, well-documented, and informative weekly wrap-up of the news that matters at a continental scale — from a European perspective. Sciences Po Careers interviewed Augustin Bourleaud, in charge of its edition, who is currently a double master's degree student between Sciences Po and the London School of Economics.
Read more news