ODDO BHF
Banking, Finance, Insurance
ODDO BHF is an independent Fran-co-German financial services group, with a history stretching back over 160 years. It was created from the alliance of a French family-owned business built up by five genera- tions of stockbrokers and a German bank specialising in Mittelstand companies. With 2,300 employees (1,300 in Germany and 1,000 in France and Tunisia), and more than 100 billion euros in assets under management, ODDO BHF operates in three main businesses, based on significant investment in market expertise: private banking, asset management and corporate and investment banking. The Group has a specific ownership structure as 60 % of its capital is held by the Oddo family and 30% by employees. This "partnership" ethos guarantees the long-term involvement of its teams. In 2017, ODDO BHF gene- rated net banking income of 5 91 million eur os, and a t 31 December 2017, the Group had over 844 million euros of sharehol- ders' equity.
Opportunités & missions pour nos étudiants
We offer internships, apprenticeships, VIE (based in New York or Germany) and Graduate Programs in all business lines: corporate finance, asset management, wealth management, brokerage, equity and credit research, risk manage- ment, internal audit, etc.
For those seeking an international career, we offer a European Talents Program for graduates with up to two years of experience. This program addresses graduates willing to work in France and Germany. You will get the opportunity to meet our best experts and create business contacts with our top managers in order to boost your career.
Apply online on our career website www.oddo-bhf.com with your resume and cover letter.
If you are seeking a dynamic company where you can develop your expertise and your entrepreneurial skills, apply and join us!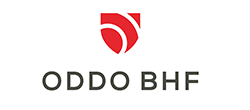 Contact details
12 boulevard de la Madeleine
75009 Paris, France
Website
| | |
| --- | --- |
| LinkedIn | |
Our offers on the network
Back
27.01.2023
If you are looking for interns or future employees, our guide 'Recruit at Sciences Po' will provide the relevant information about our students, the careers we train them for and how to leverage this great pool of talent to meet your recruitment needs.
22.03.2023
Launched by two graduates (class of 2020) from Law School : Agnès de Fortanier (Master in Economic Law) and Thomas Harbor (dual degree Sciences Po HEC), What's up EU is a newsletter putting together a concise, well-documented, and informative weekly wrap-up of the news that matters at a continental scale — from a European perspective. Sciences Po Careers interviewed Augustin Bourleaud, in charge of its edition, who is currently a double master's degree student between Sciences Po and the London School of Economics.
Read more news