Onepoint
Business Auditing, Consulting
onepoint est l'architecte des grandes transformations des entreprises et des acteurs publics. Elle accompagne ses clients de la stratégie à la mise en œuvre technologique, en s'attachant toujours à penser au-delà des évidences (« beyond the obvious » est la signature de l'entreprise), pour créer de nouvelles façons de travailler, de nouveaux modèles économiques et de nouveaux lieux.
Elle développe un écosystème et un modèle entrepreneurial innovants qui lui permettent de révéler les talents et libérer la créativité. Entreprise pilote, onepoint invente de nouveaux modèles, les expérimente sur elle-même et les déploie pour ses clients.
Croisant les regards d'experts de tous les domaines (développeurs, architectes d'entreprise, spécialistes de l'intelligence artificielle et data, designers, stratèges business, philosophes et sociologues), onepoint définit et met en œuvre les outils numériques pertinents, avec les organisations et les modes de management qu'ils appellent, pour permettre de développer l'innovation et la compétitivité de ses clients.
Opportunités & missions pour nos étudiants
Reposant sur une structure et un écosystème ouvert, onepoint développe un modèle entrepreneurial innovant qui permet de révéler les talents et de libérer la créativité. Elle est animée de communautés, qui sont des espaces ouverts auxquels on peut s'affilier librement, sur un modèle inspiré des réseaux sociaux.
Rejoindre onepoint
Avec une organisation à trois niveaux hiérarchiques, onepoint est une entreprise apprenante avec au centre de ses préoccupations, la montée en compétences constante des équipes. Basées sur un leadership authentique, les communautés contribuent au développement des expertises de chacun(e), et à la mise en mouve- ment continuelle de l'entreprise.

Cette organisation innovante vise à promouvoir la transversalité et l'intelligence collective, afin de proposer à nos clients un accompagnement de bout en bout par des équipes pluridisciplinaires, en hybridant toutes leurs compétences et en s'affranchissant des frontières classiques entre métiers

et business units.

Ces communautés ouvertes accueillent et font vivre nos expertises métiers, technologiques, méthodologiques ou fonctionnelles.

Les communautés interagissent constamment entre elles, afin de faire émerger une vision "sans-couture" et réellement globale sur les sujets traités. Cette transversalité favorise l'épanouissement personnel et le développement des compétences de chaque collaborateur, qui peut être affilié à plusieurs communautés et cultiver plusieurs expertises.

Retrouvez Onepoint au Forum Carrières de SciencesPo vendredi 27 septembre 2019 à Paris Expo, Porte de Versailles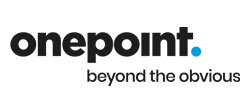 Contact details
29 Rue des Sablons
75016 Paris, France
SIRET N° : 44069771200063
Website
| | |
| --- | --- |
| LinkedIn | |
| Facebook | |
| Twitter | |
Our offers on the network
Back
09.06.2020
Master in Public Policy, policy stream Cultural Policy and Management, promotion 2018. Marie Gervier graduated from the Master in Public Policy at the School of Public Affairs, Cultural Policy and Management policy stream. She is currently working as as a Communication and Event Manager for the United Nations Office in Geneva. Testimony.
15.06.2020
Perline Manuel est diplômée 2015 du master Marketing. Aujourd'hui elle est en charge de la revalorisation des conteneurs maritimes dits "de dernier voyage". Focus sur sa mission et son parcours au sein de l'entreprise familiale leader du transport maritime, de la gestion de zone commerciale aux projets au format intrapreneurial.
Read more news