Capgemini Invent
Business Auditing, Consulting
Capgemini Invent est l'entité de transformation, d'innovation digitale et de conseil du groupe Capgemini.
Capgemini Invent s'appuie sur des expertises reconnues dans les domaines de la stratégie, des technologies, de la « data science » et du « creative design » pour accompagner les décideurs dans l'anticipation des évolutions futures de leurs activités et la construction de nouveaux modèles.
Les plus de 7000 collaborateurs de Capgemini Invent sont situés dans plus de 30 bureaux et 23 studios de « creative design » à travers le monde. Capgemini Invent permet à ses clients d'opérer au rythme du digital – de la conception de la stratégie de transformation digitale à sa concrétisation par le prototypage de solutions digitales et la mise en place des plans de transformation. La marque s'appuie entre autres sur les capacités de déploiement à grande échelle du Groupe.
Capgemini Invent aide ainsi les organisations à garder une longueur d'avance sur l'évolution de leurs secteurs.

Opportunités & missions pour nos étudiants
Nous recrutons des candidats (des stagiaires et des jeunes diplômés), tout au long de l'année.
Vous êtes entrepreneur et enthousiaste, bilingue anglais et mobile, vous êtes prêt à mettre en œuvre votre ouverture d'esprit et votre capacité à travailler en équipe au service de nos clients. Doté d'une forte curiosité intellectuelle et d'une grande capacité d'adaptation, vous souhaitez intégrer un environnement professionnel motivant où vous valoriserez pleinement votre sens des résultats, vos qualités d'analyse et de mobilisation d'équipes.
Vous participerez à des missions de conseil aux Directions Générales sur des problématiques de stratégie, d'organisation et d'efficacité opérationnelle :
Customer Engagement
Insight Driven Enterprise
Operations Transformation
Future of Technology
People & Organization
Innovation and Strategy
Rejoindre Capgemini Invent, c'est choisir le cabinet de stratégie et transformation de référence qui accompagne les décideurs dans l'anticipation des évolutions futures de leurs activités et la construction de nouveaux modèles.

Venez rejoindre un Révélateur de Tous les Talents !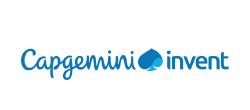 Contact details
Tour Eurplaza
92927 Paris, France Tel: 0149673000
SIRET N° : 479 766 800 00037
Website
| | |
| --- | --- |
| LinkedIn | |
| Facebook | |
| Twitter | |
Our offers on the network
Back
14.03.2022
If you are looking for interns or future employees, our guide 'Recruit at Sciences Po' will provide the relevant information about our students, the careers we train them for and how to leverage this great pool of talent to meet your recruitment needs.
15.07.2021
The results of the 2021 Graduate Employability Survey on the class of 2019 show that Sciences Po students remain very attractive to employers, with 9 out of 10 graduates in professional activity. Despite a job market facing difficulties, 82% of our 2019 graduates found their first job in less than 6 months, and nearly ¾ of them have a stable profession. There are still just as many (37%) working abroad, in 84 countries. Discover all the results of our survey!
Read more news