GROUPE ALPHA
Business Auditing, Consulting
Le Groupe Alpha, cabinet d'Expertise et de Conseil spécialisé dans les relations sociales et le développement local, occupe une place unique auprès de tous les acteurs du dialogue social et territorial. Il s'organise autour de 2 branches d'activités :
SECAFI : Expertise, Conseil et Accompagnement des CE/CHST/CSE (conseil en diagnostic stratégique, économique, social, en conduite du changement, en prévention des risques et amélioration des conditions de travail)
SEMAPHORES : Expertise et Conseil (missions d'expertise comptable et d'audit), Conseil Secteur Public Local (performance publique, développement économique local, habitat et foncier, politiques de formation) et Accompagnement des entreprises (accompagnement des transformations, conduite du changement, conseil RH )
Nos implantations : Paris, Lyon, Marseille, Toulouse, Bordeaux, Nantes, Lille, Metz, Montpellier, Rouen
Opportunités & missions pour nos étudiants
Stages/contrats alternés : 1 voire 2 entretiens directement avec les responsables opérationnels (passation d'un cas pratique selon la branche d'activité)
Emplois : 2 voire 3 entretiens avec les responsables opérationnels/RH. Mise en situation, au travers d'une étude de cas possible selon la branche d'activité.
Pour postuler, merci d'envoyer votre candidature via le site du recrutement du Groupe Alpha : http://www.groupe-alpha.com/fr/talents-carrieres/recrutement1.html
Nous proposons des stages sur nos 10 pôles (Paris, Lyon, Marseille, Toulouse, Bordeaux, Nantes, Lille, Metz, Montpellier, Rouen) : stage en diagnostic stratégique et économique (période clé : mars à octobre), en organisation et conduite du changement, en développement économique local, en performance publique et conseils auprès des collectivités locales, en évaluation des politiques de formation, en expertise comptable, en ressources humaines.
Nous priorisons cette année plus particulièrement des emplois de consultants juniors ou expérimentés sur les filières de performance publique, développement économique local, conduite du changement, diagnostic stratégique et économique.


Intégrez nos équipes et vous interviendrez sur des sujets d'actualité.

Participez à la recherche de solutions innovantes au service de l'emploi.

Nous recherchons des femmes et des hommes de talent pour porter le développement et les valeurs de notre Groupe.

Retrouvez le Groupe Alpha au Forum Carrières de SciencesPo vendredi 27 septembre 2019 à Paris Expo, Porte de Versailles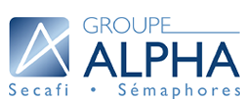 Contact details
20 rue Martin Bernard
75013 Paris, France Tel: +33139027335
SIRET N° : 34854040200024
Website
| | |
| --- | --- |
| LinkedIn | |
| Viadeo | |
| Facebook | |
| Twitter | |
Our offers on the network
Back
27.01.2023
If you are looking for interns or future employees, our guide 'Recruit at Sciences Po' will provide the relevant information about our students, the careers we train them for and how to leverage this great pool of talent to meet your recruitment needs.
22.03.2023
Launched by two graduates (class of 2020) from Law School : Agnès de Fortanier (Master in Economic Law) and Thomas Harbor (dual degree Sciences Po HEC), What's up EU is a newsletter putting together a concise, well-documented, and informative weekly wrap-up of the news that matters at a continental scale — from a European perspective. Sciences Po Careers interviewed Augustin Bourleaud, in charge of its edition, who is currently a double master's degree student between Sciences Po and the London School of Economics.
Read more news