Le groupe Selectra
Industry, Energy and Transport
Avec 950 collaborateurs, un chiffre d'affaires de 36,4M¤ en 2018, des activités dans 10 pays et une crois- sance de 50% par an, Selectra est l'une des plus grandes startups issues de l'incubateur de Science Po.
Créée en 2007 par deux étudiants à Sciences Po âgés de 19 et 20 ans comme un comparateur des fournisseurs d'énergie, Selectra a étendu le spectre de ses activités pour faciliter la comparaison, la souscription et la gestion des contrats de la maison (énergie, box Internet, assurances…) pour rendre le monde moins cher, plus vert et plus clair. Selectra figure régulièrement au TOP des champions de la croissance du journal Les Echos et au Financial Times FT1000 "Europe's fastest growing companies" du Financial Times.
En savoir plus : selectra.info
Opportunités & missions pour nos étudiants
En Marketing et Contenus, Selectra recrute sur des missions très variées permettant d'acquérir rapidement une connaissance approfondie du web (gestion de sites Internet, emailing, SEO,SEA...) : Webmarketing & Contents Officer, Digital Acquisition Officer, Community Manager…
Au pôle Tech, Selectra recrute également toutes les fonctions travaillant à ses projets techniques : Back-End Developer, Front-End Developer, Product Owner, Project Manager…
À la Direction des Opérations, Selectra recrute des Consultant Internes.
À la Direction Générale, Selectra recrute régulièrement des Stagiaires Bras Droit et des Business Developers
Enfin, Selectra recrute ponctuellement des postes administratifs (RH, finance, comptabilité, contrôle de gestion)
Les opportunités proposées sont pour la plupart situées dans nos bureaux de Paris ou Madrid.
De nombreux postes sont ouverts au format VIE

Vous avez fait l'expérience des grands groupes où rien n'avance, où l'énergie est perdue à communiquer en interne, où la hiérarchie est pesante et la réunionite aigüe ? Si à vous non plus ça n'a pas plu, rejoignez-nous chez Selectra : nous sommes une startup qui a bien grandi, et nous tâchons de recruter une équipe excellente dans son travail parce que passionnée et humble à la fois.

Retrouvez Selectra au Forum Carrières de SciencesPo vendredi 27 septembre 2019 à Paris Expo, Porte de Versailles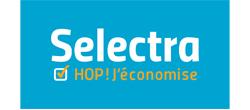 Contact details
66 rue Sébastien Mercier
75015 Paris, France Tel: 0171709616
Website
| | |
| --- | --- |
| LinkedIn | |
| Facebook | |
| Twitter | |
Our offers on the network
Back
27.01.2023
If you are looking for interns or future employees, our guide 'Recruit at Sciences Po' will provide the relevant information about our students, the careers we train them for and how to leverage this great pool of talent to meet your recruitment needs.
22.03.2023
Launched by two graduates (class of 2020) from Law School : Agnès de Fortanier (Master in Economic Law) and Thomas Harbor (dual degree Sciences Po HEC), What's up EU is a newsletter putting together a concise, well-documented, and informative weekly wrap-up of the news that matters at a continental scale — from a European perspective. Sciences Po Careers interviewed Augustin Bourleaud, in charge of its edition, who is currently a double master's degree student between Sciences Po and the London School of Economics.
Read more news