Groupe Casino
Commerce, Retail
Le Groupe Casino occupe en France une position de leader dans le secteur de la grande distribution grâce à la diversité de ses enseignes : Géant, Monoprix, Supermarchés Casino, Leader Price,Franprix, CDiscount, Casino Restauration…et à une présence affirmée à l'international : Argentine, Brésil, Colombie, Uruguay, Océan Indien...
Le Groupe Casino a aussi une stratégie d'innovation et de développement avec de nombreuses réalisations : la Marque Casino forte de plus de 4000 références, l'excellence de la Supply Chain, les outils d'analyse des comportements clients et les programmes de fidélisation, le développement de stratégies immobilières performantes.
En 2016, le chiffre d'affaires du groupe s'est élevé à plus de 36 milliards d'Euros et son effectif à plus de 227 000 collaborateurs. En s'adaptant à des réalités localesvariées, en mettant son savoir-faire au service des exigences de ses clients, le Groupe affirme son ambition pour encore mieux « nourrir un monde de diversité ».

Venez découvrir nos métiers lors du forum, échanger avec nos collaborateurs et anciens élèves sur les opportunités dans le Groupe et déposer votre candidature ! Nous avons de nombreuses missions à pourvoir à Paris, Vitry-Sur-Seine, Bordeaux (Cdiscount) et Saint-Etienne Pour plus d'information, n'hésitez pas à consulter notre site recrutement : http://www.recrutement-casino.com/

Retrouvez Le Groupe Casino au Forum Carrières de Sciences Po, vendredi 28 septembre 2018 à la Cité de la Mode et du Design.
Opportunités & missions pour nos étudiants
Opportunités de stages et V.I.E
Le Groupe Casino propose aux étudiants en césure et en fin d'études, une grande diversité d'activités et de domaines d'expertise. Des opportunités sont à saisir dans tous nos métiers : Stratégie, Finance,
Immobilier, Marketing, Ressources Humaines, Supply Chain, Logistique, Achats, Exploitation... L'occasion de vivre une expérience motivante et véritablement formatrice !
Avec l'accélération de son développement international, le Groupe Casino offre chaque année une dizaine de missions V.I.E, notamment en Amérique du Sud.
Casino a lancé en 2006 un programme d'accompagnement personnalisé de ses nouveaux collaborateurs issus des Grandes Écoles et de l'Université en France comme à l'international. Baptisé « Jeunes Talents », il se déroule sur trois ans autour de quatre axes : intégration, formation, gestion de carrière et réseau. Il se décline également avec un parcours Immobilier.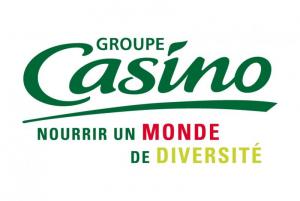 Contact details
1, Esplanade de France BP 306
42008 Saint-Etienne Cedex 2, France
Website
| | |
| --- | --- |
| LinkedIn | |
| Facebook | |
| Twitter | |
Our offers on the network
Back
20.11.2018
Alice Koskas graduated from the Master of Finance and Strategy (School of Management and Innovation) in 2009 and is now Merchandising director for fashion accessories at Hermès. During her third year abroad studying at Fudan University in China, she encountered the world of art and design. From there, driven by both Sciences Po's values and her taste for art, crafts and commerce, it was only natural that she should join Hermès, where the corporate culture is focused on people, creativity and freedom of initiative.
29.01.2019
In 2018, out of 25 internships offered worldwide for their Summer programme, 15 Sciences Po students had the great opportunity to travel the world and work for the WFP. In January 2019, a new WFP Summer internship programme is launched: will you be part of it?
Read more news