MC2I GROUPE
Business Auditing, Consulting
mc²i Groupe, cabinet de conseil en Systèmes d'Information et en organisation, accompagne les grandes entreprises et les administrations dans la conception et la mise en œuvre de leurs Systèmes d'Information.
L'offre de mc²i Groupe se répartit autour de sept offres sectorielles (Banque et Assurance, Energie, Transports, Santé et Protection Sociale, Public, Médias et Retail), trois offres fonctionnelles (SI Ressources Humaines, SI de Gestion Financière, Stratégie Digitale et relation client), complétées par trois offres méthodologiques (Informatique Décisionnelle, Transformation du SI, Transformation des organisations et conduite du changement).
Le cabinet s'appuie sur plus de 500 consultants et peut s'enorgueillir de nombreuses et prestigieuses références couvrant tous les secteurs d'activité : énergie, transport, culture et médias, industrie et services, banque/assurance, public.
Opportunités & missions pour nos étudiants
mc²i Groupe s'appuie sur un recrutement sélectif ciblant exclusivement des profils BAC+5 stagiaires de fin d'études ou jeunes diplômés d'écoles d'ingénieurs, écoles de commerce et universités.
Les qualités et compétences particulières que développent les consultants mc²i Groupe sont :
La rigueur
La polyvalence
L'aptitude à communiquer
Tous les stages proposés sont dans une optique d'une pré-embauche dans le consulting.
Après avoir défini ensemble la nature et le thème de votre stage, vous interviendrez en clientèle sur des missions d'Assistance à Maîtrise d'Ouvrage (AMOA) ou de Pilotage de Projets SI sur une ou plusieurs des phases suivantes :
Etudes amonts
Expression des besoins
Choix de solution
Conception fonctionnelle
Pilotage de projet
Homologation recette
Conduite du changement
Déploiement et maintien en condition opérationnelle
Exemples de stages en conseil SI et en Organisation :
- Accompagnement d'un projet CRM permettant l'exploitation d'objets connectés dans le secteur des transports aériens.
- Études, pilotage et conduite du changement pour le projet de déploiement de compteurs intelligents dans le secteur de l'énergie
Par ailleurs, nos offres d'emploi s'adressent aux jeunes diplômés(e)s BAC +5, motivés par le conseil en Systèmes d'Information et en Organisation.
Pour nous adresser votre candidature : http://www.mc2i.fr/-Nous-rejoindre-
Si votre dossier de candidature est retenu, vous rencontrerez des opérationnels au cours de plusieurs entretiens individuels.

Vous cherchez une entreprise prête à vous faire confiance ?

Vous cherchez un cabinet de conseil avec une réelle proximité managériale, un fort taux de croissance, un faible turnover et une culture d'entreprise solide ? Mettez tous les atouts dans votre jeu en rencontrant mc²i Groupe.

Plus qu'une prise de contact, nous vous proposons des échanges approfondis pouvant aboutir sur une réelle collaboration !

Venez découvrir notre entreprise et nos opportunités de carrière !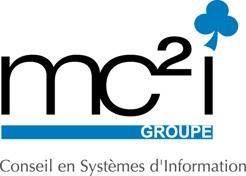 Contact details
44 Avenue George V
75008 PARIS, France
Website
Our offers on the network
Back
09.06.2020
Master in Public Policy, policy stream Cultural Policy and Management, promotion 2018. Marie Gervier graduated from the Master in Public Policy at the School of Public Affairs, Cultural Policy and Management policy stream. She is currently working as as a Communication and Event Manager for the United Nations Office in Geneva. Testimony.
15.06.2020
Perline Manuel est diplômée 2015 du master Marketing. Aujourd'hui elle est en charge de la revalorisation des conteneurs maritimes dits "de dernier voyage". Focus sur sa mission et son parcours au sein de l'entreprise familiale leader du transport maritime, de la gestion de zone commerciale aux projets au format intrapreneurial.
Read more news