Acted
Social and Solidarity Economy
Depuis 1993, l'association de solidarité internationale ACTED répond aux besoins humanitaires des populations dans les situations de crise et au respect de leur dignité, tout en favorisant et mettant en œuvre des opportunités pour un développement durable, en investissant dans les potentiels de l'Homme. ACTED s'engage à répondre auxurgences et à développer la résilience face aux situations de crise, à co-construire une gouvernance effective, et à promouvoir une croissanceinclusive et durable.
Nous œuvrons sur le dernier kilomètrede l'action humanitaire. Notremission est de sauver des vies et de répondre aux besoins essentiels des populations dans les zones les plus difficiles d'accès. ACTED développe et met en œuvre des programmes à destination des populations les plus vulnérables qui souffrent de violences, des conflits, de catastrophes naturelles ou d'une situation de
pauvreté endémique. L'approche d'ACTED dépasse la réponse d'urgence, avec un engagement dans le développement
durable et l'accès des communautés aux moyens de subsistance. ACTED met en œuvre plus de 490 projets par an auprès de 11 millions de bénéficiaires dans 35 pays, pour un budget de 190 millions d'euros. Nos équipes sont composées de 300 employés internationaux et 4300 staff nationaux.
Opportunités & missions pour nos étudiants
Finance, Logistique, RH,Management de Programmes,Audit, Communication, Développement de Projets, Sécurité, Informatique.

Postes Proposés :
Finance,Logistique, RH, Management de Programmes, Audit, Développement de Projets, Sécurité,Coordinateur de Zone.
Profils Recherchés :
ACTED propose régulièrement des stages sur le terrain et au siège aux étudiants de dernières années et aux jeunes diplômés, ainsi que des emplois à de jeunes professionnels ayant au moins une première expérience sur le terrain. Vous serez formés au sein d'ACTED aux pratiques et procédures ACTED tout en contribuant à l'implémentation des programmes
Perspectives à l'étranger :
ACTED œuvre dans plus de 35 pays d'intervention.
Processus de Recrutement :
La procédure est la suivante pour les stages ainsi que pour les emplois :
1er entretien téléphoniqueapprofondi validant au niveau RH
2eme entretien avec un superviseur technique du siège, une personne du service RH et le directeur pays si le stage/ emploi est sur le terrain (prévoir également un test pour les fonctions supports).

Nos projets ne verraient pas le jour sans des personnes véritablementengagées, jeunes et dynamiques.

Nous accueillons donc nos juniors en vrais professionnels ayant toute leur chance de développer leur carrière au sein d'ACTED.

Ainsi, ACTED encourage l'évolution interne des stagiaires en poste salarié à temps pleins et 2 stagiaires sur 3 sont embauchés par ACTED après leur stage

Retrouvez ACTED au Forum Carrières de SciencesPo vendredi 27 septembre 2019 à Paris Expo, Porte de Versailles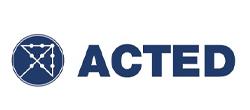 Contact details
33 rue Godot de Mauroy
75009 Paris, France
SIRET N° : 402 886 816 00030
Website
Our offers on the network
Back
27.01.2023
If you are looking for interns or future employees, our guide 'Recruit at Sciences Po' will provide the relevant information about our students, the careers we train them for and how to leverage this great pool of talent to meet your recruitment needs.
22.03.2023
Launched by two graduates (class of 2020) from Law School : Agnès de Fortanier (Master in Economic Law) and Thomas Harbor (dual degree Sciences Po HEC), What's up EU is a newsletter putting together a concise, well-documented, and informative weekly wrap-up of the news that matters at a continental scale — from a European perspective. Sciences Po Careers interviewed Augustin Bourleaud, in charge of its edition, who is currently a double master's degree student between Sciences Po and the London School of Economics.
Read more news