Michelin
Industry, Energy and Transport
Leader mondial sur le marché des pneumatiques, le groupe Michelin produit chaque année plus de 184 millions de pneus haute performance toute ligne de produit confondu.
Michelin s'est donné pour mission de contribuer au progrès de la mobilité tout en poursuivant une stratégie de croissance durable et rentable.
Michelin, une entreprise humaine et responsable. Le respect des personnes est une valeur fondatrice du groupe Michelin. En investissant sur votre avenir, nous investissons sur celui de Michelin. Votre développement, votre épanouissement et votre engagement sont au cœur de nos préoccupations et de notre performance.
Nous sommes dès votre premier poste, attentifs au développement de vos compétences en vous proposant des programmes de formation adaptés à vos besoins.
Nous sommes attachés à développer la diversité des talents : le groupe est composé de plus de 120 nationalités et 70 % de l'effectif est non français. Enfin, une personne sur 3 qui nous rejoint est une femme.
Opportunités & missions pour nos étudiants
Nous vous invitons à consulter nos offres et à postuler directement sur notre site internet www.recrutement.michelin.fr
Le processus de recrutement se déroule en deux étapes :
un premier entretien avec un recruteur suivi, éventuellement, d'une deuxième journée d'entretiens avec des opérationnels du métier et du service du personnel.
" Nos recruteurs se tiennent naturel- lement à votre disposition pour toute information complémentaire. Nous espérons que ces informations vous aideront à faire le bon choix et que nous vous compterons bientôt parmi nos salariés ! "
Jean-Paul Chiocchetti,
Directeur du Service du Personnel Michelin France


Grâce à la grande diversité des métiers, Michelin offre à ses salariés des opportunités de carrières nombreuses et variées, en France et à l'international. Elles s'appuient sur un élargissement des compétences et la prise

de nouvelles responsabilités. 10 % des cadres France partent chaque année à l'étranger, 50 % des cadres France sont déjà partis en expatriation.

Retrouvez Michelin au Forum Carrières de SciencesPo vendredi 27 septembre 2019 à Paris Expo, Porte de Versailles.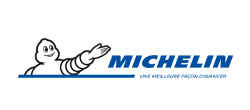 Contact details
23, Pl. des Carmes-Déchaux
63040 Clermont-Ferrand, France Tel: 04 73 32 20 00
Website
| | |
| --- | --- |
| LinkedIn | |
| Facebook | |
| Twitter | |
Our offers on the network
Back
27.01.2023
If you are looking for interns or future employees, our guide 'Recruit at Sciences Po' will provide the relevant information about our students, the careers we train them for and how to leverage this great pool of talent to meet your recruitment needs.
22.03.2023
Launched by two graduates (class of 2020) from Law School : Agnès de Fortanier (Master in Economic Law) and Thomas Harbor (dual degree Sciences Po HEC), What's up EU is a newsletter putting together a concise, well-documented, and informative weekly wrap-up of the news that matters at a continental scale — from a European perspective. Sciences Po Careers interviewed Augustin Bourleaud, in charge of its edition, who is currently a double master's degree student between Sciences Po and the London School of Economics.
Read more news