Publicis Groupe
Communication, Media
Leader français du marketing, de la communication et de la transformation digitale des entreprises, Publicis Groupe est le seul à mixer l'alchimie de la créativité, de la technologie et des médias. Présent sur toute la chaîne de valeur, du conseil à la création et la production, il met au service de ses clients une organi- sation transversale, unifiée et fluide leur facilitant l'accès à l'ensemble de ses expertises. Présidé par Agathe Bousquet, Publicis Groupe en France est une Talent company riche de plus de 4400 talents, répartis dans plus d'une vingtaine d'agences, qui accompagnent près de 600 clients.
Il s'organise autour de 4 Solutions : Publicis Communications est le pôle de communications créatives. Publicis Media capte la puissance des médias modernes afin de créer de la valeur pour ses clients. Publicis Sapient est la plateforme technologique et de consulting qui permet à ses clients d'accélérer leur transformation digitale et business. Publicis Health est le partenaire indispensable de la transformation de l'industrie de la santé et du bien-être à travers l'alchimie de la créativité et de la technologie.
Opportunités & missions pour nos étudiants
Stages de 6 mois àdans tous les métiers du Groupe : Chefs de Publicité, Chefs de Projet Web, Business Consultants, Planneurs Stratégiques, Experience Strategists, Concepteurs Rédacteurs, Social Media Managers, Brand Content Designers, Consultants Editoriaux, UX Designer, Experts Data/ Analytics, Consultants SEO…
Bac+5 / Grande École de Commerce, IEP ou formation en Digital de premier plan.
Vous êtes dynamique, autonome, curieux(se), motivé(e), rigoureux(se) et possédez un réel sens du contact et de l'organisation. Passionné(e) par les marques, par le conseil, la création publicitaire et/ou les nouveaux enjeux business liés au digital, vous vous tenez au courant des dernières tendances en termes d'usages, de design et de technologies. Maîtrise impérative de l'anglais et du français. Idéalement, vous bénéficiez déjà d'un début de parcours en agence de communication, cabinet de conseil, chez l'annonceur ou chez un acteur du web.
Publicis recherche en permanence de nouveaux talents pour accélérer son développement.

Vous apporterez avec votre énergie, votre part dans l'édification d'un leader mondial de la communication et de la transformation digitale. Nous aimons tout particulièrement les profils agiles, stratèges, ayant soif d'apprendre, attirés par l'innovation, le travail en équipe et en mode projet, passionnés par les nouvelles technologies, la création, l'évolution des comportements, et toujours au service d'un véritable engagement pour l'utilisateur et le consommateur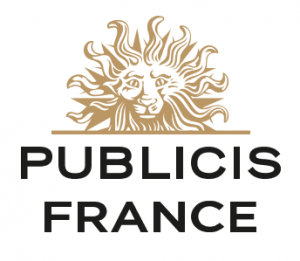 Contact details
Publicis Groupe
75008 Paris, France
Website
| | |
| --- | --- |
| LinkedIn | |
| Viadeo | |
| Facebook | |
| Twitter | |
Our offers on the network
Back
04.09.2023
If you are looking for interns or future employees, our guide 'Recruit at Sciences Po' will provide the relevant information about our students, the careers we train them for and how to leverage this great pool of talent to meet your recruitment needs.
06.09.2023
Launched by two graduates (class of 2020) from Law School : Agnès de Fortanier (Master in Economic Law) and Thomas Harbor (dual degree Sciences Po HEC), What's up EU is a newsletter putting together a concise, well-documented, and informative weekly wrap-up of the news that matters at a continental scale — from a European perspective. Sciences Po Careers interviewed Augustin Bourleaud, in charge of its edition, who is currently a double master's degree student between Sciences Po and the London School of Economics.
Read more news