TNP Consultants
Business Auditing, Consulting
Créé en 2007, TNP est un cabinet de conseil indépendant français, leader de la performance, spécialisé dans les transformations opérationnelles, réglementaires et digitales des entreprises.
Présent en France, en Suisse, au Luxembourg, au Maroc, et en Inde, TNP intervient sur diverses dimensions – stratégie opérationnelle, système d'information, métier et capital humain et œuvre dans les secteurs de la banque, de l'assurance, du secteur public et de la santé, du transport et de la logistique, de l'industrie, de l'énergie et du retail.
Aujourd'hui, TNP s'appuie sur près de 450 collaborateurs pour un chiffre d'affaires de 70 millions d'euros (chiffres monde 2018). Accélérateur de performance pour de nombreux grands comptes du CAC40 ou du SBF120, le cabinet pilote 25% de ses missions à l'international. Son approche et son expertise du pilotage de programmes de transformation complexes, uniques sur le marché du conseil, lui valent depuis sa création une percée remarquée par les acteurs du secteur et une croissance de 40 % chaque année.
Ses grands clients : Airbus, Arcelor- Mittal, BNP Paribas, BPCE, Chaabi Bank, Carrefour, Covea, CMA CGM, CNP Assurances, Crédit Agricole, EDF, Groupama, Guerbet, La Banque Postale, Neuflize, MSC, PSA, RATP, Renault, Société Générale, SNCF, UFF.
Opportunités & missions pour nos étudiants
Pour les stagiaires : session de recrutement collective
• deux entretiens dont une étude de cas ;
• cocktail & rencontre collaborateurs
Les différentes étapes de nos processus de recrutement visent à :
• évaluer votre connaissance du métier de consultant et de notre cabinet ;
• comprendre vos motivations ;
• vérifier votre maîtrise d'une langue étrangère ;
• tester vos compétences techniques et/ou métiers sur une étude de cas.
À l'issue de ce processus, vous recevrez alors une offre de collaboration de TNP.

Un consultant TNP se développe et progresse avec le cabinet.

Son avis est recherché, écouté, respecté. On le pousse à se dépasser, à relever de nouveaux défis.

Retrouvez TNP au Forum Carrières de SciencesPo vendredi 27 septembre 2019 à Paris Expo, Porte de Versailles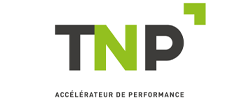 Contact details
Neuilly-sur-Seine
92200 Neuilly-sur-Seine, France Tel: 0147224334
SIRET N° : 50145090200033
Website
| | |
| --- | --- |
| LinkedIn | |
| Facebook | |
| Twitter | |
Our offers on the network
Back
09.06.2020
Master in Public Policy, policy stream Cultural Policy and Management, promotion 2018. Marie Gervier graduated from the Master in Public Policy at the School of Public Affairs, Cultural Policy and Management policy stream. She is currently working as as a Communication and Event Manager for the United Nations Office in Geneva. Testimony.
15.06.2020
Perline Manuel est diplômée 2015 du master Marketing. Aujourd'hui elle est en charge de la revalorisation des conteneurs maritimes dits "de dernier voyage". Focus sur sa mission et son parcours au sein de l'entreprise familiale leader du transport maritime, de la gestion de zone commerciale aux projets au format intrapreneurial.
Read more news