OCDE
Government and Public sector
The Organisation for Economic Co-operation and Development (OECD) is a global economic forum working with 36 member countries and more than 100 emerging and developing economies. The mission of the OECD is to promote policies that will improve the economic and social well-being of people around the world.
The OECD provides a forum in which governments can work together to share experiences and seek solutions to common problems. It works with governments to understand what drives economic, social and environmental change. The Organisation analyses and compares data to predict future trends. It also sets international standards on a wide range of things, from education to tax to the safety of chemicals.
Drawing on facts and real-life experience, the OECD recommends policies designed to make the lives of ordinary people better. The common thread of the OECD work is a shared commitment to market economies backed by democratic institutions and focused on the well- being of all citizens.
Opportunités & missions pour nos étudiants
The OECD seeks to recruit talented individuals with excellent academic achievements, professional credentials, and a successful record of demonstrated performance and results.
Candidates from different backgrounds are welcome to apply as we seek to broaden and enrich our knowledge base and staff diversity.
For official positions, you are required to hold the nationality of an OECD Member country (with a few exceptions). Internships are open for full time students, with no specific requirements in terms of nationalities.
Our people need strong interpersonal and communication skills to work in an international, team-oriented and collaborative environment. We work in English and French. Travel may be required for a variety of reasons. Depending on your role, you may
be responsible for the management of specific projects from their conception to completion, ensuring quality results and the effective use
of resources.
More information could be found here: http://www.oecd.org/careers/
Representatives from OECD's Human Resource Management will visit Sciences Po on September 27th, hold a career presentation and meet students and alumni. Student interested in exploring employment opportunities at the OECD, and hearing about OECD positions and programmes, including the Internship Programme, the Young Associates Programme and the Young Professionals Programme, are welcome to register for the event.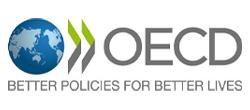 Contact details
2 rue André Pascal
75005 Paris, France Tel: 0145248332
Website
| | |
| --- | --- |
| LinkedIn | |
| Facebook | |
Our offers on the network
Back
04.09.2023
If you are looking for interns or future employees, our guide 'Recruit at Sciences Po' will provide the relevant information about our students, the careers we train them for and how to leverage this great pool of talent to meet your recruitment needs.
06.09.2023
Launched by two graduates (class of 2020) from Law School : Agnès de Fortanier (Master in Economic Law) and Thomas Harbor (dual degree Sciences Po HEC), What's up EU is a newsletter putting together a concise, well-documented, and informative weekly wrap-up of the news that matters at a continental scale — from a European perspective. Sciences Po Careers interviewed Augustin Bourleaud, in charge of its edition, who is currently a double master's degree student between Sciences Po and the London School of Economics.
Read more news