Rothschild & Co
Banking, Finance, Insurance
Rothschild & Co is a global and family-controlled group.
We provide M&A, strategy and financing advice, as well as investment and wealth management solutions to large institutions, families, individuals and governments, worldwide. Having been at the centre of the world's financial markets for more than 200 years we can rely on an unrivalled global network of more than 2,800 financial specialists and a track- record of outstanding execution with 50 offices around the world.
Opportunités & missions pour nos étudiants
RECRUITMENT POLICY As a trusted adviser to many companies, governments, families and individuals around the globe, we
invest significant resources in attracting and developing a world-class team. Our assets are the women and men who work for Rothschild & Co. Assuch, one of our key goals is to retain and reward our talent. To support this, we strive passionately to create a unique and inclusive atmosphere, style and culture that encourages the highest standards of quality, collegiality, professionalism and ethics.
OPPORTUNITIES IN PARIS
> Internships:
Rothschild & Co offers 6 month internship positions in Paris in Global Advisory, Merchant Banking, Asset Management and Private Wealth.
2018 Long-Term Internship
Programme: all year round (application 6 months in advance).
> Vacancies:
Opportunities in all businesses with a majority in the Global Advisory Division.
Graduate programme 2018: Super Recruiting Days Event for the Global Advisory division in November (applications open 01 September 2017 - deadline 30 October 2017).
OPPORTUNITIES IN LONDON
> Internships:
2018 Summer Internship Programme - Global Advisory, Private Wealth & HR: Deadline 31 December 2017
2018 Global Advisory Spring Insight: Deadline 31 December 2017
2018 Dutch Team Long-Term Internship – Global Advisory - Deadline: 31 December 2018 (we accept applications all year round)
2018 Merchant Banking Private Equity Long-Term Internship -Deadline: 31 December 2018 (we accept applications all year round)
> Vacancies:
Graduate Programme 2018:Applications open 01 September 2017: Deadline 5 November 2017
WORLDWIDE OPPORTUNITIES
Today we have full-scale advisory businesses across the world, including locally staffed offices in China, Brazil, India, Russia, United States of America, Middle East and Asia Pacific.
GRADUATE PROGRAMME
Our Global Advisory Training Program provides unrivalled training in the financial concepts you will need to be successful in your team, as well as key personal skills such as communication, personal effectiveness and team building.
PROFILES
You should be a talented communicator with strong numeracy skills. Fluency in English is a pre-requisite and candidates with past experiences in Investment Banking, Audit or Consulting will be favoured.
RECRUITMENT PROCESS:
Please apply online:


At Rothschild & Co, we are looking for a diverse group of high-calibre individuals who are bright, driven and enthusiastic about our business. The fundamental skills we look for, however, are the same in everyone. We seek individuals who are good team players, who can use their initiative, deliver results and demonstrate their commitment to excellence.

Retrouvez Rothschild au Forum Sciences Po Entreprises vendredi 29 septembre 2017 à la Maison de la Chimie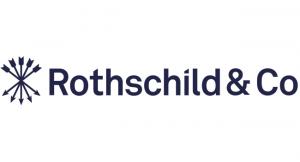 Contact details
23 bis avenue de Messine
75008 PARIS, France Tel: 0140747014
SIRET N° : 34906661300028
Website
Our offers on the network
Back