DANONE
Industry, Energy and Transport
« One planet, one health », ça vous parle ? C'est notre mission d'en- treprise chez Danone, mais c'est surtout un appel à rejoindre notre mouvement, celui d'une Révolution de l'Alimentation !
Quel est le point commun entre un Activia, une bouteille d'Evian, un petit pot Blédina et une bouteille Fortimel ?
Toutes ces marques font partie du groupe Danone ! Nous sommes l'un des leaders mondiaux de l'agro-ali- mentaire qui a centré son activité autour de quatre pôles : Produits Laitiers Frais et Végétaux (Acti- via, Danette, Actimel, Alpro, etc.), Eaux (Evian, Badoit, Volvic, Salve- tat) Nutrition Médicale (Fortimel, etc.), et Nutrition Infantile (Blédina, Gallia).
À travers son message « One Planet, One Health », Danone s'engage à apporter la santé par l'alimentation au plus grand nombre.
Notre principal objectif est de mener une révolution visant à favoriser des habitudes de consom- mation et de production plus saines et plus durables.
Opportunités & missions pour nos étudiants
Plus de 500 missions sont à pour- voir chaque année en stage (fin d'études ou année de césure) ou

alternance sur l'ensemble de nos métiers et de nos sites en France. Nos postes Juniors sont pourvus à plus de 70% par nos stagiaires/ alternants.
• Achats
• Supply Chain
• Industrie
• Marketing
• Vente
• Communication
• Juridique
• RH
• Finance
• IS/IT
D'après la dernière enquête Happy Trainees, 93% de nos stagiaires et alternants estiment avoir progres- sé professionnellement grâce à leur expérience Danone.
Envoyez-nous votre candidature sur https://jobs.danone.com/
Si votre candidature est sélection- née, vous serez contacté(e) par un Talent Manager pour un premier échange téléphonique
Si votre profil correspond à l'offre que vous avez ciblée, nous vous orienterons alors directement vers votre futur manager, qui vous rece- vra en entretien.
Nous organisons également régu- lièrement des sessions collectives de recrutement en binôme avec nos managers.

Venez faire la révolution de l'Alimentation avec

Danone ! Au-delà de votre diplôme, nous recherchons des étudiants et jeunes diplômés animés par ce projet d'entreprise et de société. Ce forum est l'occasion pour vous d'échanger avec des alumnis, des recruteurs, et des managers sur notre mission, mais également nos métiers et nos opportunités de carrière. Si vous êtes passionné(e), curieux(se), engagé(e), venez échanger avec nous aujourd'hui !

• Besoin de conseils pour postuler ?

• Suivez notre actualité recrutement sur Facebook

• Apprenez-en plus sur nos métiers en vidéos sur Jobteaser

• Un aperçu des nouveaux locaux de notre siège social à Paris et du tout nouveau siège de Blédina à Limonest

• Ce que nos stagiaires/ alternants pensent de nous : Happy Trainees #4



Retrouvez Danone au Forum Carrières de SciencesPo vendredi 27 septembre 2019 à Paris Expo, Porte de Versailles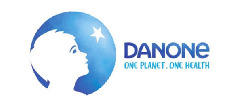 Contact details
17 boulevard Haussman
75009 Paris, France
Website
| | |
| --- | --- |
| LinkedIn | |
| Facebook | |
| Twitter | |
Our offers on the network
Back
21.08.2019
The 2019 Graduate Employability Survey asked the Class of 2017 what they were up to now. Their responses indicated that Sciences Po graduates are entering the job market even more quickly than in previous years, with 87% landing a job less than 6 months after graduating (compared to 83.6% for the Class of 2016).
26.11.2019
Sciences Po Careers will be closed from Monday 23rd of December 2019 to Thursday 2nd of January 2020 icluded. During this period of time, no internship agreement will be signed.
Read more news