Meet your school - Schools day - Paris Campus
In the month of March of your 3rd year at Sciences Po, you will be asked to select your master programm among a great variety of possible choices.It is time to start thinking about it!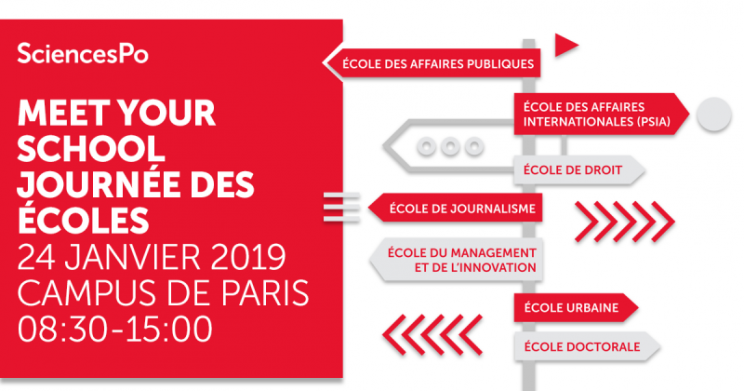 Jeudi 24 janvier 2019, pour vous aider à préparer votre choix, une journée exceptionnelle d'information "Meet your School" sera organisée sur votre campus.
Lors de cette journée, vous pourrez découvrir les sept écoles de Sciences Po et leur riche offre de masters. Ce sera une occasion unique pour vous de dialoguer directement avec les responsables de chaque master. qui vous éclaireront sur les spécificités de leur école, leurs débouchés, critères d'admission...
programme
08:30-10:00 - SCHOOLS PANORAMA
AMPHITHÉATRE BOUTMY
Sciences Po Carrières invite les écoles à se présenter tour à tour (projet, identité..)
10:00-13:15
SCHOOLS INSIDE
Chaque école présente ses masters, doubles diplômes, conditions d'admissions et débouchés professionnels. Accompagnées d'étudiants actuellement en master, les équipes pédagogiques répondent à toutes vos questions.
École d'affaires publiques

56 rue des Saints Pères.
Salle 404

Session 1
10h15-11h05
Session 2
11h15-12h05
Session 3
12h15-13h05
École des affaires internationales

27 rue Saint Guillaume.
Salle Eichtal

Session 1
10h15-11h05
Session 2
11h15-12h05
École de droit

9 rue de la Chaise.
Salle 907

Session 1
10h15-11h05
Session 2
11h15-12h05
École de journalisme

9 rue de la Chaise.
Salle 913

Session 1
10h15-11h05
Session 2
11h15-12h05
École du management et de l'innovation

27 rue Saint Guillaume.
Salle JDC

Session 1
10h15-11h05
Session 2
11h15-12h05
Session 3
12h15-13h05
École urbaine

199 bd Saint Germain
Salle 511

Session 1
10h15-11h05
Session 2
11h15-12h05
À confirmer
École doctorale

199 bd Saint Germain
Salle 502

Session 1
10h15-11h05
Session 2
11h15-12h05
Session 3
12h15-13h05
Sciences Po Carrières

27 rue Saint Guillaume
Salle 321

Session 1
10h15-11h05
Session 2
11h15-12h05
Session 3
12h15-13h05
Centre pour l'entrepreneuriat
56 rue des Saints Pères
Salle 402
Session 1
10h15-11h05
Session 2
11h15-12h05
08:30-15:00
27, rue saint guillaume
75007
Paris France
---
You have to sign in to take part in this event
Sign in